Arkansas hires McDonald to coach receivers
By:
Logan Wilson
Published: Wednesday, December 19, 2012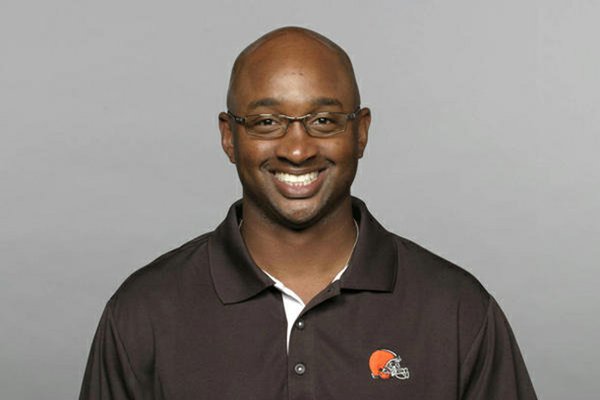 Photo by Cleveland Browns
Arkansas has hired George McDonald to coach receivers. He spent the last two seasons with the Miami Hurricanes after a stint with the NFL's Cleveland Browns.
FAYETTEVILLE — Arkansas has found its replacement for Kris Cinkovich just two days after he joined Paul Petrino's Idaho staff as offensive coordinator.
The Razorbacks have hired wide receivers coach George McDonald away from the Miami Hurricanes, it was announced Wednesday.
McDonald, 36, became the wide receivers coach at the University of Miami in 2011 and added the passing game coordinator title this season. Prior to joining Al Golden at Miami, he had spent two seasons in the NFL as the Cleveland Browns' wide receivers coach.
"George McDonald has a reputation as a top recruiter as well as a great teacher and technician," Arkansas coach Bret Bielema said. "He knows what it takes to be an NFL receiver and has the ability to teach our players how to be a pro in every aspect so they can maximize their potential in college and set themselves up for a career on the next level.
After two seasons with the Browns, McDonald returned to the college ranks and Rivals.com named him one of the nation's top 25 recruiters in 2012.
"In his heart, he has always wanted to be a college coach because he believes in recruiting young men and being a part of helping them develop for four years," Bielema said. "He will be a positive influence on our wide receivers as they grow and learn under his guidance. His track record of developing NFL-ready receivers and his first-hand experience as a position coach in the league will be attractive to our student-athletes and future Razorback receivers."
McDonald is the fifth full-time assistant hire Bielema has made to his Arkansas staff. Wisconsin defensive assistants Chris Ash (defensive coordinator) and Charlie Partridge (defensive line coach), and Tennessee offensive assistants Jim Haney (offensive coordinator) and Sam Pittman (offensive line coach) were hired last week.
Bielema, who was introduced as the Razorbacks' head coach two weeks ago, has also hired three other members of his Wisconsin support staff at Arkansas, including strength and conditioning coach Ben Herbert.
In addition to coaching professional receivers, he helped develop 10 pass catchers that have played in the NFL. Among those are Greg Jennings, who McDonald coached in his stint with Western Michigan, and Eric Decker, who McDonald coached while at the University of Minnesota.
McDonald is an Illinois graduate, where he played football and competed in track and field. In addition to coaching at Miami, the Cleveland Browns, Minnesota and Western Michigan, he coached tight ends at Stanford, wide receivers at Northern Illinois and began his career as a graduate assistant at Ball State.
Discussion
Have a comment on this story? Join the discussion or start a new one on the Forums.