The one that got away
Shabazz opens up after years of silence
By: Nate Olson, Sync Weekly
Published: Tuesday, July 16, 2013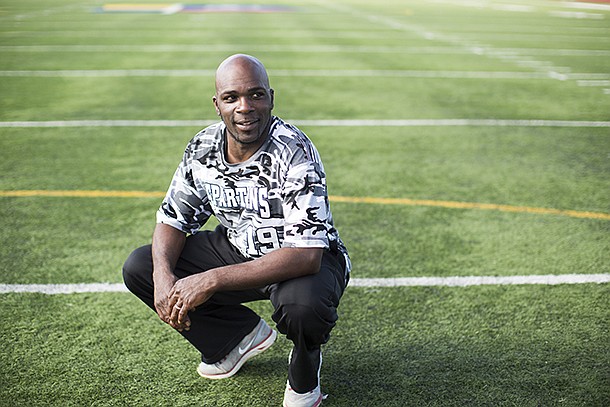 (
Arshia Khan
)
Basil Shabazz was one of the greatest high school football players in Arkansas history.
Even at 41, Basil Shabazz has some freakish athleticism left. On a steamy Texas morning, he rips off a 4.67-second 40-yard-dash time. That's cold — no stretching and no training regimen — while wearing sweat pants and running on FieldTurf. That's par for the course for Shabazz, who dunked a basketball in the fifth grade and broke the state high school high jump record the first time he entered the event.
"He'd probably run a 4.5 or better if he trained every day," says longtime friend and University of Arkansas at Pine Bluff baseball coach Carlos James. "He's the fastest guy I've seen."
Shabazz took the national prep scene by storm during the 1990-91 school year. He earned all-state recognition in four sports and was one of the top running backs, track athletes and pro baseball prospects in the country. The St. Louis Cardinals drafted him in the third round of the Major League Baseball draft, and he signed immediately.
Six years later, his baseball career was over, and Shabazz's football comeback at the University of Arkansas at Pine Bluff ended when he suffered a severe neck injury. The greatest athlete in Arkansas prep history was troubled and broke and headed to Texas to forge a new life with his soon-to-be wife, Reca. After more than a decade of struggling to find himself amid tragedy and adversity, living reclusively and declining interviews, Shabazz has inner peace and is ready to talk.
"As far as I'm concerned, I made it," Shabazz says. "If you make it out of Pine Bluff, you made it. It doesn't matter if you are in the pros or the corporate world. It doesn't matter. I know how hard it was to make it. The odds are against you. I made it out of Pine Bluff, so I consider myself successful."
Early years
Khaleelah Shabazz's three sons spent their formative years bouncing around from Little Rock to Pine Bluff, back to Little Rock, then to Southern California. Some of that time was spent living with relatives. At one point, Khaleelah headed back to her native San Diego without her kids. The oldest boys, Nasr and Basil, hopped on a bus to be with her as she tried to find work, but quickly returned.
More from Sync Weekly
"We went to California, but even there we weren't living with her. We lived with someone else, so we got back on the bus and came all the way back. That was right before seventh grade," Shabazz says.
Shabazz's father, Donald Scott, who lived in Little Rock, wasn't involved in his son's life. The two rarely saw each other, even though they were separated by only 65 miles. Khaleelah struggled to support her family on her own. Shabazz says that for most of his high school years, the family didn't have working utilities, as their mother battled a gambling addiction.
"At that age, you are really too young to understand the struggle," Shabazz says. "We saw it, but we never knew why we had to struggle. We never really questioned it because we had so many friends that had those things you needed to survive. We would end up staying with them a lot."
Shabazz found stability with two close friends and their families. He and Carlos James, who was a year ahead of Shabazz in school, and Torii Hunter, who was a year younger, became fast friends. Shabazz was a regular at Larry and Jeanette James' house. The Jameses were an exception in 1980s Pine Bluff — a married couple, both employed. Larry worked for the railroad and Jeanette at UAPB in central receiving. Together they provided for Carlos and his three sisters — Keesha, Toya and Tosha. They also did what they could for Shabazz.
"After football games on Friday nights, he would be home before I was," Carlos James says. "When I went off to junior college, he took over my room. It was second nature. My parents understood his mom's struggle."
It was a similar scenario at the home of Theotis and Shirley Hunter. The couple raised five boys — Taru, Torii, Tishque, Tram and Terrence — and a daughter, Farolyn Denise.
"He was a part of our family," says Tram Hunter, who played baseball at UAPB. "I looked up to my older brothers, Basil and Torii. I remember watching them play sports in high school and wanting to be like them."
Sports ruled in Pine Bluff, and Shabazz welcomed the distraction it provided. He played baseball on a team coached by the elder James and played football with the Falcons youth football program.
"My mom didn't want me to play because when I got hot, my nose would bleed," Shabazz says. "She was real freaked out about that. I had a good friend named Lavern Morgan. He said, 'Your son is a great football player, and you should let him play.' So she let me play."
Shabazz's exceptional speed impressed his teammates. "Nobody could catch him," James says.
Shabazz also impressed James and other schoolmates by dunking a basketball when he was in the fifth grade.
Much of his ability may have been natural, but Shabazz claims that a unique form of cross-training helped him succeed on the field. He chased and caught rabbits with his bare hands. His strategy was to steer the rabbit to the pavement, where it lost traction, then scoop it up. Shabazz also worked out on the railroad tracks, running from tie to tie without his feet hitting the gravel in between, and running on the rails.
Both of those exercises could have resulted in injury, but Shabazz claims he rarely fell.
"When I ran on the rails, I tried to see how fast and far I could go. I made a game out of it and tried to beat my record each time," Shabazz says.
His other favorite pastime was swimming in the Safeway loading dock. After a heavy rain, water collected in the dock, and Shabazz swam laps.
"I think all of those things helped," he says. "It helped me get quick feet and gave me lateral quickness and kept me in shape."
After dominating with the Falcons and earning a couple of all-star team bids in baseball, Shabazz's reputation as a budding star preceded him.
"I was getting so much exposure by the time I was in seventh grade," he says. "That's when it started taking off."
High school phenom
It didn't take Shabazz long to make his mark on the Pine Bluff High School athletic program. As a sophomore, he played football and basketball, ran track and played American Legion Baseball. He earned Arkansas Gazette Sophomore of the Year honors in football and basketball.
He started his sophomore football season at defensive back, but it wasn't until later in the year that he attracted attention.
In a home game against Wilbur D. Mills High School, starting running back Nasr Shabazz, who had committed to Purdue, broke his ankle just before halftime. The injury devastated Basil Shabazz, who cried in the locker room. He learned then he would start at running back the second half.
"We left the field house and walked all the way down the street, and then sprinted back with the guys onto the field," James says. "He was crying the whole time. He dominated [Mills] with tears in his eyes."
Shabazz ran for a touchdown and returned a punt for another.
"That was the birth of Basil Shabazz right there," James says.
Wadie Moore, the preps writer for the Arkansas Gazette, had a front-row seat while Shabazz's legend grew. Moore, now the assistant executive director for the Arkansas Activities Association, distinctly remembers Shabazz leveling a Little Rock Central ball carrier with a "vicious hit near the sideline that sent him out of bounds."
However, it was what Shabazz did on the track that is emblazoned in Moore's memory more than other moments.
"He had never practiced the high jump before, and the first time he did it in a meet, he jumped 6-foot-9 — a state record," Moore says. "That's the type of kid he was."
Another of Shabazz's admirers was then-University of Arkansas men's basketball coach Nolan Richardson. Richardson saw a lot of himself in Shabazz. The former Texas Western College basketball player starred in multiple sports in high school and had his pick of a sport to play in college.
"He was probably the best athlete to ever come out of the state of Arkansas, when you think about his athletic ability" says Richardson, who led the Hogs to the 1994 National Championship. "He played football, basketball, baseball and track. Hell, he could play tennis and be successful. He was a tremendous athlete — a freak of nature. ... Whatever sport he wanted to play at the college level, he could have done it."
Since he never had an offseason, Shabazz never lifted weights or worked out. Athleticism, a keen sports IQ and dogged competitiveness are what allowed him to dominate.
"I realized how good he was when he was 16 playing American Legion Baseball," James says. "I was leading the team in home runs with nine, and he told me he was going to catch me. He hit 12 in three weeks. He was determined to beat me, and he did."
Shabazz capped off his senior football season with one of the all-time great Arkansas prep performances. It's still a message-board topic and a game that all great Arkansas prep running backs are measured by: Speedy Shabazz ran for five touchdowns in a 33-13 win against Texarkana to win the AAAA State Championship. Texarkana's stingy defense only gave up a little more than six points in 1990.
"[Texarkana] had two linebackers that didn't allow anything up the middle. [Shabazz] ran straight up the middle, and those guys looked at each other, and he ran right between them," Moore says. "They stood there frozen. It was like something from a cartoon."
Shabazz had more than just the motivation of winning a state title. He was also gunning for a roster spot on the Pine Bluff Zebras baseball team. Longtime Hall of Fame Zebra coach Billy Bock, who was also a football assistant, didn't allow upperclassmen in his program if they didn't enter as sophomores. Shabazz ran track, so his only baseball experience was American Legion ball in the summer. However, he really wanted to play for the Zebras his senior season, so he begged Bock. Bock told him if he ran for four touchdowns in the title game he could play.
"In the locker room after the game, [Bock] gave me a big hug and said, 'You come on out, and I'll have my jersey number waiting on you,'" he says.
In a partial season, Shabazz managed to hit .351 in his only varsity baseball season.
Shabazz collected hardware like baseball cards that season. The plaques stay in a huge duffle bag that he brings out only for select company. Among the highlights are his Gatorade Arkansas Track Athlete of the Year, All-State Football and The Touchdown Club of Atlanta 1990 Back of the Year awards. The plaque that isn't in the duffle bag is the 1991 National High School Athlete of the Year award. No other Arkansan has won the award since.
Picking baseball
In addition to balancing four sports, Shabazz had to allow time for the throng of college recruiters and pro scouts who were recruiting him. He'd often hide at Hunter's or James' houses to avoid them; he didn't enjoy talking to the college coaches. Most assumed he'd play college football. However, Shabazz didn't qualify academically and would have to enroll as a Proposition 48, a rule that states that an athlete must sit out a season before qualifying for four years of athletic eligibility.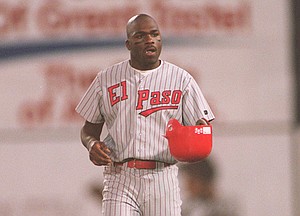 Photo by David Gottschalk
After a stint with the Arkansas Travelers, Shabazz played minor league baseball in El Paso.
Zebras football coach Marion Glover offered up the option to return to Pine Bluff High School and study for the ACT exam to qualify.
"I didn't like the fact I'd have to come back to Pine Bluff High and be there with younger kids," Shabazz says. "I figured I'd just go to college and sit out there. I was going to miss the whole season anyway. If I graduated in four years, I was going to get that year back."
The other options were to sign a Nike track deal and train for the 1992 Olympics, or to sign with a Major League Baseball team.
With a solid American Legion season, followed up with a partial senior baseball season when he hit .351 while balancing a track career, Shabazz had caught the attention of several MLB scouts.
With a 4.3-second 40-yard dash, scouts were most interested in Shabazz's speed. He clocked a 3.1-second time from home to first. James says Shabazz was so fast that when he caught Legion games, he'd pass baserunners down the line.
The Toronto Blue Jays held the 35th and 42nd pick in the first round and were high on Shabazz. However, because of a conflict, a Blue Jays scout didn't get to see Shabazz work out. They passed on him and picked pitcher Jeff Ware and shortstop Dante Powell (neither had long careers). That opened the door for the St. Louis Cardinals, who picked the center fielder with the first pick in the third round. Shabazz signed with the Cardinals and was awarded a reported $150,000 bonus.
So, at age 19, Shabazz headed to Johnson City, Tenn., to play for the Cardinals' minor league team — the Johnson City Cardinals. In 40 games he hit .205 with 4 stolen bases; he started the 1992 season at Johnson City and hit .229 with 43 stolen bases.
Then the Cardinals moved Shabazz to Class A Springfield (Ill.) for the 1993 season, where he finished with a .297 batting average with 29 stolen bases.
1994 seemed to be the turning point in his pro career. Shabazz notched 44 stolen bases with High-Class A St. Petersburg (Fla.) with a .234 average. He moved to the Class AA Arkansas Travelers in Little Rock for the last 45 games of the season and hit .175 with 13 steals.
The beginning of the end
The Cardinals were concerned about Shabazz off the field. Twice he had been involved with incidents when he pulled his handgun. One was an altercation with alleged gang members in Springfield; the other came when Shabazz suspected a group was breaking into his vehicle. No charges were filed, but the incidents left the Cardinals leery. The final straw came in the fall of 1994 when Conway police arrested Shabazz on the University of Central Arkansas campus for possession of a handgun on a college campus.
After the season in 1994, Shabazz and Hunter were in Pine Bluff working out. One October night they rolled through the UAPB campus and ran into a childhood friend who asked the two if they could give another friend a ride to UCA.
The three friends arrived in Conway in the late evening, and an exhausted Shabazz stayed in Hunter's Ford Explorer and slept while the others continued to the dorms.
Shabazz was awoken abruptly by a knock at the driver's window and a bright light. A campus policeman heard music coming from the SUV. The officer found Shabazz's handgun and radioed Conway police.
"I told the officer, 'You just ruined my career,'" Shabazz says.
Police also found a small amount of marijuana and rolling papers. Both Shabazz and Hunter were charged with misdemeanors for the drugs. The Minnesota Twins, Hunter's team, stood behind him, but the Cardinals released Shabazz the next day.
Then-Cardinals director of player development Mike Jorgensen told the Arkansas Democrat-Gazette the charge wasn't the sole reason they cut the No.4-rated prospect in their organization, according to Baseball America.
"It didn't help," Jorgensen says of the arrest, "but it was not a determining factor. He had expressed through his agent a desire to play football, and he'd been doing that ever since we got him. We could not work that into his plans. The majority of the decision was based upon his nonprogress on the field."
Shabazz doesn't buy that and claims the Cardinals dumping him had an adverse affect on his stock with other clubs. He cleared waivers without being picked up.
"I was surprised, frankly," Shabazz's St. Louis-based agent Mike Rechan told the ADG shortly after the arrest. "We had a couple of calls during waivers with teams interested, but they were asking, 'What's going on with the legal situation and with football?' I think the combination of those two things scared them off."
That was another turn-off for Jorgensen and the Cardinals. Shabazz had tried to enroll at the University of Arkansas and play football. The school waived an appeal for his admittance after he did not meet the admissions criteria. Brian Jordan played for the Cardinals and the Atlanta Falcons, but in 1992 signed a contract stipulating that he had to quit football.
"We signed [Shabazz] to play baseball and paid him a ton of money," then-St. Louis general manager Dal Maxvill told the ADG. "I don't care if he's a great football or basketball player or pingpong player. He's a baseball player as far as the Cardinals are concerned."
So, between fall 1994 and spring 1995, Shabazz's future seemed uncertain. His agent prepared to arrange tryouts with NFL teams. However, the charges were dropped in March of 1995 when prosecuting attorney H.G. Foster determined that the "state cannot prove that the defendant intended to use the firearm as a weapon against another person." The ADG also reported that Foster said he couldn't prove the drugs belonged to Shabazz because the vehicle didn't belong to him.
The dropped charges paved the way for interest from other MLB teams.
"We just told him this is another opportunity," then-Milwaukee Brewers director of player development Fred Stanley told the ADG. "The window of opportunity is only so big. We're giving him an opportunity, but if we have problems, we'll release him, too. We're in the baseball business, not in the babysitting business."
Shabazz started the 1995 season with Milwaukee's AA affiliate El Paso, but Shabazz got frustrated with manager Tim Ireland. Shabazz claimed the manager played white players over him.
When the ADG talked to Stanley in May 1995 when the El Paso Diablos played in Little Rock, he was optimistic.
"Our reports were Basil had good speed," Stanley says, "and he really hadn't been given an opportunity yet at the Double-A level. He stumbled a little at Double-A last year … but when a guy can run like that ….
"We took a chance. We think we'll be able to turn him into a prospect."
James thought his friend had a real chance of making the Brewers roster by season's end.
"The strike carried over into that year," James says. "I was with [Shabazz] at spring training, and [then-Brewers manager] Phil Garner told him they were going to bring him up at the All-Star break. I think if they hadn't been on strike, it would have happened. I think if he had stayed with it that season, he would just now be finishing up a big league baseball career."
Football comeback
In the summer of 1995, Shabazz left El Paso, Texas, and headed back to Pine Bluff. He grew tired of minor league baseball and decided to head back to his hometown to give college football a chance at the University of Arkansas at Pine Bluff.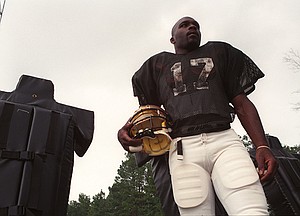 Photo by Arkansas Democrat-Gazette File
Shabazz attempted a football comeback at UAPB in the mid-1990s.
Shabazz sat out the first year as a result of his Proposition-48 status. When he became eligible to play in 1996, he wasn't pleased with his playing time. Former Little Rock Central running back Ray Neely established himself as the starter, and Shabazz had limited carries.
"I wasn't used like I thought I would be used," Shabazz says. "[Coach Lee Hardman] had high praise for Ray Neely, and I think he thought I would take Ray's job. I was never given that opportunity."
Shabazz points to a road game at Langston (Okla.) College when Neely left the game with an injury in the first quarter. According to Shabazz, despite the pleading from other assistants, Hardman elected to insert Andre Tolfree at running back.
"He looked me right in the eyes and then said 'Give me Andre,'" Shabazz says. "He told [the assistants] I didn't know the plays. I knew all of the plays.
"I don't think he liked Pine Bluff High players. When you look at it, no Pine Bluff High players stood out for him. [Hardman] never gave them a chance."
If it wasn't bad enough that Shabazz struggled on the field, a major tragedy occurred that year. Nasr Shabazz was murdered in New Orleans on Oct. 31, 1996. Shabazz is still suspicious about the murder, which remains unsolved. He suspects that members in the group his brother was with may have orchestrated the murder since his older brother was the only person shot.
"That was a dark day for all of us," James says. "He was our Superman. He always had our backs and was our protector. We thought he was invincible. I know that hurt Basil."
Hurt was an understatement; the loss sent Shabazz reeling, and of all the loss and tragedy he has faced, his brother's death is still the most troubling to him.
By the 1997 season, Shabazz had been moved to the defensive backfield. He played defensive back in high school, but some thought he was out of position. His football career ended on an October night in Baton Rouge, La.
Shabazz was hit hard on kick coverage and temporarily lost feeling in his limbs. He had sustained a major neck injury.
"I was listening to the radio back in Pine Bluff, and the announcer said there was a man down, but they didn't want to give the name and worry the family," says Shabazz's wife, Reca, who was an all-American track athlete at UAPB. "I just knew it was him, and finally they said it was him, and he wasn't moving."
Paramedics stabilized him on a backboard and transported him to a hospital. Eventually, he regained feeling in his limbs and never did have surgery, but his playing days were over.
"The main reason I left [UAPB] is because they didn't take care of me when I hurt my neck," Shabazz says. "I could never get a second opinion. I couldn't go out of town to see a different surgeon. It was all what they wanted me to do. Coach Hardman didn't help me at all when I got hurt."
The love of his life
Reca came to UAPB in 1995 on a track scholarship. Her father, Rodrigo Barnes, starred at Rice University and played for the Dallas Cowboys, New England Patriots, Miami Dolphins and Oakland Raiders. She and her future husband enrolled at the same time. However, he was 22 and fresh off a pro baseball career.
"I heard all about him," she says. "That's all anybody could talk about. I heard all of these stories, and I figured he had the big head and was not my type of guy."
At that time, Reca met a guy in her weightlifting class she kind of liked. She only attended the class when she needed to make up a class, but when she did, she and the athletic guy talked and joked.
One day the guy from the class gave his number to a friend of Reca's. She passed the note on to Reca, who was horrified when she saw the blue paper with the number and "Shabazz" scrawled on it. The whole time, she had been flirting with a guy she had promised to never give the time of day.
However, Reca decided to call. Khaleelah Shabazz answered and became irritated when Reca simply asked to speak to "Shabazz." The conversation ended quickly, but then almost immediately, Reca's phone rang.
"He 'star-69ed' me, and called me right back," she says. "We talked, and there was something pleasantly familiar about him. I'm from the 'hood, so I related."
But not enough to go on a date.
"I made up so many bad excuses to avoid him," she says. "I told him my parents were in town, and that I was washing my hair. One night, it was really romantic. It was raining, and he called and caught me at the dorm. He showed up on the doorstep in the rain. We had our first kiss that night.
"We went on our first date, and I never went home. He asked me, 'Will you be my girl?' like we were in the fourth grade or something. He was so humble and sweet. He wasn't like anybody I had met growing up in Texas."
The couple became an item, and Reca became "one of the boys," hanging around with Shabazz and his friends. Things changed a bit when Shabazz started playing for the UAPB Golden Lions in 1996. He and Reca saw less of each other as football took up more of Shabazz's time.
Things got rocky for the couple in the fall of 1997. Reca tried to enroll for her junior year, but the registrar told her she couldn't keep her scholarship because she was a credit short. She stayed in Pine Bluff and lived with Shabazz, his mother and younger brother Ata, who later died of a heart attack at 32.
Reca's parents were livid when they found out she wasn't enrolled in school. Her father tried to convince her to transfer to the University of Texas and be a walk-on for the track team. There was one problem — she was pregnant.
"They wanted me to have an abortion," she says. "That made war with my family. My father didn't speak to me; it was a dark time."
Her relationship with Shabazz had deteriorated as well, so she left Pine Bluff for Dallas to live with her brother. One rainy night, she and Shabazz had a heated phone conversation. Hours later, Reca got another phone call. It was Shabazz, and he was in Dallas. He borrowed money from his younger brother for a bus ticket. Pennyless, injured and his career over, Shabazz knew he needed to leave Pine Bluff, and he knew he needed to be with his girlfriend.
"I was about to get into it with some guys. I had a lot of anger built up," Shabazz says. "Ata told me, 'You gotta get out of here. There is nothing for you here.' He rode the bus with me and got the $75 for a ticket. I haven't looked back since."
Making it in Texas
The couple, who just celebrated their 13th wedding anniversary this month, moved to Waco, Texas, Reca's birthplace, with baby Brazil, who was born in 1998. Times were tough. Many nights, the Shabazz family refrigerator was nearly bare. The plight didn't bother Shabazz. He'd seen the depths of poverty in Pine Bluff. He worked a series of jobs and tried to support his family, which continued to grow. Two years after Brazil came a son, DaGrate. Isiah was born three years after that.
"It was an adventure for me. I had never been poor like that," Reca says. "But, we were only on food stamps once. We had each other, and that was all that mattered. No one around us knew we were struggling because we were so happy. He was working, and I kept popping out babies."
For the first time since grade school, Shabazz enjoyed anonymity. He could work a blue collar job and not have to worry about friends snickering or drug dealers trying to lure him into the game with the promise of quick money.
He began working in a dog food plant, then got on with a temp service and worked for package-delivery company Airborne Express. He also was a euthanasia tech at the Humane Society, where he eventually became a supervisor.
Later Shabazz worked at a home that cared for developmentally disabled residents. He worked his way up the ranks to a supervisory role there, too.
"He connected with people, and he worked hard," Reca says. "They appreciated it and liked him."
Reca's grandfather raised 10 children. The family didn't have much but were happy. His advice to Shabazz was, "Get a job, and get another better job, and enjoy family."
While the family made ends meet in Waco, Shabazz thought the city was a little too much like Pine Bluff and wanted a change.
"I could never get the kids the right way because it was like Pine Bluff," Shabazz says. "I mean, just like Pine Bluff. I was so happy to get out of there."
The family moved to Dallas, where Shabazz started work at a debt-relief company. However, he had too much compassion in what can be a harsh environment.
"This old lady called with a freaking credit card, and you know old people — you know, before they die they want to pay off their debt," he says. "And I had a long conversation with this lady. I'll never forget walking into the room to my boss and saying, 'Look here, TK' — that was his name, a real cool guy — I said, 'This lady, man, I'm trying to close this deal, and she doesn't have too much bad credit, but the interest rate is killing her on this credit card.' We were trying to get this down so that she could pay this bill off but continue to pay for her medicine. It was crushing. You know, I have a heart, and it's hard to get through it. So I said, 'Let me see what I can do.' So I got her payment down to $179. She said, 'Well that's still high.' So I went in there to TK and said, 'Can I get this payment down to at least $100 because I've got to get this lady her medicine. Because I would hate to be speaking with her and come in here, and you tell me something happened to Ms. So-and-So.' So I quit. I didn't want to lie to people thinking I was lowering their debt when I was not. Not everybody knows that. I mean, you're gonna kill her quicker with these high rates. And my heart is too big for that, so I was like, 'Hey, I'm out the door.'"
That's when Shabazz came back to sports. He started coaching Hunter's son, Torii Hunter Jr.'s team, and taught lessons at a baseball training facility. He found his calling working with young kids, but it wasn't supporting his family.
"I was coaching a lot of black kids that didn't want to pay. And I think they thought since I was coaching Torii, they weren't going to pay," he says. 'And I was like, 'Ya'll may need to Google me. I'm not going to be out here for free.'"
In the meantime, Shabazz got together with Harold Allen, who had pitched several seasons in the Houston Astros minor league system. Allen organized a couple of youth baseball teams, but they were poorly organized, and Shabazz wasn't compensated for coaching one of the squads.
That's when Dallas businessman Dane Harris and attorney Demian Larson intervened. The two coached their sons' youth teams and admired Shabazz from afar. Harris' young son had tried out for Allen's team. Allen's club's status was in question, as he was in the hospital recovering from a heart attack.
Eventually, Harris and Larson and Shabazz took over and formed the North Texas Spartans, a nonprofit club for ages 7 through 14 that fields baseball, football and basketball teams that play in the Plano, Texas, area and focuses on fundamentals.
Shabazz is a development coach, which means he works with all of the teams and helps the players develop their skills. He is also available for private lessons.
"The kids know what I am talking about, and they
respect me," Shabazz says. "It is a joy working with them. I just want to teach them everything I know and help them be successful — not only on the field but in life."
A happy ending
It's taken time for Shabazz to deal with the loss and disappointment of his life. Part of his coping mechanism was in very rarely returning to Arkansas. His brothers are dead, his mother lives in California, and the father he barely knows lives in a nursing home in Little Rock. The memories in Pine Bluff are too depressing for him to return there regularly, and there is the disappointment of the arrest in Conway, which he blames partly on officers who targeted him because he didn't play football at the University of Arkansas.
"I have nothing against Pine Bluff, but Pine Bluff has nothing to give me, and I have nothing to give Pine Bluff," Shabazz says.
Once he had fled to Texas, he didn't want to be found. He says he doesn't have a credit card or a bank account.
"I don't have any paper trails; I'm off the grid," he says.
He has changed his mind about telling his story partly due to finding Jesus Christ. Shabazz had been raised Muslim but converted to Christianity and credits his newfound faith for his healing.
Shabazz isn't finishing up a successful baseball career like his friend Hunter. However, Shabazz is living a dream. He has something he wanted but never had in Pine Bluff. He has stability — a nice house that Hunter has given him and a beautiful family to fill it with love and laughter.
"I realized how important it was to have [a father]," Shabazz says. "As a man, you are going to have to make decisions. It's better to get input from a man, like my daughter now. I tell my wife I can talk [to my daughter] about everything, and I'll let her know the security blanket and shield she has in me. The mom is the one she can go to when a guy is doing her like this or that. She's not going to come to me first. On the other hand, my son will come to me first. I think that is real important."
Shabazz admits he's made mistakes. He has fathered children with three other women. One lives in Little Rock, one in Oklahoma and another in Kansas. Jibri Bird, his 18-year-old son from Kansas, is currently living with his father. The others Shabazz isn't in contact with for different reasons. He claims the mothers waited several years before revealing he was the father.
He controls what he can, and that is his relationship with Reca, and Brazil, 15; DaGrate, 13; and Isiah, 10, who is autistic. And when he's not enjoying the home life he never had as a kid, he's devoting countless hours to shaping young athletes.
"I think Arkansas should be very proud of Basil Shabazz," Harris says. "He is a native son, and even though he didn't fulfill what [critics] thought he should in professional athletics, he has gone above and beyond that in my mind, touching the lives of these young guys and their families. I'm not the only one that would say he has inspired my young son. Arkansas should be proud of the work Basil is doing here. You are going to have some of these guys he has worked with playing in the pros, coming back and crediting Basil Shabazz for why they did make it."
Discussion
Have a comment on this story? Join the discussion or start a new one on the Forums.