Arkansas modifies 2012 uniforms
Published: Saturday, July 20, 2013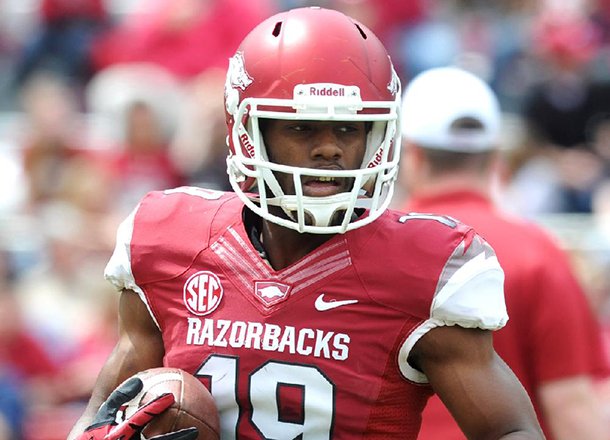 (
Michael Woods
)
Arkansas receiver Javontee Herndon during the 2013 Red-White scrimmage at Donald W. Reynolds Razorback Stadium in Fayetteville.
FAYETTEVILLE — Although Arkansas will wear the same style of uniforms at least one more season, the Razorbacks have made a few changes to last season's jerseys and helmets.
One of the main tweaks of the uniform is the style of jersey number. The gradient on the jersey numbers has been eliminated, in compliance with NCAA rules that prohibit such numbers this season. The jersey numbers will be solid red on the white jersey and solid white on the red and anthracite jerseys, as opposed to the fading look of the numbers on the 2012 uniforms.
On the inside of the jersey, the back of the neck now reads 'Woo Pig Sooie' instead of 'Ring the Bell,' officially purging the Arkansas brand of the Bobby Petrino rally cry.
On the white jersey specifically, the Razorbacks have changed the 'Arkansas' letters on the chest to red. Last season's road white jerseys had the 'Arkansas' lettering in a gray or silver font. The anthracite jerseys also appear to have Arkansas in white, in contrast with the red lettering from last season, and the red jerseys will continue to have 'Razorbacks' in a white font across the chest.
The Razorbacks also modified their white helmets. It seems Arkansas may sport the white helmets in a few games again this season after wearing it against Rutgers and Texas A&M in 2012, but the white helmet has a solid red Hog instead of merely a red outline, now.
Discussion
Have a comment on this story? Join the discussion or start a new one on the Forums.