Arkansas enjoying resurgence under Bielema
By: Kurt Voigt, The Associated Press
Published: Monday, September 15, 2014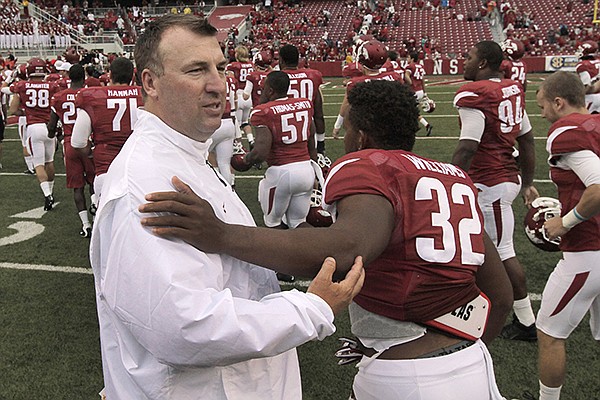 Arkansas coach Bret Bielema greets Arkansas running back Jonathan Williams (32) after an NCAA college football game in Fayetteville, Ark., Saturday, Sept. 6, 2014. Arkansas defeated Nicholls 73-7. (AP Photo/Danny Johnston)
FAYETTEVILLE, Ark. (AP) — Bret Bielema didn't shy away from reflecting on where Arkansas has been and how far it's come.
A few wins in a row, including Bielema's first over a power conference team with the Razorbacks, will do that for a coach.
After two lost seasons following the Bobby Petrino scandal, Arkansas appears to have finally turned the corner toward Southeastern Conference relevance under its second-year coach.
The Razorbacks (2-1), just a few weeks removed from ending a school-worst 10-game losing streak, won their second straight game last week — doing so in dominating fashion against Texas Tech. Arkansas ran the ball 68 times in the win, gaining 438 yards on the ground, and looked every bit like the overpowering teams Bielema coached in seven seasons at Wisconsin.
More than anything, the Razorbacks had fun.
"It's fun to see, to fly back on that plane and to watch my coaches and players and have an understanding of what you really just saw and witnessed was the results of what we have done," Bielema said Monday. "I mean, you really felt and you could see it in our players' eyes that they really felt they earned that by what they had done and what they had accomplished."
Fun was a missing ingredient over the last two seasons at Arkansas, which fell from SEC contender under Bobby Petrino to also-ran with John L. Smith and Bielema.
The Razorbacks were a combined 7-17 in Smith's one season and Bielema's first year, leading to complaints and apathy from fans — particularly as the school suffered its first winless record in SEC play since joining the league in 1992.
Bielema said he understood the frustrations of players and fans during his first season, largely because of how suddenly and unexpectedly the Petrino era ended because of "the actions of one man."
"I knew coming here what I was getting into, whether it was the extent or whatever, I freely took that opportunity," Bielema said. "It's something I made a decision to do. The people that didn't willingly go were fans, were players."
Last season's 3-9 record was Bielema's first losing record as a head coach, but he's steadily replenished the talent on Arkansas' roster in its last two signing classes, beginning with the offensive line.
That was clear during the first half of the game against Texas Tech when Razorbacks left tackle Dan Skipper showed Arkansas' physical superiority by seemingly effortlessly tossing a Red Raiders rusher to the ground with one hand. The 6-foot-10 sophomore is one of a host of newcomers to join the Razorbacks since Bielema's arrival, a group that's played an increased role in the last two wins, which have come by a combined 122-35 margin.
"I thought physically up front those linemen began to feel their oats a little bit," Bielema said. "But (by) no means have we arrived."
Arkansas' road to continued relevance doesn't let up at all this week, with Northern Illinois (3-0) set to travel to Fayetteville. The Huskies already have one win this season over a power conference team — a 23-15 victory over Northwestern — and they've won 17 straight road games.
Last season's beaten-down version of Arkansas would have likely been an underdog against Northern Illinois. This year, the Razorbacks are anything but beaten down.
They're having fun.
"It's fun for me to watch those guys have fun," Arkansas offensive coordinator Jim Chaney said. "When they win, they have fun and they're figuring that out."
Discussion
Have a comment on this story? Join the discussion or start a new one on the Forums.