In college, early season weather not suited for baseball
By:
Andrew Hutchinson
Published: Friday, February 13, 2015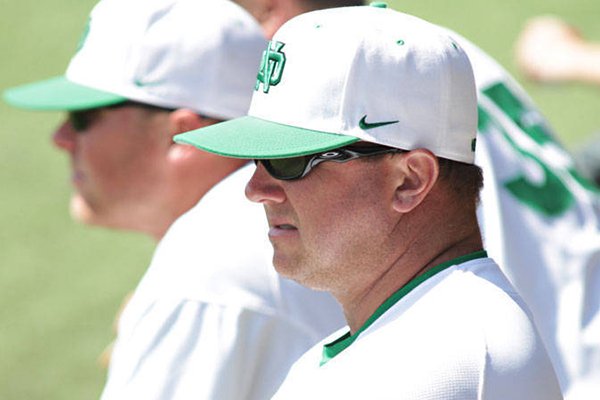 Photo by Kory Wallen, UNDSports.com
North Dakota coach Jeff Dodson and his team will play 21 consecutive road games to begin the season.
FAYETTEVILLE — Baseball season traditionally means warm weather and green grass, but that is not always the case in the college game.
Instead, Division I college baseball starts its season in mid-February, when the country is still in the heart of winter. This forces northern teams to travel south for their early-season games and southern teams to play in temperatures that can drop into the 30s and 40s.
Arkansas' first opponent, North Dakota, will travel to its first 21 games and not play a home game until April 2 because snow typically covers the ground in Grand Forks, North Dakota, well into March. That not only affects North Dakota's schedule, but it also makes it hard to prepare for the season.
"The last few years we've had a pretty bad spring," North Dakota head coach Jeff Dodson said. "The first time we've been outside has been the first trip down south. It's tough."
A 35-degree day with misty rain is considered a good day in January, Dodson said, so most of his team's practice takes place indoors.
The weather has allowed North Dakota to practice outside some this offseason, but when it steps into Baum Stadium for its season-opener, it will be facing a team with many more outdoor practices under its belt.
"Our guys are used to it and they know when they sign up that's what they're going to experience," Dodson said. "They're mentally prepared for it."
Of course, the weather in Fayetteville won't be warm either. Temperatures are forecast in the 50s Friday and Saturday, but Sunday's high is only 32. That has forced the Razorbacks to play a doubleheader Saturday.
Arkansas sophomore Clark Eagan is from Appleton, Wisconsin, where the average temperature in mid-February is in the low 20s. He doesn't like playing in the elements, which sometimes include sleet and snow.
"If anyone says the cold doesn't affect them, they're lying," Eagan said. "I'm probably more used to it, but it's not fun playing in that stuff."
He said the only way to battle the cold is to wear multiple layers and not think about it.
Even then, it's hard to adjust to the frigid temperatures, especially for newcomers from places where the temperature rarely drops below 70.
"We've had a couple of practices where it's really cold and the coaches are laughing because they see me shivering," said junior college transfer Rick Nomura, who is from Waipahu, Hawaii.
While the players may layer up for the cold-weather games, the coaches don't change much strategy-wise.
However, it does seem that pitchers have a slight advantage when the temperatures drop. Arkansas pitching coach Dave Jorn said he believes that it is the best position for those types of games because of how it affects the hitters if they don't make solid contact.
"If you can get one off the fist or one off the end of the bat, those guys don't want to swing too much more after that, so pitching really isn't a bad position to be when it's cold," Jorn said.
Where the pitchers run into trouble, though, is when their team has a long inning at the plate, causing the pitchers to sit around the dugout and tighten up.
In those cases, Jorn said he sends his pitchers into the locker room to stay warm or down to the bullpen to stay loose.
Playing in the cold is not an ideal situation for any team, but it is the norm for early-season college baseball and North Dakota, which will travel 14 hours for its first game because of it, doesn't seem to mind.
"It does get to be monotonous being inside, but once you get on that bus for your first game, everything is OK," Dodson said.
Discussion
Have a comment on this story? Join the discussion or start a new one on the Forums.