List of theaters playing 'Greater'
Published: Wednesday, August 24, 2016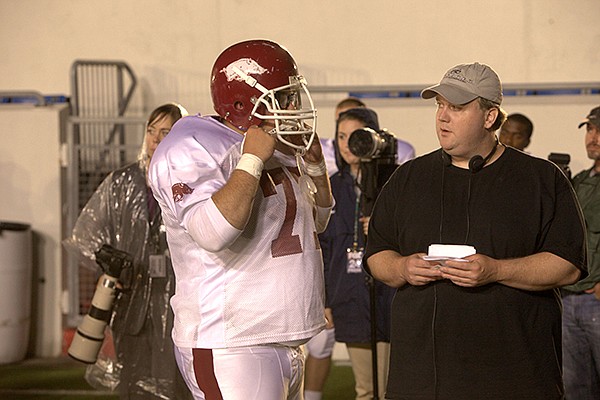 ( David Hunt (Submitted) )
Actor Chris Severio, left, speaks with David Hunt, director of the film "Greater" during a May 2013 shoot at War Memorial Stadium in Little Rock.
List is current as of Wednesday. More theaters could be added prior to Friday's release.
ALABAMA
Alexander City Playhouse Cinema
Auburn Wynnsong 14
Birmingham Summit 16
Boaz Boaz 9 Cinema
Daphne Jubilee Square 12
Decatur Carmike 12
Florence Regency Square 12
Gulf Shores Pinnacle 14
Haleyville Dixie
Huntsville Valley Bend 18
Huntsville Hollywood Stadium 18
Mobile Wynnsong 16
Montgomery Festival Plaza 16 IMAX
Montgomery Chantilly 13
Prattville Promenade 12
Scottsboro Hollywood 10
Troy Continental Cinema
Tuscaloosa Hollywood 16
ARKANSAS
Benton Tinseltown 14
Cabot Silver Screen 8
Clarksville Clarksville Cinema
Conway Cinemark Town Centre
El Dorado Stars Cinema 6
Fayetteville Razorback Cinemas 16
Fort Smith Carmike 14
Fort Smith Cinema 16
Harrison Harrison 8
Host Springs Central City 10
Jonesboro Hollywood 15
Little Rock Chenal 8
Little Rock Colonel Glenn 18
Little Rock Riverdale 10
Malvern Ritz Twin
Marshall Kenda Drive In
Mena Silver Screen
Morrilton Northplaza
Mountain Home Baxter
North Little Rock McCain Mall Stadium 12
Paragould Paragould Cinema 8
Rogers Rogers Town Center 12
Russellville UEC Theatres – Russellville
Searcy Cinema 8
Siloam Springs Siloam Springs Cinema 6
Stuttgart Stuttgart Twin
Wynne Wynne Twin
ARIZONA
Chandler Chandler Fashion Center 20
Glendale Westgate 20 IMAX
Mesa Mesa Grande 24
Mesa Superstition Springs 25
Phoenix Ahwatukee 24
Phoenix Arizona Center 24
Phoenix Deer Valley 30 IMAX
Phoenix Desert Ridge 18 IMAX
Phoenix North Valley 16
Tempe Arizona Mills 25 IMAX
Tucson Foothills Mall 15 IMAX
CALIFORNIA
Aliso Viejo Aliso Viejo Stadium 20 IMAX
Brea Brea Stadium 22
Corona Corona Crossing Stadium 18 IMAX
Costa Mesa Metro Pointe Stadium 12
Covina Covina 17 IMAX
El Dorado REGL El Dorado Hills IMAX
Fairfield EDWD Fairfield Stadium IMAX
Folsom Folsom 14
Foothill Ranch Foothill Towne Center Stadium 22
Fresno EDWD Fresno Stadium IMAX
Garden Grove Garden Grove Stadium 16
Hemet Hemet Cinema 12
Irvine Irvine Spectrum 21 IMAX
Lancaster Cinemark 22
Long Beach Long Beach Stadium 26 IMAX
Los Angeles LA Live
Manteca Showplace 16
Norwalk Norwalk 20 IMAX
Ontario Ontario Mills 30 ETX
Ontario Ontario Palace 22 IMAX
Orange Orange 30 IMAX
Orange Orange Stadium 20
Roseville UA Olympus Point
San Bernardino San Bernardino Stadium 14 RPX
South Gate South Gate Stadium 20
Temecula Temecula Stadium 15 IMAX
Torrance Rolling Hills 20 IMAX
Turlock REGL Turlock Stadium
Visalia REGL Sequoia Mall
West Covina West Covina Stadium 18
FLORIDA
Altamonte Springs Altamonte Mall 18
Aventura Aventura Mall 24 IMAX
Bradenton Royal Palm 20
Brandon Regency 20 IMAX
Cape Coral Coralwood 10
Clearwater Countryside 12
Clermont Epic Theatres of Clermont
Corla Springs Magnolia Place Stadium 16
Crustal River Crystal River Mall 9
Davie Paradise 24
Deltona West Volusia Epic XL
Destin Destin Commons 14 IMAX
Estero Coconut Point Stadium 16
Fleming Island Fleming Island 12
Fort Myers Belltower 20
Ft. Lauderdale Cypress Creek Stadium Stadium 16
Gainesville Royal Park 16
Hialeah Cobb Grand 18
Jacksonville Regency 24 IMAX
Jacksonville Tinseltown 20
Jacksonville Epic at Oak Leaf 12
Jacksonville Avenues Stadium 12
Jacksonville River City Market Place Stadium 14
Jensen Beach Treasure Coast Mall Stadium 16
Lady Lake Rialto
Lake Buena Vista Disney Springs 24 DIT
Lake Wales Eagle Ridge Mall 12
Lakeland Lakeside 18 IMAX
Mary Esther Santa Rosa 10
Merrit Island Merrit Square 16 IMAX
Miami Southland Mall Stadium 16
Miami Dolphin 24 IMAX
Miami Lakes Miami Lakes 17
Naples Hollywood Stadium 20
North Ft. Myers Merchants Crossing 16
Ocala Hollywood Stadium 16
Ocoee West Oaks 14
Oldsmar Woodlands Square 20 IMAX
Orange Park Orange Park 24 IMAX
Orlando Universal Complex 20 IMAX
Orlando Fashion Square 14
Orlando Pointe Orlando Stadium 20 IMAX
Orlando Waterford Lakes Stadium 20
Orlando Festival Bay 20 XD
Orlando Epic at Lee Vista 12
Oviedo Oviedo Mall Stadium 22
Palm Beach Gardens Downtown Gardens 16
Palm Coast Epic Theatres of Palm Coast
Panama City Carmike 10
Pensacola Pensacola 18
Pinellas Park Park Place Stadium 16 RPX
Pompano Beach Broward 18
Port Charlotte Town Center Stadium 16
Port Orange Pavilion Stadium 14
Port Richey Hollywood 18
Sanford Seminole Towne Center
Sarasota Hollywood Stadium 20
South Miami Sunset Place 24 IMAX
St. Petersburg Sundial 20
St. Augustine Epic Theatres of St. Augustine
Sunrise Sawgrass Stadium 23 IMAX
Tallahassee Tallahassee Mall 20
Tallahassee Governor's Square 12
Tampa Starlight 20
Tampa Citrus Park Stadium 20
Vero Beach Indian River 24
Wesley Chapel Grove 16
West Palm Beach Royal Palm Beach Stadium 18 IMAX
Winterhaven Grand 10
GEORGIA
Albany Wynnsong 16
Atlanta Atlantic Stadium Station 18 IMAX
Atlanta Movies ATL
Atlanta Parkway Point 15
Austell Regal Stadium 22
Bethlehem Gateway 12
Canton Riverstone 15
Cartersville Carmike 12
Chamblee Hollywood Stadium 24 @ North I-85
Columbus Carmike 15
Conyers Conyers Crossing 16
Cumming Movies 400
Dacula Hamilton Mill Stadium 14
Decatur North Dekalb 16
Douglasville Arbor Place Stadium 18 IMAX
Fayetteville Tinseltown 17
Gainesville Hollywood 15
Hiram Movies 278
Kennesaw Barett Commons 24 IMAX
LaGrange LaGrange 10
Lawrenceville Sugarloaf Mills 18
Lithonia Stonecrest Mall 16 IMAX
McDonough McDonough Stadium 16
Morrow Southlake Pavillion 24 IMAX
Newnan Georgian Stadium 14
Snellville Carmike 12
Statesboro Carmike 12
Woodstock Cherokee 16
IOWA
Council Bluffs Star 17 IMAX
INDIANA
Bloomington Showplace West 12 Bloomington
Kokomo Showplace 12 Kokomo
New Albany New Albany Stadium 16
KANSAS
Leawood Town Center 20 IMAX & Dolby
Olathe Studio 30 IMAX
Shawnee Shawnee 18
Topeka Hollywood Stadium 14
KENTUCKY
Lexington Hamburg Pavilion Stadium 16 RPX
Louisville Stonybrook 20
LOUISIANA
Baton Rouge Baton Rouge 16 IMAX
Baton Rouge Mall of Louisiana 15 IMAX
Harahan Elmwood Palace 20 IMAX
Harvey Westbank Palace 16
Houma Houma Palace 10
Metairie Clearview Palace 12
New Orleans Zeitgeist
Shreveport Cinemark Tinseltown 17 XD
West Monroe Tinseltown 17
MISSOURI
Arnold Arnold 14
Cape Girardeau Cape West Cine 14
Independence Independence 20 IMAX
Kansas City Barrywoods 24 IMAX & Dolby
Lee's Summit Lee's Summit 16
Ozark Nixa 12
St. Louis Ronnies Cinemas 19 IMAX
St. Louis West Olive 16
St. Peters Mid-Rivers 14
MISSISSIPPI
Oxford Oxford Studio 8
Tupelo Movies 8
Yazoo City Plaza Twin Cinema
NORTH CAROLINA
Charlotte Carolina Pavillion 22
Charlotte Northlake Mall 14 IMAX
Charlotte Cinebarra Arboretum Stadium 11
Concord Concord Mills 24 IMAX
Durham Wynnsong 15
Durham Southpoint 17 IMAX
Fayetteville Marketfair 15
Goldsboro Premiere 12
Hendersonville Epic 12
Hickory Carmike 15
Huntersville Movies at Birkdale 16
Raleigh Carmike 15
Raleigh Wakefield 12
Rocky Mount Premiere 14
Salisbury Tinseltown 14
Smithfield Smithfield 10
Statesville Marquee Statesville 10
NEBRASKA
Lincoln Lincoln Grand Cinema 14
Omaha Oakview 24 IMAX
Omaha Village Pointe Cinemas 16
NEW YORK
New York E-Walk Stadium 13 RPX
OKLAHOMA
Oklahoma City Quail Springs 24 IMAX
Oklahoma City Crossroads Mall 16
Tulsa Southroads 20 IMAX
Tulsa Tulsa Starworld 20
SOUTH CAROLINA
Florence Swamp Fox 14
Greenville Cherrydale Stadium 16
Greenville Hollywood Stadium 20 RPX
Mount Pleasant Palmetto Grand Stadium 16
North Charleston Charles Towne Square Stadium 18
TENNESSEE
Blountville Tri-Cities Cinemas 7
Bristol Bristol 12
Chattanooga Eastridge 18
Clarksville Governor's Square 10
Cleveland Bradley Square 12
Collierville Towne 16
Cookeville Highland 12
Cordova Cordova 15
Erwin Capitol 2
Franklin Thoroughbred 20
Hendersonville Street of Indian Lake Stadium IMAX
Hixson Northgate 14
Jackson Cinema Planet 10
Johnson City Johnson City Cine 14
Knoxville Carmike 10
Knoxville Halls Cinemas 7
Lexington Princess Theatre
Maryville Foothills 12
McDonald Premiere 14
Memphis Majestic 20
Memphis Paradiso Cinema 16
Morristown Carmike 12
Mount Juliet Providence Stadium 14
Murfreesboro Wynnsong 16
Nashville Wynnsong 10
Nashville REGL Hollywood 27
Nashville REGL Opry Mills IMAX
Shelbyville Capri Theatre
Smyrna Smyrna Cinema 14
Spring Hill Carmike 12
Winchester Oldham
TEXAS
Arlington Parks Arlington 18
Austin Gateway Stadium 16
Beaumont Star Stadium 12
Bryan Bryan Premiere Cinema 16
Carrollton Wellborne Spotlight
College Station College Station
Dallas Valley View 16
Dallas Cinemark 17 XD
Edinburg Carmike 20
El Paso Cielo Vista Mall
Forney Forney 12
Frisco Stonebriar 24
Garland Firewheel 18 IMAX
Grapevine Grapevine Mills 30
Grapevine Tinseltown 17 XD
Greenville Majestic
Harker Heights Harker Heights 16
Harlingen Cinemark 16 XD
Hickory Creek Hickory Creek 16
Houston Gulf Pointe 30
Houston Studio 30
Houston Willowbrook 24
Houston Greenway Grand Palace Stadium 24
Houston Marquee Stadium 22
Houston Tinseltown 17
Houston Tinseltown 290 16
Humble Deerbrook 24
Katy Cinemark 19 XD
Lake Jackson Brazos Stadium 14
Lake Worth Lake Worth Movies 14
Lubbock Movies 16
McAllen Hollywood 17
Mesquite Mesquite 30 IMAX
Odessa Century 12
Pasadena Hollywood USA 20
Richmond Palladium 22 AVX
San Antonio Live Oak Stadium 18
San Antonio Cielo Vista Stadium 18
San Antonio Silverado 16
San Antonio Palladium 19 IMAX
Sugar Land First Colony 24 IMAX
Temple Premiere Temple 16 IMAX
Temple Cinemark Temple XD
Texarkana Cinemark 14
Tomball Silverado 16
Tyler Times Square Cinema
Waco Galaxy 16
Waco Jewell Station 16
Webster Cinemark 18
Discussion
Have a comment on this story? Join the discussion or start a new one on the Forums.