Little Rock Parkview star Khalil Garland:
Garland commits to Arkansas
Published: July 16, 2016 at 4:51 p.m. - Updated: July 16, 2016 at 5:06 p.m.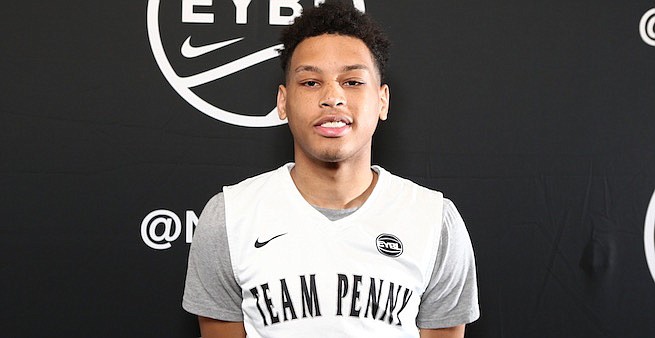 FAYETTEVILLE — The Razorback basketball program is now 3-for-3 in Arkansas when it comes to the 2017 recruiting class.
Little Rock Parkview standout Khalil Garland (6-6, 190) said "I followed my heart" and chose Arkansas over LSU, Alabama, UConn, UALR and others on Saturday when he announced his decision to be a Razorback via twitter.
Garland, ranked as ESPN's 61st-best player nationally and a four-star prospect, joins El Dorado center Daniel Gafford (6-11, 223) - ESPN's 35th-best player nationally - and Little Rock Mills small forward Darious Hall (6-7, 210) as 2017 pledges to the Razorbacks.
"I think the biggest things for me were the academic support, the fact that my mom and dad can come see me play and that I think the three of us can do some great things on the Hill," Garland said.
"I really like the coaching staff at Arkansas and I think the program is going to be competing for championships very soon."
Garland, who averaged 18 points while leading the Patriots to the Class 6A state title last season, revealed his decision first via twitter and said that his final two schools were Arkansas and UALR.
"First and foremost, I would like to thank God who has provided me with a wonderful gift and ability to play the game of basketball, a sport I love," Garland said.
"I want to thank my mom and dad for all the love and support they have given me throughout my journey. In addition, I would like to express my appreciation to family, friends, coaches and all of my supporters who have been with me since the beginning.
"Last but not least, I also want to thanks the schools as well as the coaches, who have taken time to some me interest.
The recruiting process is not an easy process. This has been by far one of the toughest decisions I have ever had to make. I made a decision based on what I feel would be in my best interest, both educationally and as it pertains to the sport of basketball.
"After a long and difficult thought process, I have decided to continue my basketball career at the University of Arkansas. #WPS"
Garland, who plays his AAU basketball for Team Penny, is excited about his fellow in-state Razorback commits.
"Daniel just blocks everything he can get close to and he and Day Day just attack the goal," Garland said. "I think we are the top three players in Arkansas and we can help get the Razorbacks back to where they need to be and used to be."
Hall was very pleased to add Garland as a Razorback.
"I'm real happy that my boy KG committed," Hall said. "We go way back. I remember it like yesterday when we went 26-1 in the last AAU season. He is a great player and going to make things a lot easier on the Hill. We are going to make something happen and we all fit and are ready for the fastest 40."
Garland will join Gafford and Arkansas senior center Moses Kingsley at the Nike Academy in Los Angeles July 24-28.
Discussion
Have a comment on this story? Join the discussion or start a new one on the Forums.