DE Taylor talks about decision to be Razorback
Published: July 21, 2016 at 9:28 a.m. - Updated: July 21, 2016 at 4:50 p.m.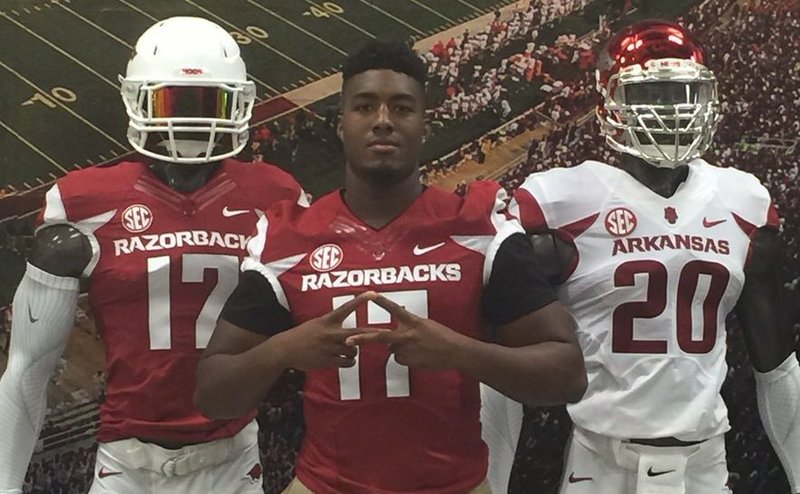 FAYETTEVILLE — Arkansas has added another member to its 2016 class with Riverside, Calif. Community College defensive end Michael Taylor (6-3, 248, 4.55) committing to the Razorbacks while on his official visit.
Taylor becomes the 23rd member of the 2016 class and joins Ventura, Calif., defensive back Britto Tutt (6-3, 180) and Texas transfer center Jake Raulerson as players that Arkansas has added since national signing day.
"I felt at home because of the environment," Taylor said Thursday after completing his visit. "They're very family friendly. Just the whole state in terms of when I was there I went to restaurants and meeting people and me and the coaches it just felt like a real family based school. "
Taylor, who will have three years to play three for Arkansas, had 50 tackles with 11 tackles for lost yardage and four sacks last season at Riverside.
His plan is to be in the 2016 class, but Taylor's transcript still has to be approved.
"Plan is to enroll and play in fall," Taylor said. "If not will enroll in January. Most likely the plan is a go now but God forbid if anything happens We're still going to be committed to the University of Arkansas.
The transcripts being cleared looking good though. It's looking great."
Taylor said Arkansas' coaches are looking at him to come in and play right away.
"They want me to play defense end my hand in the dirt," Taylor said. "They know I can play pass and they want me to play run For me coming in right now, they said I could be a second and third down guy."
Riverside head coach Tom Craft sized up Taylor, who played his high football for The First Academy in Orlando.
"Michael is from Orlando originally and is a great young man that is very versatile and can play both the three technique and defensive end for us at this level," Craft said Monday. "He is a great edge rusher and is someone that is just going to continue to get better as he gets more experience."
Taylor also had offers from Colorado, Utah State, New Mexico, Wyoming and others and interest from UCLA and USC.
Discussion
Have a comment on this story? Join the discussion or start a new one on the Forums.