Arkansas looking for strong recruiting December
Published: Saturday, November 26, 2016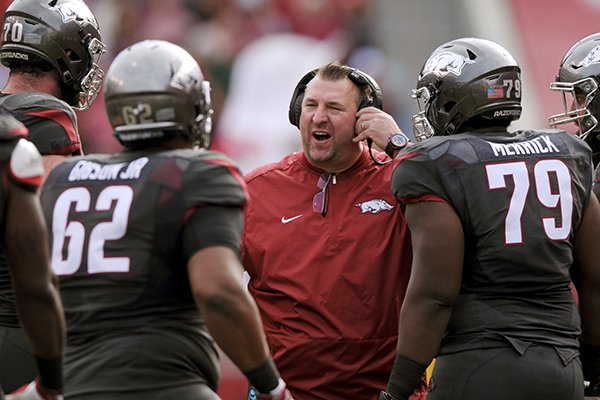 (
Ben Goff
)
Arkansas coach Bret Bielema talks to players during a game against Florida on Saturday, Nov. 5, 2016, in Fayetteville.
FAYETTEVILLE — Arkansas head football coach Bret Bielema went into Thanksgiving Day with 19 commitments and a hope of closing his 2017 class out strong.
"We get done on Friday, fly back and we will have a huge recruiting meeting here at 10 a.m. Saturday morning," Bielema said on Wednesday's SEC Teleconference, "and then we will hope on a couple of planes Sunday morning and recruit the entire week and have two big recruiting weekends.
"The first one (Dec. 2-4) will be big for sure and it will be determined on the future."
Arkansas has more commitments going into December than anytime in recent memory.
"What we have been able to do the more years that we are here is that we get on kids earlier and we get to know them," Bielema said.
Bielema stresses that Arkansas looks for a special type of player.
"Just cause everybody loves to play football and is a football player doesn't necessarily mean they are going to fit in here," Bielema said.
"I think it takes a special type of kid. You have got to play with a chip on your shoulder, you have to survive the academic tests we put our kids through. You have got to be able to do things right off the field as well as on the field.
"So there are some things we get as we close out these last two to four (scholarships). I think there is a whole variety of things. There is some new legislation that is coming through."
Bielema notes that he may not use a full allotment of 25 scholarships in the 2017 class because of the potential of a graduate transfer being added later.
"As you get down the stretch here, the last couple of years we have had some senior transfers and you have to have an additional (scholarship) for that to even become a possibility," Bielema said. "I may not fill the full allotment. We are going to fill them with great players if that is what we can do, but I am really excited."
Discussion
Have a comment on this story? Join the discussion or start a new one on the Forums.