Moses Kingsley off to slow start to senior season
Published: Monday, November 28, 2016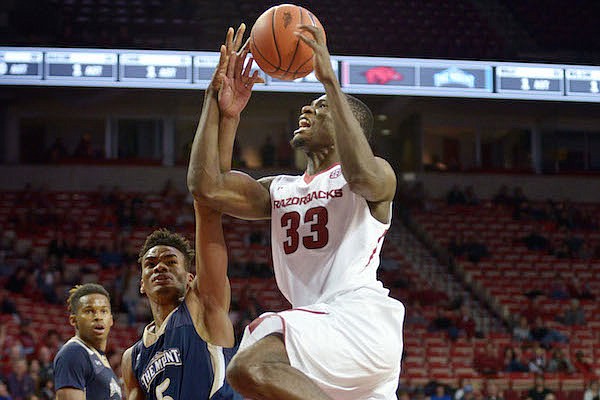 (
Ben Goff
)
Moses Kingsley drives to the basket Monday during Arkansas' 89-76 win over Mount St. Mary's.
FAYETTEVILLE — Arkansas center Moses Kingsley entered his senior season with high expectations after flirting with the NBA Draft last season and being named the preseason SEC Player of the Year.
Through five games, Kingsley has averaged just 9.8 points and 7.3 rebounds while shooting 40 percent from the field, a far cry from his junior numbers of 15.9 points, 9.3 rebounds and 54.8 percent from the field.
Kingsley had nine points, 12 rebounds and a career high-tying four assists Monday night while five other Razorbacks scored in double figures as they downed Mount St. Mary's 89-76 before a season-low 4,256 fans at Bud Walton Arena.
Kingsley had just one point and five rebounds in the opening half and was 3 of 8 from the field, 3 of 6 from the free throw line and had a team-high three turnovers.
"I think Moses needs to go ahead and be who he is," Arkansas head coach Mike Anderson said. "Sometimes you try to adhere to what everyone is talking about. Just go be you. That's been my point to him. And I think he'll break through it."
Junior center Trey Thompson had five rebounds while spelling Kingsley, who showed frustration during the contest.
"The beauty of it is he didn't have it going early on and we put Trey (Thompson) out there and Trey did a great job," Anderson said. "I thought Trey did a great job. It wasn't from a scoring standpoint, but just his presence. I think the more we get other guys involved, then maybe that will take some pressure off him (Kingsley), to just go and be you. Do what you do.
"To me, he's a guy that possibly is a walking double-double if he just goes out and plays basketball like he's capable of playing, as opposed to thinking. You can't think the game; you have to play it."
Arkansas junior guard Daryl Macon led Arkansas with 15 points while Dustin Thomas and Jaylen Barford added 13, Dusty Hannahs 12 and Anton Beard 11.
Macon believes that Kingsley is adjusting to having more firepower around him this season
"I don't think the reason is Moses is not getting the ball," Macon said. "We're going to give it to him whenever he wants it. At the same time, when you've got guards that are scorers, that are known scorers, there's going to be some times he don't get it.
"I think Moses just can't let that get to him. We're going to feed him the ball whenever he wants it. He's the best big man in the SEC. So I think if Moses is frustrated right now, he has to slow down and let the game come to him."
Macon and Barford had started the previous four games, but came off the bench in this one with Beard and Manuale Watkins getting the start.
"I just tried to bring a lot of energy tonight coming off the bench," Macon said. "I tried to get what the first group had going and take it to another level. I just tried to play with a lot of energy and a lot of heart tonight. "
The Razorbacks (4-1) shot 47.8 percent from the field, 8 of 19 from 3-point rage - even with Hannahs going 0-of-5 - and cashed in 17-of-25 free throws.
They had hit just one 3-pointer in last week's loss at Minnesota.
"Tonight we played with a lot more confidence on the offensive end," Macon said. "We just played our game and we weren't thinking about it. Last week when we played Minnesota we were thinking about our shots and hesitating on shooting it. Tonight we just went out there and played with a lot of energy and played our game. The offensive things came to us."
Thomas had his most points at Arkansas and his most in a college game since scoring 17 at Colorado two seasons ago.
"Coach just told me to come out with a lot of energy," Thomas said. "I had a pretty bad game last game, getting in foul trouble. He just told me to come out with some energy and just do me, play my game."
Discussion
Have a comment on this story? Join the discussion or start a new one on the Forums.