Razorback Staff Continues Racing Around Recruiting Trail
Published: Wednesday, October 26, 2016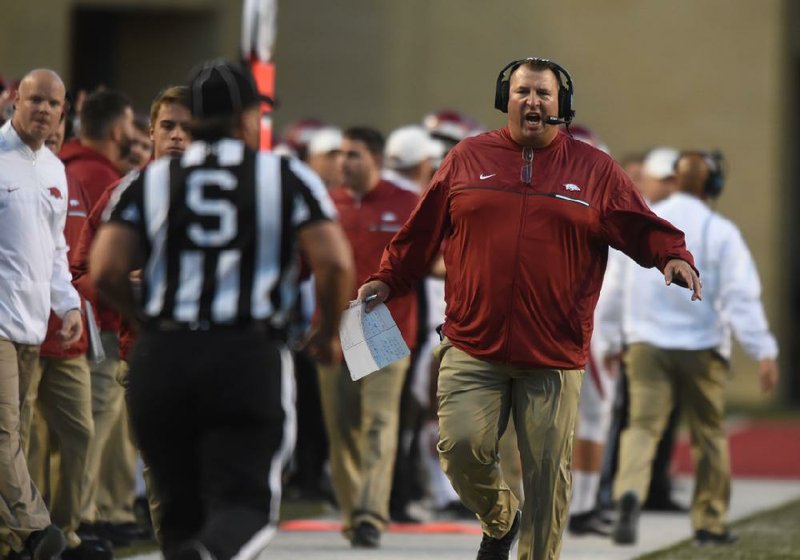 (
Northwest Arkansas Democrat-Gaze / Michael Woods
)
NWA Democrat-Gazette/MICHAEL WOODS • @NWAMICHAELW University of Arkansas coach Bret Bielema talks to the referees during the second quarter against Alabama Saturday, October, 8, 2016 at Razorback Stadium in Fayetteville.
One might have guessed that hitting the road recruiting after a humbling loss to Auburn wouldn't be a fun time for Arkansas' football staff.
But Razorback head coach Bret Bielema – armed with the knowledge that Arkansas (5-3, 1-3) has the third most wins in the SEC West over the last 15 games with 11 – said that wasn't really the case.
"After Saturday night's game we went on the road and were greeted with open arms every where we went and people were excited about our program, where we are headed, where we have been, where it is at now and it was reassuring for me as a head coach to see and witness," Bielema said on Wednesday's SEC Teleconference.
"We had a recruiting meeting this morning and the same results (for the assistants) were there as well."
Bielema thinks it was a nice change of pace for his coaches.
"The coaches would tell you that maybe it was good to get out of the routine for a week," Bielema said. "The way that the bye weeks have laid out, especially since we came here to Arkansas, they have been a little bit later in the year.
"So the way the NCAA rules work now – and they have evolved over the last 10 years – is you were just able to put (seven) number out on a same day, but now you can put everybody out.
"On Monday, we had every coach on our staff at least in a school, multiple schools for several coaches and then we maximized the calendar as best we can. We have done that every year since I have been here and it has been pretty effective.
"One of the things that you learn when you are in this profession is that it is probably never as high as the highs and never as low as the lows."
Arkansas coaches won't be setting at home watching games on Saturday, Instead they will be at games involving their targets recruits.
"My Saturday, I'll be out in west Texas and out in the middle of nowhere in Arizona," Bielema said. " Those games are at like . . . I've got one at 11, one at 3 and one at 7, so I probably won't get to watch much SEC football but I'll get enough of them next week. I took my iPad with me and have been watching Florida quite a bit."
Bielema thinks it is important for recruits to see his face during the bye week.
" The one thing that I think comes out during a bye week is as a head coach you can get in front of them," Bielema said. "Even though you can't talk to them, they know you're there. The presence is a big deal with the SEC and the kid knows that the head coach is taking time.
"I don't do much in-state because then you get a little bit of an issue, so traditionally the last three years I've never been in-state during our bye week. I send my assistants there. We take the plane and go wherever we've got to go.
"Sunday night I was in Florida. Monday afternoon we started in south Florida, I was in west Florida, I was in Texas, I'll be in Mississippi, Alabama, Georgia, New Orleans, Baton Rouge, Texas, Arizona. We'll be really all over the place."
Bielema acknowledges that his record is to be in five states in one day, but notes that it is not really a punishment.
"I'm not going to be on the chain gang or anything," Bielema said.
Arkansas has 19 pledges in its 2017 recruiting class at this point and is looking on several fronts to finish out the class.
"I can't comment on specifics, but one thing that we have been able to do is secure a lot of recruits on the front end before the season started that we felt good about," Bielema said.
"Obviously you have got to keep them committed, but that number – the higher it gets, the less opportunities you have to offer as the year progresses.
"As you get down to the finish, you want to make sure that you have got your numbers covered statistically with who are you willing to wait for, how can you maybe close on them and as you are competing against other schools that have maybe have filled up at a position, maybe you can use the numbers to work in your favor.
"Each case is kind of a different scenario. That is one of the challenges that we have in recruiting. Obviously (recruiting coordinator) E.K. (Franks) and his staff are constantly monitoring that for us as coaches.
"Literally recruiting is a daily occurrence on my calendar and is something that kind of gives you a break from football and is a lot of fun."
Arkansas will sign between 23 and 25 players according to Bielema.
"Because of juniors that have departed because of some transfers, I'll be able to sign probably 23-25," Bielema said. "Then we'll have some junior college mix in there. The one thing I think we've done a really good job compared to my first year, I took six junior college kids that never really contributed, you know.
"…The thing I've said about the JC ranks is find guys that love football. Guys that wanna come in and do it, not just pretty people, because that's what we found with like Martrell Spaight, Sebastien Tretola. They weren't highly rated guys but they loved the game.
"Jeremiah Ledbetter is another guy I saw during our bye week three years ago. If we're gonna hit on JCs those are the kind of guys we've gotta hit on.
"High school kids, if they can come in and be ready made then I'm all for it but if not, some of these guys that are redshirting right now and aren't playing a lot, I think in a year's time will be really good."
Arkansas has three offensive line commits – all expected to arrive in January – and hopes to add one or two more.
"Assuming that the progression of graduation is normal I would say four," Bielema said. "I could go as high as five if they're the right kind of guy, if they're a guy we felt could really come in and impact who we are. But a lot of that is dependent on who you've got committed and who you feel could come in and do some things right away."
Discussion
Have a comment on this story? Join the discussion or start a new one on the Forums.