LR Parkview junior Ethan Henderson commits to Arkansas
Published: Monday, September 5, 2016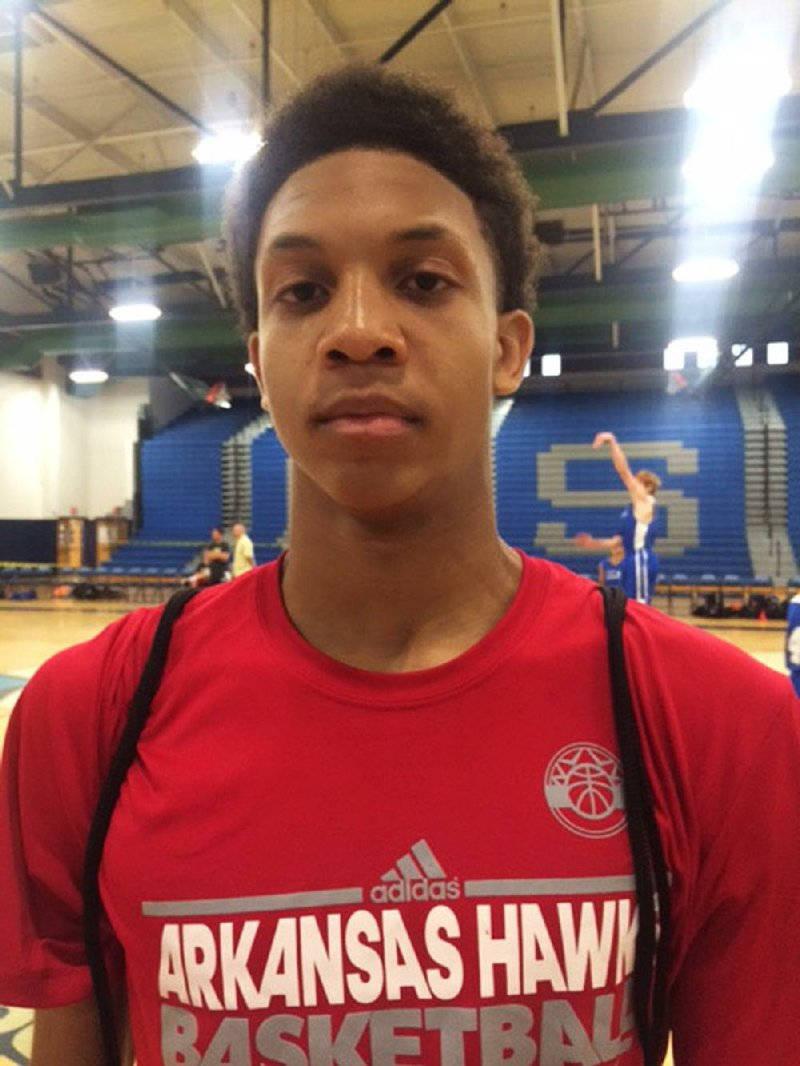 2018 forward Ethan Henderson.
Arkansas' basketball recruiting roll continued on Labor Day.
Little Rock Parkview junior forward Ethan Henderson (6-9, 190) became the fifth starter on Arkansas Hawks 16-and-team to commit to the Razorbacks when he did so via Twitter.
"I just wanted to stay home so my friends and family can come and see games," Henderson said. "They (the Razorbacks) are just like the Hawks and Parkview. By going to the Hogs, it's the next level, but it's the same style of play and a good fit."
Henderson, who chose Arkansas over LSU, Indiana and others, is one of the nation's Top 60 prospects in the 2018 class per ESPN.com.
He told Razorback head coach Mike Anderson on Sunday.
"He was excited," Henderson said. "He was very excited. He said welcome aboard and we are excited to have you as part of the family."
Ethan's mom Eileen, who has been a state employee for 27 years, said Ethan made his own decision, but she was happy with it and was his brother Eric, who is a sophomore at Arkansas.
"I just encouraged him as far as dedication to his home state," Mrs. Henderson said. "His brother...I know the last thing he said to him before he left for school was I want you come to school with me. So happy I will get to see his games. Most of his games and I know that was his main concern."
Arkansas now has eight commits in the 2017, 2018 and 2019 recruiting classes.
He joins fellow Hawks' 2018 standouts Reggie Perry, Isaiah Joe and Desi Sills as well as 2019 point guard Justice Hill in pledging to sign with Arkansas.
"We have never had a group like this in the state," Hawks coach Bill Ingram said. "They wanted to play and represent their state and it is going to be a joy watching them have another two to three years of high school play and spring and summer basketball before the move to the Razorbacks.
"Being a part of Henderson is something special."
Henderson is also the second Little Rock Parkview player to commit to the Razorbacks in the past two months as Patriots' senior guard Khalil Garland (6-6, 190) is also in the fold.
"We are going to have a great bond, even more in college because we already know each other well and it will likely add up to us being even a better team, " Henderson said. "We are going to try and win a national championship."
Parkview will be trying to win back-to-back Class 6A state championships this season.
Discussion
Have a comment on this story? Join the discussion or start a new one on the Forums.