Razorbacks seeking metal detectors for stadium
Step comes after exemption from concealed-carry law
Published: Tuesday, April 18, 2017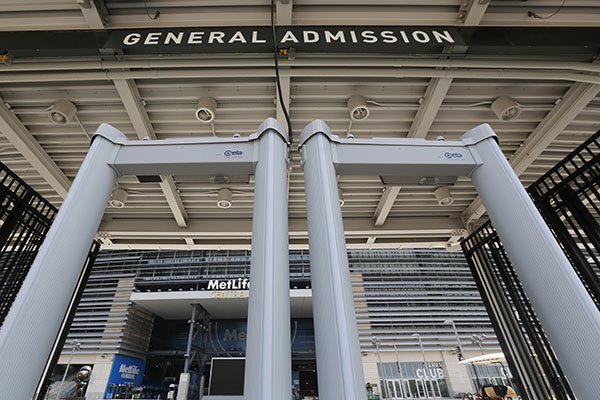 In this Thursday, May 28, 2015, photo, metal detectors stand at a gate at MetLife Stadium in East Rutherford, N.J. Beginning June 1, 2015, metal detectors were used to check people attending events at the stadium. (AP Photo/Julio Cortez)
FAYETTEVILLE — The University of Arkansas, Fayetteville is seeking metal detectors and advice on setting up the equipment to maximize "both security and speed of entry" at Donald W. Reynolds Razorback Stadium.
When asked if metal detectors will be in use this fall, university spokesman Kevin Trainor said Monday that officials continue working on a security plan.
The university's request for proposals comes after state lawmakers last month expanded concealed carry of guns at public colleges and universities. Legislators later added an exemption for collegiate athletic event sites.
To qualify for exemption, sites must submit an annual security plan that meets approval from the state police.
"UAPD and Razorback Athletics are working jointly to prepare security plans to be submitted to the Arkansas State Police, as outlined in the law, for the upcoming athletics seasons," Trainor said in an email, adding that fans will be informed before the 2017 football season about any new security procedures.
Trainor said the university's request for bids is "not directly related to concealed carry in Arkansas."
Instead, he said, UA began drafting the proposal "as part of ongoing security planning for major security events that may require heightened security," with the university looking to follow guidelines from the U.S. Department of Homeland Security.
The university has no metal-detector equipment for use at athletic event sites, and UA's bid request, dated Friday, "is designed to estimate some of the potential costs associated with implementation of metal detectors," Trainor said.
In 2014, The Associated Press reported that Boise State University in Idaho paid $191,000 for 50 metal detectors and 75 hand wands used at the school's football stadium. Duke University in North Carolina and Pennsylvania State University are among a few schools that use metal detectors or wands at their football stadiums.
UA seeks help to "analyze UAF's current football stadium" and determine the amount and features needed for the equipment.
The goal is "to enhance security measures during events hosted on campus maximizing both security and speed of entry," according to the bid document.
UA makes clear that its request is not solely focused on Donald W. Reynolds Razorback Stadium, as it seeks rent-to-own or purchase proposals for hand-held and walk-through metal detectors "to handle all threat levels to be used during indoor and outdoor athletic events," the document states.
The expanded concealed-carry law, Act 562, passed despite opposition from higher-education leaders in the state. The law allows concealed-carry permit holders who complete extra training to carry on campus and into bars and churches and many publicly-funded buildings.
Exemptions added later create three "firearm-sensitive" areas: the Arkansas State Hospital, the University of Arkansas for Medical Sciences, and collegiate athletic events.
Despite National Rifle Association opposition, lawmakers approved the exemptions, with some crediting a statement by Southeastern Conference Commissioner Greg Sankey opposing guns at sporting events as a factor in the vote for what is now Act 859. UA's athletic programs compete in the SEC.
Both laws take effect Sept. 1, but the additional training for the expanded concealed-carry law has yet to be developed by state police, who have up to 120 days from the law's effective date to set up the training.
Act 859 states that security measures "shall include" having security personnel on site, barricades, "use of a magnetometer or other metal-detecting device designed to detect a weapon," or "other measures or devices designed to protect the public from a security threat."
Sen. Jonathan Dismang, R-Searcy, who introduced the bill that became Act 859, said lawmakers in both legislative chambers wanted specifics about what to expect in these security plans.
"Having metal detectors as part of that plan was important, so it was included in the language," Dismang said, adding that the law leaves open details like where they might be set up or whether wands, as opposed to walk-in units, might be appropriate.
"The thought was that if you're asking people to unarm themselves to attend an event, then they needed to be provided assurance that they're in a safe place," Dismang said.
As far as cost, "I think there's an economical way to do it," Dismang said. He also said cost might be a factor in what's presented to state police.
Trainor said the university has not been told what safety features must be included in plans to meet approval.
Bill Sadler, a public information officer for the state police, in response to a question about how the agency would review a security plan lacking metal detectors, said in an email that "rules have not been crafted and research continues."
Discussion
Have a comment on this story? Join the discussion or start a new one on the Forums.