Rhoads not happy with Thursday's defensive effort
Published: Thursday, April 27, 2017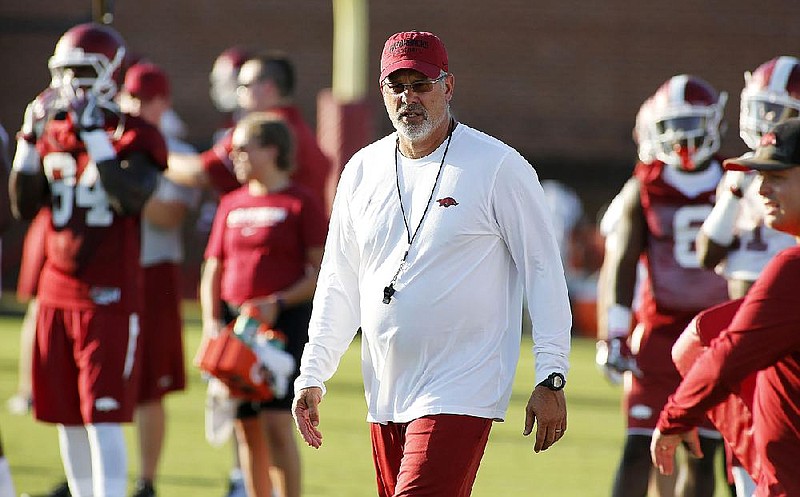 NWA Democrat-Gazette/DAVID GOTTSCHALK Defensive Back Coach Paul Rhoads or the Arkansas Razorbacks Thursday, August 4, 2016 during practice on campus in Fayetteville.
Arkansas' 14th spring practice really didn't get it done for Razorback defensive coordinator Paul Rhoads.
Rhoads, who has been pleased with defense overall this spring, was unhappy with Thursday's effort ahead of Saturday's scheduled Red-White game.
"We have advanced quite a ways and I am happy with that advancement, but I wasn't pleased with today," Rhoads said. "We would have liked to have seen the last practice before we get to the spring game one that would have left us leaving the practice field with a smile on our face.
"But we to many mental mistakes, let our foot off the gas, but got some exposure to a couple of more calls that will put on film be able to teach off throughout the summer and into training camp as much for the coaching staff as anything."
It seems the defense didn't show up ready to perform mentally on Thursday.
"Well if you don't come ready to work mentally, then your physical execution gets challenged," Rhoads said. "I don't think they brought the right mindset to practice today."
No doubt many fans are hoping Rhoads brings a more aggressive defense.
"The simple answer to that question is yes," Rhoads said. "But I could play zone every snap of the game and be aggressive. I don't think you have to bring pressure to be aggressive. Great defenses are aggressive, whether you're rushing three or rushing six.
"I hope when people watch our film, they think,' Man, that's an aggressive defense that really plays hard.' Will we bring some pressure? Sure we will. Will we bring it at the appropriate times when we think we can be successful with it? Absolutely."
Rhoads was also asked if he could install everything he needed to while switching to the 3-4.
"Well, I think 3-4, 4-3, 50 front, it all boils down to how well we play whatever it is we're playing," Rhoads said. "We could have stayed in the same defense. If we played it better we were going to play better defense.
"I think the 3-4 down the road will be very, very good to what we recruit, where we recruit and what we've got to defend. As we learn it, as we fit our personnel to it and add to it, I still believe we can be a better defense. But I wouldn't put as much of that on the change of scheme as it is the execution of what we ask them to do."
One of the last shifts to defense this spring has been tight end Jamario Bell to outside linebacker, which has pleased his position coach Chad Walker.
"He has come in with a great attitude," Walker said. "He has been really coachable. He's been really going for it. He really wants to be good. I really appreciate his effort and his attitude. He's very coachable. I've really enjoyed having him."
Walker thinks it is the right spot for Bell.
"He has got some ability and I know he's going for it," Walker said. " What I mean by that is he's working hard and really wants to be good. I can really appreciate his effort."
Rhoads wished the switch would have been made quicker.
"He's got a lot to learn," Rhoads said. "He missed a significant amount of install and the basics that went along with that. As I told you, we played basically three calls for four to five days, the better part of six days. And he missed that repetition. Right now he's having to play every call and making a lot of mental mistakes because of it. That's not necessarily his fault as he learns."
"… He's a tall player, and when you're thinking, 'OK, you forget to bend.' Bending is the first thing we have to make sure he does on every snap. Glad to have him because I think he has a chance to be a good player in this scheme."
Randy Ramsey and Dwayne Eugene are working at the Razor while Karl Roesler, Bell and Tyler Phillips are working at the Hog.
"There's about three of them that has been interchangeable," Walker said. "Some guys when we go to a different package one guy might flip to a Hog."
Discussion
Have a comment on this story? Join the discussion or start a new one on the Forums.