Arkansas shows off class at Signing Day on the Hill
Published: February 2, 2017 at 6:48 p.m. - Updated: February 2, 2017 at 6:48 p.m.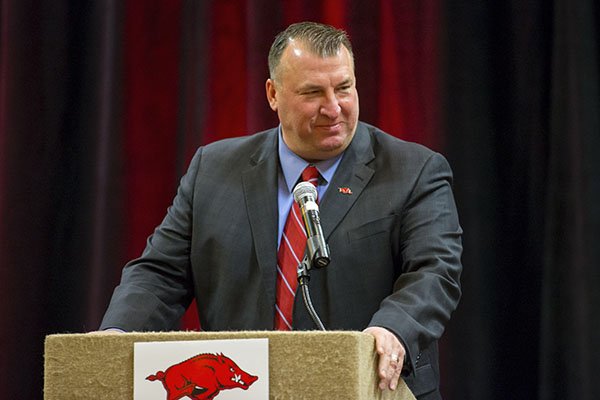 (
Jason Ivester
)
Arkansas head coach Bret Bielema speaks on Thursday, Feb. 2, 2017, on the team's signing day results during the Northwest Arkansas Razorback Club Signing on the Hill event at the Holiday Inn & Convention Center in Springdale.
SPRINGDALE — A day after national signing day, Arkansas head coach Bret Bielema revealed he and wife Jen are going to have a baby girl and showed off his 2017 recruiting class to fans.
That was in front of a packed house at the Springdale Holiday Inn and Convention Center on Thursday afternoon and then at Verizon Arena in North Little Rock on Thursday night.
The Razorback class is currently ranked 26th nationally by ESPN with 24 signees and three blue shirts that will be counted toward the 2018 class, but can play this season.
"I don't really get into ranking and those of you who follow me in recruiting, I just worry about where we are ranked at the end of the year and where we are ranked at the end of their tenure here at the University of Arkansas," Bielema said in Springdale. "But the good thing about this class is that we have been around these guys for a long time.
"The guys we identify out of junior college we have known now for awhile, we have developed research and found out who they are and what they are, all the things that are important to us besides the game of football.
"We know about their families, we know about their history - the medical history, their academic history, their personal history and to have this many guys, 24 in the boat and one to play with. We have a couple of guys that we are working on, but can't talk about.
"I just really like this class and the history we have had with them. We know what we are getting."
Bielema went over the signees, showed highlights and also gave his staff credit for bringing it home.
That includes offensive coordinator Dan Enos and new defensive coordinator Paul Rhoads.
Enos has seven of the nine early enrollees on his side of the ball.
"I think we added some great pieces and to have seven offensive players enrolled in school, including adding junior college receivers because we lost a lot of production there," Enos said. "I am very excited about the class. We have a great quarterback coming back and we signed the number one junior college tight end (Jeremy Patton) and the number one junior college wide receiver (Brandon Martin) in that class to add to the pieces we have already with the leading rusher in the SEC and six offensive linemen who started games."
Rhoads takes over the defense after Robb Smith coordinated it for three years.
"I'm excited about all the offense that is coming," Rhoads said. "We do have a great defensive class in the secondary and we brought in a lot of numbers in the group. There is a lot of versatility in that group."
Arkansas is switching from a 4-3 base defense to a 3-4, something Bielema said he thought about over a year ago and then decided to push toward after week two of the 2016 season.
"We have got a lot of work to do," Rhoads said. "We have to get a playbook put together, a staff together and get with the kids. I think it is February 20th when we will actually be able to get with the kids for the first time this offseason. We have got to be diligent of what there is to get done.
"On the defensive side of the ball, it starts and stops with the run if you are going to play successful defense and one of the ways to do that is to commit to bodies. You have to have the bodies up on the line of scrimmage and that will be the first order of business."
Tidbits:
…Bielema said that freshman wide receiver Jordan Jones almost played this season and has jumped out offensively among the redshirts as have defensive backs Deon Edwards and Micahh Smith and defensive linemen Briston Guidry and Jonathan Marshall.
…He also thinks tight end Cheyenne O'Grady is poised for a breakout season.
…Bielema noted that Blake Johnson goes into the spring as the leader to be the punter while kickoffs will be up for grabs among those here and some others they will bring in.
…He is excited about the proposal - yet to be approved by the NCAA - that would allow true freshman and transfers the opportunity to play up to four games at any time in the season without losing the chance to redshirt.
Discussion
Have a comment on this story? Join the discussion or start a new one on the Forums.