Commentary:
Not so fast: Hogs' style different from what sold
By: Nate Olson
Published: Friday, February 10, 2017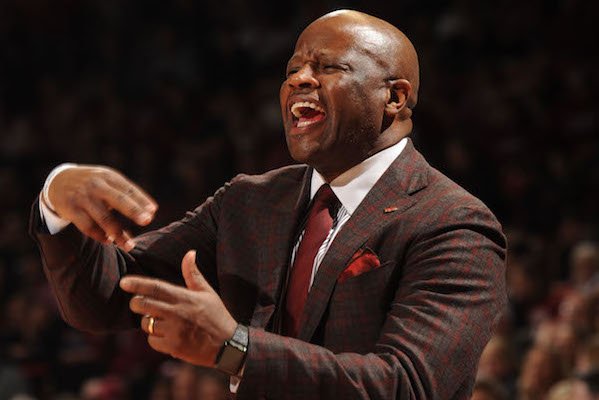 (
Andy Shupe
)
Arkansas coach Mike Anderson directs his team against Missouri Saturday, Jan. 14, 2017, during the second half in Bud Walton Arena.
Well, it appears some of the apathy toward Arkansas basketball has turned to anger.
After Arkansas lost consecutive embarrassing games to dreadful Missouri and Vanderbilt, social media was filled with posts from fans suggesting sixth-year Arkansas coach Mike Anderson will be fired.
I've spoken to people that have the pulse of the program in Fayetteville that feel if the Hogs lose to LSU on Saturday that Anderson's seat could be red-hot. I think Anderson will be back next year, but I will get to that in a moment.
What I want to know is that in the midst of the recent struggles, why the Razorbacks continue to market this basketball as "The Fastest 40?" That is a fraudulent tag and one of the reasons Anderson is on the brink of the hot seat.
I was watching West Virginia play the other night on TV and it occurred to me this is the personnel Anderson wishes he had and the style he wants to play. Bob Huggins and the Mountaineers are in your face constantly. The press is on after every made bucket, and fast-break opportunities are aplenty. Most of the time there are at least three players who can sink a three-pointer consistently, including a 6-foot-11 forward.
That is the fastest 40, not the token pressure and weak on-the-ball, half-court defense the Hogs employ.
Vanderbilt had a field day drilling open threes at Bud Walton Arena in the rout Tuesday. Where was that trademark, hard-nosed defense?
The Hogs are soft on offense and defense, and showed that again last week.
If you watched Anderson's teams at Alabama-Birmingham and Missouri, they played fast with tenacious defense. At first, Anderson made the claim he was moving slow at Arkansas to make the transition from John Pelphrey's players to his own recruits.
OK, I can buy that, but even when the roster only included Anderson's players, the style still was a shell of that Mizzou team that went to the Elite 8 in 2009.
Just like the early 1990s dominant Arkansas teams that Anderson served as an assistant on under Nolan Richardson, the Missouri teams weren't loaded with NBA stars. However, the players were athletic, tough and could shoot. As a result, the Tigers made a deep tournament run - a kind of run that would be desperately welcome in Fayetteville.
He took the Tigers to three straight NCAA appearances. That hadn't been done there since 2003, and Missouri teams hadn't won 20-plus games in three straight seasons since the early 1980s.
The hesitation to unleash a trademark brand is why Anderson has only guided Arkansas to one NCAA Tournament appearance in his first five seasons. Anderson is a good coach. He's proven that with success at two different programs.
But he is only comfortable coaching and recruiting for one distinct style. He is not a half-court coach. It's apparent that Arkansas teams don't really function well playing half-court defense or offense. It's because Anderson hasn't played that style. It's not natural for him, so it has led to ineptitude.
It would be like a football coach that employed an uptempo passing offense and then suddenly started operating out of the I-formation. He knows how to recruit and teach a certain way.
It doesn't make sense and I would be interested to hear what Anderson would say if posed the question. Why is there such a difference between how your teams at Arkansas play and the other teams you've coached?

As inconsistent as Anderson has been and as misleading as the marketing campaign is, it's a good bet he won't be fired barring a major collapse. I think UA athletics director Jeff Long is aware how hard it will be to find an adequate replacement. The prestige this job once had is all but gone after two bad hires led to apathy among the fan base.
Long was fortunate that Anderson wanted to come "home." At the time that looked like a fantastic hire. If Anderson stayed in Columbia, Long would have likely had to settle for another candidate with similar credentials to Stan Heath and John Pelphrey.
No big-name coach is clamoring to come to Arkansas.
Anderson has good recruiting classes coming and that is his insurance policy. If the Hogs go dancing or play in the NIT, Anderson will get another chance.
However, if he doesn't play the style his marketing team boasts, he won't replicate the Hogs' glory days.
Nate Olson is a contributor for WholeHogSports
Discussion
Have a comment on this story? Join the discussion or start a new one on the Forums.