Watkins loves seeing familiar foes
Published: Wednesday, February 22, 2017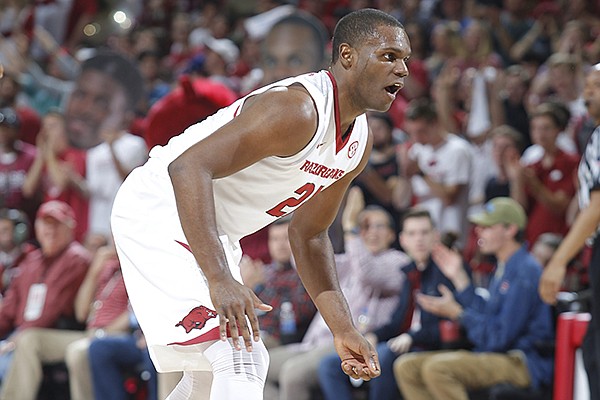 (
Jason Ivester
)
Arkansas senior Manny Watkins reacts after making a 3-point shot against Texas A&M on Wednesday, Feb. 22, 2017, in Fayetteville.
FAYETTEVILLE — It seems if you want to get Arkansas senior Manny Watkins going, let him face a team from a place he has lived before.
In four games this season against Texas A&M and Missouri - two places his father, Razorback assistant Melvin Watkin coached during his career - Watkins has scored a total of 39 points.
That's close to 10 points per game, a sizable bump for the 6-3 guard who has averaged just 5.5 points in his other outings this season. 


Watkins had 11 of his 13 points by halftime Wednesday in what turned into the Razorbacks' 86-77 win over the Aggies before 10,113 at Bud Walton Arena.
He finished the night 5 of 8 from the field, knocked down one of his three 3-point attempts and hit both of his free throws.
Watkins also had 2 steals and 2 assists, and no turnovers in 25 minutes of action.
"I don't know what that is about," Watkins said recently about playing better against Missouri and Texas A&M. "I guess I feel comfortable playing at those schools because I've been in those arenas and am just comfortable.
"There's always that thing about wanting to play well in front of people you know or places you have lived, but I think it is just a coincidence."
• • •
Doesn't mess with the bull or you are going to get the horns.
That sums up how Arkansas junior Jaylen Barford played after he and Texas A&M guard Kobie Eubanks had a verbal spat with the Razorbacks leading just 69-67 with 4:34 left.
"He took over," Texas A&M head coach Billy Kennedy said. "That's what I'm saying."
Barford immediately netted two free throws before Eubanks knocked down a basket.
Barford responded by stripping Eubanks and roaring in for a dunk that put Arkansas head 76-69 less than a minute later.
"Nothing really," Barford said, downplaying the interaction. "Just a little friendly talk. That's about it."
Anderson was asked if he would like to see more of that from Barford, who had a team-high 16 points in the win.
"It was big," Anderson said. "Guys making plays and we have seen that throughout the year. That's the beauty of our basketball team. On any given night it can be certain guys but for him to do it at crunch time that says a whole lot about him.
"And I thought he was so into it that the emotion part got into it, too. The guy was talking to him and of course now it's winning time…Barford, we know he's a talent and I think he can even play better."
• • •
NCAA Tournament? What NCAA Tournament?
Anderson and his players acted like they had never heard of the Big Dance as they downplayed talk of it after the win over Texas A&M.
The Razorbacks (21-7, 10-5 SEC) have won four straight and went into the game projected as a No. 10 seed by ESPN's Joe Lunardi.
"They have to see it through my eyes," Anderson said. "My eyes are on the next game, next practice. Let's get better. Did we get better tonight? I thought we did because if you think about the Ole Miss game, we made shots. In this game here, we had to buckle down defensively and stop them.
"For the most part, our pressure defense was the difference in this game. That's the only thing they control, the next game. I'll let you guys do all the writing, the pundits talk about all that stuff.
"We know what our goals are, but the immediate goals right now is for us to get better and enjoy this one until midnight and get ready for an Auburn team (on the road Saturday night) that just went on the road and won at LSU."
Arkansas junior Trey Thompson echoed that sentiment.
"I think we've just got the mindset of one game, on practice at a time," Thompson said. "We don't look forward to the NCAA Tournament. We just want to control what we can control and leave it to the people that do whatever they do."
Discussion
Have a comment on this story? Join the discussion or start a new one on the Forums.