HOG FUTURES Gabe Richardson:
Kansas stop cemented LB's belief in Bielema
Published: Friday, July 28, 2017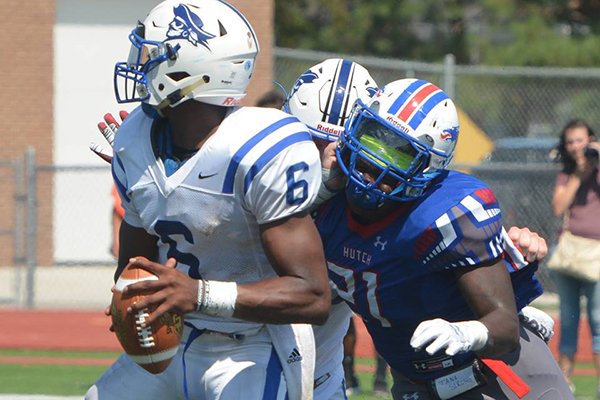 Photo by Joel Powers, HCC Sports Information
Richardson linebacker Gabe Richardson (21) closes in on Iowa Western quarterback AJ Bush during a game Saturday, Sept. 3, 2016, in Hutchinson, Kan.
A tornado dropped down from the sky on Gabe Richardson's second day in Hutchinson, Kan.
Richardson, a 6-4, 255-pound outside linebacker, wasn't in Georgia anymore.
At a glance
CLASS Junior (JUCO)
POSITION Outside linebacker
HEIGHT/WEIGHT 6-4, 255 pounds
HOMETOWN Decatur, Ga.
HIGH SCHOOL Southwest DeKalb
AGE 20
NOTEWORTHY Junior college transfer from Hutchinson CC (Kan.) … Tied for sixth in the Kansas Jayhawk Community College Conference with 18.5 tackles for loss, tied for seventh with six sacks … Consensus two-star recruit by Rivals, Scout and 247Sports … son of April Steele.
He had hardly unpacked his bags, and his world was already tearing itself apart.
Locals who referred to the city's community college as "Hutch," knew everything would eventually fall back into place. Richardson nervously reached for his phone.
His mother, April Steele, told him: "Take shelter. You can't stop 'em."
Richardson, a thousand miles away from Decatur, a small community just east of Atlanta, was trying to rekindle his football career in the summer of 2016. Division I recruitment fizzled after he had failed to qualify academically while at Southwest DeKalb High School, and this was his final chance to slow the crawling cloud of doubt.
He had to take shelter at Hutch because he coudn't stop it.
A year later, Richardson would accept a scholarship to the University of Arkansas, Fayetteville.
"I was not willing to die in Kansas," said Richardson, 20, who is one of 25 members of the 2017 Razorbacks recruiting class. "It got crazy out there. But it made me who I am: mentally tough."
The day after the tornado, Richardson reported for mini camp at 5 a.m. Training ended at 11:30 a.m., when he would have an hour off to wash up, eat and get ready for class from 1 p.m. until 5 p.m.
Summer passed like some plague-ridden scripture, more tornadoes and a wildfire, until football season arrived. And instead of using the high-tech sports medicine facilities Richardson had seen on Division I recruiting trips, the recovery of the body was often left up to him.
"JUCO cats don't get a lot of the love with what they've been doing," Richardson said. "You get an ice bath, a few managers. But they're not going to wine and dine you. Everything else is on you. Go to Wal-Mart for what you need. Get lady friends to massage you."
The phone calls home became different. More confident, less distressed.
"He was a totally different person," said Steele, who raised Richardson with help from her family when she and her husband divorced in 2007. "He'd always been very outgoing and smart. But going to Hutch by himself, he became more self sufficient, more independent. His whole attitude changed."
Once football season started, Richardson said he felt like he "needed to excel" during Hutchinson's 11-game schedule. And he did, tying for seventh in the Kansas Jayhawk Community College Conference with six sacks and tying for sixth with 18.5 tackles for loss.
The Hutchinson Blue Dragons ended up 5-6, but they finished with the conference's second-best team defense and most sacks.
Division I interest returned, and by November, Arkansas was among the programs recruiting Richardson. Former Arkansas graduate assistant Alfred Davis became Hutchinson's defensive line coach on Jan. 11, and Richardson said Davis took him on unofficial visits to Fayetteville.
By National Signing Day, Richardson had his heart set on Arkansas.
"He had his eye on Arkansas way before I even knew he was even thinking about it," Steele said. "We went to visit [the University of] Buffalo, and I said he should go to Buffalo. He said, 'Nope, I'm going to Arkansas.' "
But Arkansas didn't have a scholarship to offer. It had reached its 85-scholarship limit, and Richardson would have to be a blueshirt, which meant he would have to pay for school until a scholarship was available for him.
Even then, there would be no complete certainty of an eventual scholarship, only the unofficial promise of a coaching staff.
Signing day passed, and Richardson did not sign a Letter of Intent, he said, even after Louisville called with an offer once they heard he was thinking of blueshirting.
Richard said he understands that his decision to pass on scholarship offers and wait for Arkansas to free up a scholarship might seem unusual from the outside.
"I kept my prayers extra high," he said. "I knew God was in control, and that my decision was going to be for the best."
He thought of Fayetteville. He thought of Reynolds Razorback Stadium. He thought of playing football in the SEC, the nation's most successful football conference.
Then, the doubts rose: "Am I strong enough? Fast enough?"
He shook them away: "This is my opportunity. I should take it even though it's a small window."
A month passed. Then three weeks more, and the spring semester was coming to a close.
Richardson said he was preparing to leave his tornado-swirling town for greener hills and valleys, and he was ready to pay for it if need be.
Then, on March 27, a spot cleared. Arkansas head coach Bret Bielema gave Richardson a full scholarship.
"I was going to come out of pocket, and I didn't mind," Richardson said. "I trusted Coach B [Bielema]. This is a man I've only known for a short time. When the first person that messages you is the head coach, that was a bond that grew quick. I felt like we could trust each other."
Richardson arrived in Fayetteville on May 30, and by the second day, he didn't need to take shelter.
And why would he?
He wasn't in Kansas anymore.
Sports on 07/28/2017
Discussion
Have a comment on this story? Join the discussion or start a new one on the Forums.