Bielema wants Arkansans who want to stay home
Published: Thursday, March 30, 2017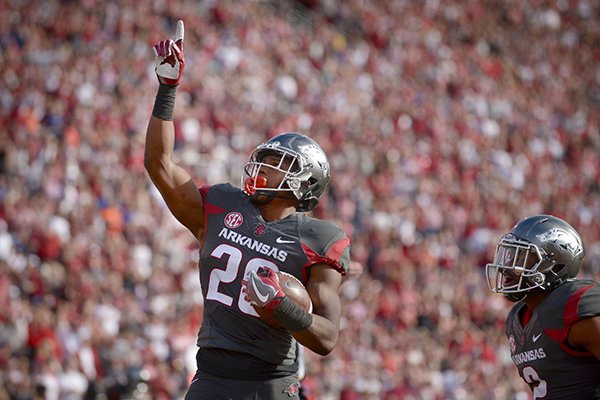 (
Ben Goff
)
Arkansas safety Josh Liddell celebrates after intercepting a pass during a game against Florida on Saturday, Nov. 5, 2016, in Fayetteville.
Arkansas fans have had to watch a few in-state products shine for out-of-state teams, especially during the current NCAA basketball tournament.
Be it Florida's KeVaughn Allen going from 35 points in the Sweet 16, Kentucky's Malik Monk making clutch shots late in the Elite Eight or a former prep football star such as Michael Dyer shining at Auburn and Louisville, their activities usually get a lot of press coverage.
But what sometimes doesn't get enough coverage is those that had a chance to go elsewhere and chose stay home and live out their dream for the Razorbacks.
It certainly appears that is the case with Razorback basketball, where arguably eight players who have lived or are living in the state have signed or pledged to come to Arkansas.
Arkansas senior safety and former Dollarway star Josh Liddell (6-foot-1, 210 pounds) is among those.
It was late in the process before he got his offer from the Razorbacks, something that he had wished for since childhood.
To steal the SEC's catch phrase, it just means more, Liddell said.
"Oh definitely," he said. "You have pride for your state, pride of where you come from and where you are now. It's a special feeling growing up in Arkansas and being able to play for Arkansas."
Liddell was one of the last players Arkansas offered in the 2014 class and he also had the opportunity to go to Georgia, Boise State and Arkansas State -- where he was once committed -- among others.
But when it came down to it, Liddell said the choice was an easy one.
"It does seem like yesterday that I was sitting at Razorback Stadium after a camp waiting to hear if I was going to get an offer and then had to wait even longer before it happened," Liddell said. "I was just a little kid from Dollarway wanting dreaming of this happening and now here I am in my last year."
Like every Arkansas coach before him, Bret Bielema has stressed recruiting the state as much as possible.
He ended up landing all seven of the 2017 prospects that his staff went after.
"We captured the commitment of every player that we offered in the state of Arkansas," Bielema said. "And that has happened pretty regularly around here.
"Obviously, some kids in the state went to other schools, even some Power 5 (schools), but they were not offered by us. One of the first things that we do is recruit and evaluate. And the first thing we do in the first six weeks of the season of their senior year is go back and re-evaluate."
Bielema has made it clear that he wants to land as many in-state prospects as he can, provided that they can definitely help him.
"I do know this, if a young man can play SEC championship-level football, we want him at the University of Arkansas," Bielema said. "If he's within the state, we need to tell him that he needs to stay in our state and if wants to try and leave we need to remind him he won't be welcomed back."
Bielema certainly understands the passion Razorback fans have toward both those who stay in state and those who choose to go out.
"I think it's important for us to realize and understand once a Hog, always a Hog," Bielema said. "That's a part that's really been evident to me no matter where I've been in the state. Northeast, southwest, central, it doesn't matter. The people are very, very passionate about their Hogs and want kids to be able enjoy that for a lifetime."
Sports on 03/30/2017
Discussion
Have a comment on this story? Join the discussion or start a new one on the Forums.