Arkansas House passes bill to ban concealed handguns at college athletic events
By: ArkansasOnline Staff and Wire Reports
Published: March 30, 2017 at 1:09 p.m. - Updated: March 30, 2017 at 5:02 p.m.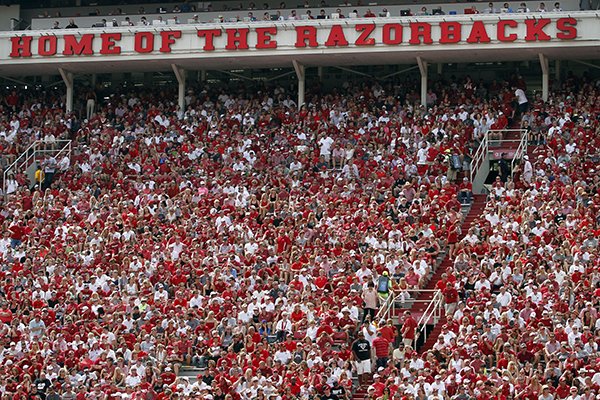 In this Sept. 5, 2015, file photo, Arkansas fans cheer on the Hogs during an NCAA college football game against UTEP at Donald W. Reynolds Razorback Stadium in Fayetteville, Ark. The Southeastern Conference said Tuesday, March 28, 2017, it wants Arkansas lawmakers to exempt college sporting events such as football games from a new law greatly expanding where concealed handguns are allowed, citing concerns about safety at its games. (AP Photo/Samantha Baker, File)
5 P.M. UPDATE:
The Arkansas House of Representatives in a 71-20 vote Thursday pushed a bill forward that would place exemptions on a recently passed law allowing guns in public places.
On Tuesday, the Southeastern Conference commissioner, claiming that the law could "negatively impact" Razorback athletics, asked lawmakers to exempt athletic events and sports venues from Act 562.
More from WholeHogSports
That law, which allows people who have concealed-carry licenses and have up to eight hours of extra training to take their guns on public places, was signed by Gov. Asa Hutchinson last week.
Venues included in the law are college campuses, bars and churches as well as most public buildings including the state Capitol.
Act 562 is set to take effect Sept. 1, though the Arkansas State Police must first develop the weapons training program.
After passage Thursday, the exemptions bill now heads to the state Senate.
Check back with Arkansas Online for updates on this story and read Friday's Arkansas Democrat-Gazette for full details.
— Brandon Riddle
EARLIER:
LITTLE ROCK — The Sun Belt Conference says it wants college sporting events exempted from a new Arkansas law expanding where concealed handguns are allowed, the second conference to call for changes to the gun rights measure.
Sun Belt Commissioner Karl Benson said Thursday that he supports a proposal pending before the House to exempt the events from the gun law that Gov. Asa Hutchinson signed last week.
The new law allows people with concealed handgun licenses to carry on college campuses, in government buildings and some bars if they undergo up to eight hours of active-shooter training. Arkansas State University and the University of Arkansas at Little Rock are Sun Belt schools. The Southeastern Conference has also backed the exemption.
The House plans to take up the exemption measure Thursday afternoon.
— The Associated Press
Discussion
Have a comment on this story? Join the discussion or start a new one on the Forums.