Richardson will soon add to Arkansas' OLB mix
Published: Thursday, May 4, 2017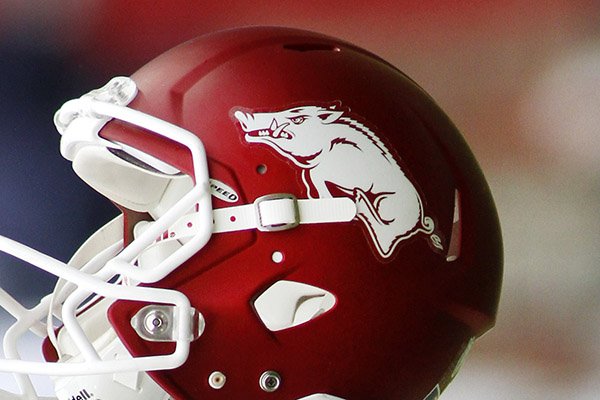 An Arkansas helmet is shown before an NCAA college football game against Auburn, Saturday, Oct. 24, 2015, in Fayetteville, Ark. (AP Photo/Samantha Baker)
Arkansas will add another scholarship defender at the end of May, and he's excited about arriving in Fayetteville.
Hutchinson, Kan., Community College outside linebacker Gabe Richardson (6-4, 240 pounds) is set to report to campus on May 30 and will add to the mix of players at the position for Arkansas head coach Bret Bielema.
Richardson had 60 tackles, 6 sacks and 18.5 tackles for loss last season while playing in the Dragons' 3-4 defense, which is the scheme the Razorbacks have switched to this spring.
"It's something that I am definitely used to and the way they'll use me allows me to be physical and run and hopefully catch a few interceptions," Richardson said.
"I will be lining up at outside linebacker, but I'll have the chance to rush the passer."
Richardson originally was one of three blue shirts -- players who would walk on with promise of a future scholarship -- in Arkansas' 2017 class, along with Pulaski Academy safety Hayden Henry and Fayetteville offensive lineman Ty Clary.
But he was notified by the Razorbacks in March that a scholarship would be made available to him.
"It was shocking," Richardson said. "I didn't expect it at all. God is funny. He sends blessing sometimes when you are not expecting them, but you get it at some point, sometimes when you least expect it."
The news came just a little bit after eating Chinese food and getting a fortune cookie.
"It said 'good things come to those who are patient,'" Richardson remembered. "About an hour after I got home, Coach B called me, and at first it seemed like it was just a regular conversation.
"...He eventually said 'Gabe, you have been patient enough and you are coming to Arkansas and I am going to grant you a scholarship.'
"My heart dropped. I thought I needed to call my momma. Call my mom first, that was the major thing. It was about 10 o'clock and I called my mom and I know she was halfway asleep, but she was awake after I got off the phone and had told her the news."
While Richardson had visited Arkansas before agreeing to be a blueshirt, he had not taken an official visit -- something he did recently.
"The food was great, of course," Richardson said, "and the hospitality the staff showed my queen, my mom, was great."
Richardson, who played his high school football at Southwest DeKalb in Decatur, Ga., will have three years to play three as a Razorback after redshirting one season at Hutchinson.
He will be working with new Arkansas defensive coordinator Paul Rhoads and new outside linebackers coach Chad Walker.
"They are great personalities," Richardson said. "Flexible coaching styles and they bring lots of wisdom, which I am open to taking in.
"I am really looking forward to being a part of the 2017-2018 Razorback defense."
Sports on 05/04/2017
Discussion
Have a comment on this story? Join the discussion or start a new one on the Forums.