Anderson's foundation in strong place
Published: Monday, May 22, 2017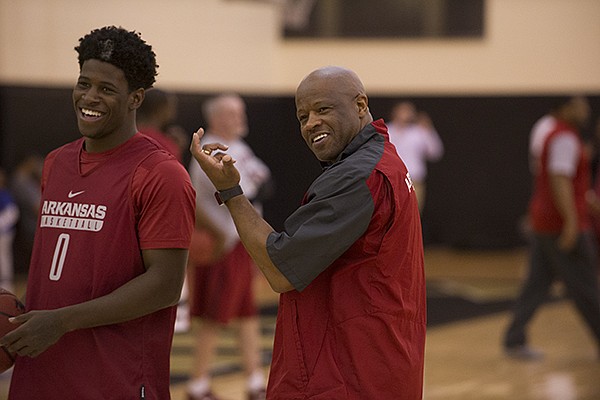 (
J.T. Wampler
)
Arkansas junior guard Jaylen Barford, left, and Arkansas coach Mike Anderson smile during practice Thursday, March 9, 2017, at Vanderbilt University in Nashville, Tenn.
ROGERS — Arkansas head basketball coach Mike Anderson hosted his fourth annual Mike Anderson Foundation golf tournament in Rogers on Monday and did so with a big smile on his face.
The fact that guards Jaylen Barford and Daryl Macon recently announced they were returning for their senior seasons instead of staying in the NBA Draft precipitated that.
"I thought the process worked," Anderson said. "I supported whatever they did. Me and my staff did. We got the information to them and they made the right decision, I think, in order to come back and get better.
"The kind of year they had, to me, it's one of those deals where you put yourself on the list. Now with a lot of offseason work and continuing to develop, continue to be impacting this team, they've got a chance to go up on the list."
Macon averaged 13.4 points and Barford 12.8 for the Razorbacks, who went 26-10 this past season and fell to eventual championship North Carolina in the NCAA Tournament round of 32.
"I think it's important when you talk about guys coming in and having the impact those guys did," Anderson said. "And a lot of times you're going to be as good as your guards, and we found out potentially what those guys bring to the table. There were places and times in the season where those guys actually kind of almost took over the games.
"To to have those kind of guys back, along with guys like Anton Beard, who's been to the (NCAA) Tournament two out of the three years he's been here. Trey Thompson. Those guys are going to be critical. And Dustin Thomas. He's had a year to grow. I just think that means so much. And Arlando Cook. I think he'll be a lot more comfortable.
"… If anything, I think it shows that the culture here is strong. Because those guys, like Moses (Kingsley) did, they tested the waters, but they felt like they could come back here and get better and benefit themselves."
It was the second year in a row that Arkansas had a player test the NBA draft waters and pull back out with Kingsley doing so the year before.
"Really, it was just like with Moses," Anderson said. "I think we just are in communication with them. We got the information to (Moses) and we did the same thing with those guys. I just think it was the relationship and the communication with those guys.
"Those guys were open with me and my staff and it was vice versa. Any kind of information we got for those guys. we got it to them. I think they're in a good place. I think they enjoyed what took place. … They talked about having unfinished business. It could be another special year with this group."
There are certainly areas that both can work on, Anderson said.
"With Jaylen, he's going to be a guy that distributes the basketball," Anderson said. "He's got to make other people better. He's shown the capacity that he can score. And I think this year I think he'l be a lot more comfortable and our guys will be more comfortable with him. And so I think you'll see a lot of those stat lines that those guys have go up.
"Whether it be Barford, whether it be Macon, and just remember also you've got a guy like Beard. I think he's going to benefit. A guy like C.J. Jones coming into this year. And we saw the potential of Adrio Bailey right there at the end of the year. This guy played, I don't know, 19 minutes in the North Carolina game, and I thought he played pretty good.
"I think the key for this team here is to take that momentum of what took place this year, take into the summer and then let's take into the next year."
The chemistry of having Barford and Macon back is also big.
"I think it's key," Anderson said. "I think anytime … when you've got six seniors it's got be one way or the other. They're all going to be on the same page, playing for the same common goal, or they're going to be trying to do their own thing. And I don't think these guys are those kind of players.
"I think it's going to continue to be an unselfish team. I think it's going to be one of those … To me, this was a fun year. I think with this group coming up, it'll be even more fun.
That duo will be part of roster that will have six seniors and is adding in three highly-touted freshmen.
"I'm excited about that," Anderson said. "I'm excited about this team. Six seniors. I'm looking forward to getting the guys on campus this summer. That'll take place right at the end of this month. We'll start that process of getting ready for 2017-18."
The roster will not include R.J. Glasper, a walk on who transferred to Arkansas Tech, and fellow freshman Brachen Hazen, who asked for his release last week.
"You don't want to lose a guy, especially a guy like Brachen," Anderson said. "I think his upside, his potential is big. It was just this year, with some guys that were playing well in front of him … They were competing for playing time.
"I thought next year it would get a lot better for him. Then you've guys being seniors. With a guy who's a skilled forward like Brachen, it was just a just a matter of him maturing. The maturation process.
"But you notice around the country, man, everybody's in a hurry to do something. But other than that, our guys are really looking forward to coming in and trying to get better.
Anderson noted that he will look to fill that spot, but it is not a certainty.
"You know me, I never stop recruiting," Anderson said. " So as we move forward, my staff and I, are daily seeking and trying to find some guys that can have an impact. The one thing you don't want to do is bring somebody in here and all of a sudden it's the same thing.
"It's like a revolving door. They come here and they leave out. So if it's going to be someone, it's gong to be the right person."
• • •
Former Arkansas players such as Sidney Moncrief, Charles Balentine, Blake Eddins and Joh Engskov were among those on hand at Shadow Valley Country Club as well as Memphis head coach Tubby Smith.
Anderson noted it is very important for him to impact his community.
"This is so critical," Anderson said. "When you live in a place, you want to impact it. And obviously there are some things I want to champion because they're dear to my heart. When you talk about cancer, prostate cancer, my Mom died of pancreatic cancer. Stomach cancer. My brothers have had prostate cancer. I have a grandson that had open heart surgery at the age of 1.
" … And I don't like to see anybody go hungry, so the pantry, the heart association, eve the Children's Hospital in Little Rock. We've been involved in that one there and now we want to be involved in the one that's here. So it's an opportunity for us to do something.
"And these guys, former players, coaches coming in, our community, they rally around it. Each year it's gotten bigger and bigger. You want to be a giver. Don't be taking all the time. You want to be a giver. That's my motto and that's my mindset, to see if we can give to the great community that we live in."
Discussion
Have a comment on this story? Join the discussion or start a new one on the Forums.