Arkansas target Moody highlights prospects due for AAO Hoops Combine
Published: Friday, September 15, 2017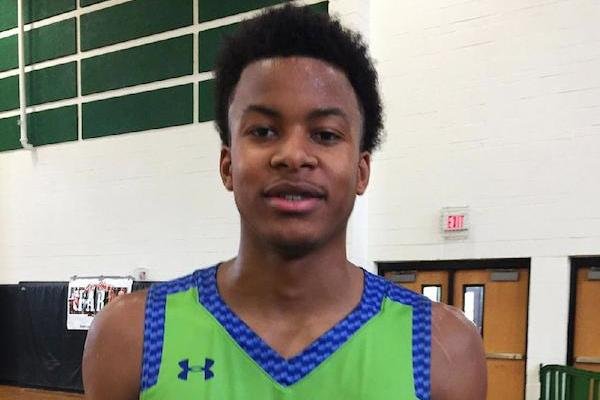 ( File Photo )
Moses Moody.
FAYETTEVILLE — Some of the state's best young talents will be in Fayetteville on Saturday for the third Arkansas Athletes Outreach High School Boys Basketball Combine.
North Little Rock sophomore guard Moses Moody (6-5, 180 pounds), who received an offer from Arkansas on Aug. 27 and played at Little Rock Parkview last season, is among the headliners expected for the event.
Some of the 70 players confirmed are North Little Rock sophomore Collin Moore (6-4, 177) and Fayetteville sophomore Colin Cooper (6-1, 165).
Kareem Reid, a former Arkansas star point guard, is the AAO Basketball Event Director and said the combine will also include players from Link Prep Hoops in Branson, Mo.
"I'm excited to see those kids, ones coming up from Little Rock and also the kids from Link, who have a bunch of 6-8 and 6-9 kids," Reid said. "To be honest, we are just looking forward to everybody and watching them compete."
Link Prep's roster includes several Arkansas natives, including Jonesboro's Ben Harvey (6-5, 183) and Salisu Yahaya (6-7, 195); Little Rock's Will Knecht (6-5, 218); and Lamar's Porter Andersen (6-8, 230). Its roster also includes players from Georgia, Missouri, Texas, Minnesota, the Virgin Islands and London.
"I think Link said they had eight D-I offers," Reid said. "It is going to be very interesting and I'm just trying to bring something different and try to get the best kids up here every year."
Moody, who averaged 3.7 points as a freshman this past season while playing for a loaded Little Rock Parkview squad, competed this spring and summer for Team Superstar South and will play at North Little Rock as a sophomore.
He has offers from Arkansas and Oklahoma and interest from UCLA, Baylor, Indiana, Oklahoma State and others.
Moore averaged 13 points this spring and summer while playing for the the Arkansas Wings' 16-and-under AAU team and is drawing interest from Arkansas and UAB.
The combine will begin with noon registration and games following from 1 p.m. to 5:30 p.m. that will conclude with two All-Star games featuring a Top 20 and a Top 40 game.
"Each kid will play three games for sure and we will also have a couple of all-star games that the college coaches will be able to see," Reid said. "We'll have the top 20 kids play one game and then the 21 through 40 kids play in another."
Discussion
Have a comment on this story? Join the discussion or start a new one on the Forums.