Malik Chavis set to do it all again for Rison
Published: Sunday, August 19, 2018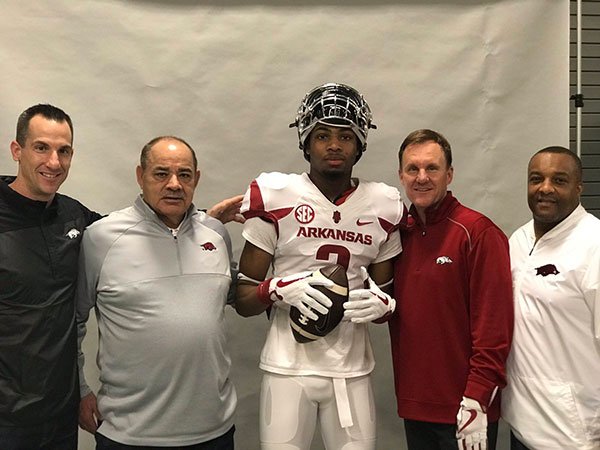 FAYETTEVILLE — Veteran Rison head football coach Clay Totty has seen how productive Arkansas commit Malik Chavis has been the past two years while limited physically, so it's no wonder he's excited to see a fully healthy future Razorback this season.
"This is a guy who truly has not been totally healthy the last two years and still been a great football player for us," Totty said. "He's had a high ankle sprain last year in the first game and wasn't back full strength until late October and was banged up the year before, but played through it and played well. It's very exciting to think about what we might get from him this year."
Chavis (6-2, 190), projected as a cornerback at Arkansas, will line up all over the field again this season for Totty, who is 194-55-1 in his time at Rison.
Even injured last season, Chavis rushed 128 times for 998 yards and 14 touchdowns, caught 13 passes for 201 yards and a pair of touchdowns and seven two-point conversions on offense.
He also recorded 29 tackles and a pair of interceptions, one he took back for a touchdown.
"We will play him at receiver, we will play him at running back, we will play him at safety, he's punted for us, he's returned kicks," Totty said. "The only time he wasn't on the field was for PATs. We are probably not going to have him punt this year because that is how he got hurt last season."
Chavis is a great all-around athlete, as evidenced by winning the Class AA triple jump and finishing third in the 100-meter dash at the Meet of Champs after a successful basketball season.
"I can't say enough about his athletic ability," noted Totty, who is at the helm of a program that has won 10 games in 23 different seasons. "I think he ran a best of 10.9 in the 100 and can just about do anything he wants in any sport."
Rison lost its season opener in 2017, but won 10 straight after that before bowing out in the third round of Class AA state playoffs.
The Wildcats, with 14 starters returning, are back in Class AAA this season and will open their season by hosting Fordyce on Aug. 31.
"We are moving back up to AAA so we know we will be facing teams with a lot more depth," Totty said. "So we need to have some more players step up.
"But we have some speed and some good skill players, so we are very excited about this season and the potential we have."
Discussion
Have a comment on this story? Join the discussion or start a new one on the Forums.