Georgia Tech hands Arkansas second loss in 3 games
By: Kurt Voigt, The Associated Press
Published: Wednesday, December 19, 2018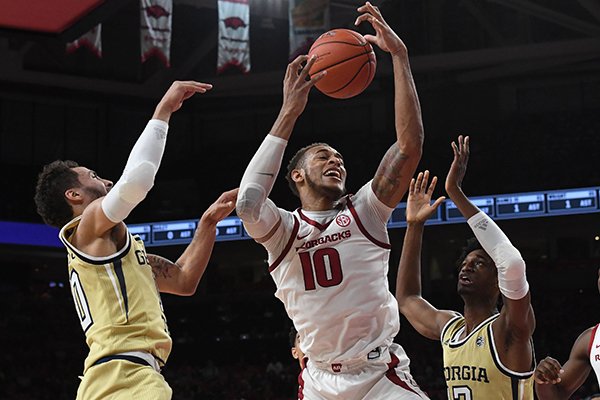 (
J.T. Wampler
)
Arkansas forward Daniel Gafford (10) fights for a rebound against Georgia Tech's Jose Alvarado (left) and Khalid Moore during a game Wednesday, Dec. 19, 2018, in Fayetteville.
FAYETTEVILLE — Jose Alvarado scored 20 points to help Georgia Tech hold on in the closing minutes for a 69-65 win at Arkansas on Wednesday night.
The win comes a game after the Yellow Jackets (6-4) suffered an embarrassing 79-69 home defeat to Gardner-Webb on Monday, and in a game they trailed by as many as five points early in the second half.
Alvarado was 9 of 15 from the field and scored in double figures for the sixth time in seven games, and the 6-foot guard added nine rebounds. James Banks III added 14 points and 14 rebounds, and Michael Devoe finished with 11 points and Khalid Moore had 10 in the win.
The loss is the second in the last three games for the Razorbacks (7-3), who shot just 38.1 percent (24 of 63) from the field.
Mason Jones led Arkansas with 17 points, while Daniel Gafford added 14 and Isaiah Joe 13. The Razorbacks hit only 10 of 32 3-point attempts.
Arkansas trailed by as many as 11 points in the first half while opening the game 1 of 11 from the field, including 0 of 8 on 3-pointers.
The Razorbacks, however, hit 6 of 9 3-point attempts to close out the half — with Jones and Joe combining for five — and rallied to take a 32-31 halftime lead.
BIG PICTURE
After a disappointing 13-19 record in coach Josh Pastner's second season a year ago, Georgia Tech was in desperate need of a victory after entering the game with three losses in its last four games — including the loss to Gardner-Webb. The Yellow Jackets survived a series of lead changes in the second half to do just that, winning their fifth straight in the series against Arkansas.
UP NEXT
Georgia Tech plays its third game in six days when it hosts Georgia on Saturday.
The Razorbacks host Texas State on Saturday.
Georgia Tech 69, Arkansas 65 - Final
Give the Yellow Jackets credit, they earned this one. Also, shaky shot selection from Arkansas in the final minute. Isaiah Joe took a pretty ill-advised 3-pointer from several feet beyond the top of the key and missed, leading to a Georgia Tech break and bucket, which put it up three. The Razorbacks couldn't recover.
Daniel Gafford also fouled out with 36 seconds left, leaving the Razorbacks without their best player down only three points late. He finished with 14 points, eight rebounds and three turnovers.
Georgia Tech was led by Jose Alvarado, who scored a game-high 20 points on 9/15 shooting and grabbed nine rebounds. The Yellow Jackets shot 50 percent in the second half and hit 4/9 3-pointers. Arkansas shot 38.1 percent for the game and 10/32 from deep.
We will have more from tonight's game in a bit.
Georgia Tech 59, Arkansas 57 - 3:06 left
It's gut-check time for the Razorbacks again at home. The Yellow Jackets have scrapped and gotten enough from Jose Alvarado to take a lead into the final media timeout. His 3-pointer just put Georgia Tech up two with just under four minutes to play. He has 18 points and eight boards.
Daniel Gafford leads Arkansas with eight points since halftime, and Jalen Harris has seven, including a couple of big, big scores around the 6-minute mark.
Georgia Tech 50, Arkansas 48 - 7:53 left
Mason Jones buried his fourth 3 of the night to pull the Razorbacks within two after Georgia Tech went up five again. Arkansas - seven turnovers - has been very careless with the ball in the second half. Daniel Gafford, a minute or so prior to the media timeout, threw the ball to the TV broadcast table. For the night, the Razorbacks have 16 turnovers against 14 assists.
Despite nine second-half turnovers of their own, the Yellow Jackets are making a push to give Arkansas its second loss in three games. Jose Alvarado is up to 15 points and seven boards.
Georgia Tech 48, Arkansas 45 - 9:11 left
Georgia Tech reeled off a 10-0 run to take a five-point lead before Jalen Harris ended it with a floater in the lane off a pick-and-roll with Gafford against the Yellow Jackets' 2-3 zone. It's Harris' first bucket of the night. Josh Pastner then called for time.
Arkansas 43, Georgia Tech 40 - 11:53 left
Arkansas has been a bit sloppy since halftime. The Razorbacks have committed five turnovers and Harris has two of them. After his last one, he angrily slapped his hands together before being pulled from the game. Mason Jones then threw the ball out of bounds, the ball nearly hitting Mike Anderson in his coaching box.
Gafford has four points on four shots in the second half, and Desi Sills hit another 3, his second of the night. He's had a nice night off the bench, too. He is a plus-5 so far.
Arkansas 36, Georgia Tech 35 - 15:58 left
Reggie Chaney, for the second straight game, started the second half in place of Adrio Bailey. Chaney, on a layup in transition, and Isaiah Joe have the lone buckets for Arkansas since the break.
Georgia Tech has opened the second half 1/5 from the floor with three turnovers. Moses Wright has all four of those points. Jose Alvarado has been credited with two of Georgia Tech's three second-half miscues.
Jalen Harris committed his first turnover of the game just more than three minutes into the half. It's his first turnover since the Colorado State game - a span of roughly 95 minutes played without a turnover. Solid.
Arkansas 32, Georgia Tech 31 - Halftime
Mason Jones buried a 3 to pull Arkansas within two with three minutes left in the half, then Chaney followed with a bucket at the rim off an assist from Jalen Harris. Jones later gave the Razorbacks their first lead of the night on a deep 3 from the right wing.
After opening the night 7/10 from the floor, the Yellow Jackets closed the half shooting just 7/21. Georgia Tech made just 1/8 3-point attempts in the first half. Alvarado leads Josh Pastner's club with 10 points and five rebounds.
After getting off to really slow starts, Jones and Isaiah Joe found their touch a bit. Jones leads Arkansas with nine points and Joe has eight. The two are a combined 5/13 from deep so far.
Adrio Bailey is scoreless in nine minutes. He has only a steal and a foul to his name. Jalen Harris did not score, but on the bright side he does have three assists without a turnover. Daniel Gafford picked up his second foul with just under two minutes to play in the first half and Gabe Osabuohien gave five solid minutes.
Also, Reggie Chaney played really, really good defense. He has four points, three blocks and a steal in 11 minutes off the bench. He is a team-best plus-6 to this point. His energy has been a huge bonus with Bailey struggling like he is.
Georgia Tech 25, Arkansas 24 - 3:53 left first half
The teams traded scores since the last break, a Georgia Tech timeout. Daniel Gafford scored easily in the restricted area and the Yellow Jackets' James Banks hit a jumper immediately out of the timeout.
Jose Alvarado, in transition, attempted to throw up a floater over Gafford prior to the break and Gafford not-so-politely swatted it nearly into the Arkansas student section behind the Georgia Tech basket.
Georgia Tech 23, Arkansas 22 - 4:37 left first half
Isaiah Joe shot fakes his way into a midrange jumper and buries it to pull Arkansas within one. He has a team-high eight points and the Razorbacks are suddenly 6 of their last 8 from the floor. Mason Jones also canned a wide-open 3 after missing his first four attempts.
Georgia Tech 19, Arkansas 15 - 7:38 left first half
The Razorbacks are finally showing some defensive toughness - and making a few shots.
Desi Sills buried Arkansas' first 3-pointer at the 10:25 mark and re-energized the Arkansas crowd. Georgia Tech followed with a turnover and Reggie Chaney scored at the rim on the ensuing possession.
Isaiah Joe then hit a pair of 3s, one a stepback from the right wing that kind of gives you an idea why he appeared on a 2019 NBA Draft top 50 recently, and the other causally from the top of the key.
Joe leads Arkansas with six points early on while Alvarado leads all scorers with 10. He calmly sunk a midrange jumper from just beyond the free throw line to silent what became a pretty rowdy crowd during the Hogs' run.
Georgia Tech 15, Arkansas 4 - 11:34 left first half
Arkansas' play after the first media timeout was no better than its start. Razorbacks are now 1/11 from the floor and 0/8 from 3-point range. Gabe Osabuohien scored the only points between the breaks on a pair of free throws after attacking the rim without hesitation.
Arkansas has scored on only two of 14 possessions, missed on its last nine shots and hasn't scored in 2:25. Meanwhile, Georgia Tech is 7/15 shooting and Alvarado has a game-high eight points and five rebounds standing at 6-0.
Georgia Tech 9, Arkansas 2 - 15:44 left first half
Less than ideal start for Arkansas on both ends. Razorbacks have opened the game 1/8 from the floor and 0/5 from deep. Isaiah Joe is 0/2 and Mason Jones has missed all three of his triple tries. Daniel Gafford has Arkansas' only score so far.
Georgia Tech is 4/6 from the floor and Jose Alvarado has four to lead the way early. Prior to the media timeout, Jones threw the ball out of bounds trying to hit Jalen Harris on an outlet pass following a Georgia Tech score.
Pregame
Arkansas' starting lineup: Jalen Harris, Isaiah Joe, Mason Jones, Adrio Bailey and Daniel Gafford.
The Razorbacks are aiming for their eighth win of the season and second over a Power 5 opponent at home. I'll be keeping an eye on Adrio Bailey tonight to see if he can break out of a bit of a funk. He has scored just two points and is 1/9 from the floor over Arkansas' last two games after five straight games reaching double figures.
Georgia Tech's starters: Michael Devoe, James Banks, Moses Wright, Jose Alvarado and Khalid Moore.
The Yellow Jackets enter tonight off a 10-point loss to Gardner Webb on Monday. Georgia Tech is far from the best offensive team the Razorbacks will play this season, but have been fairly solid defensively, ranking in the top 20 nationally in defensive efficiency, per KenPom.com.
Live updates by Scottie Bordelon
Discussion
Have a comment on this story? Join the discussion or start a new one on the Forums.