Jones, Gafford help Arkansas hold off Texas State 73-70
By: Kurt Voigt, Associated Press
Published: Saturday, December 22, 2018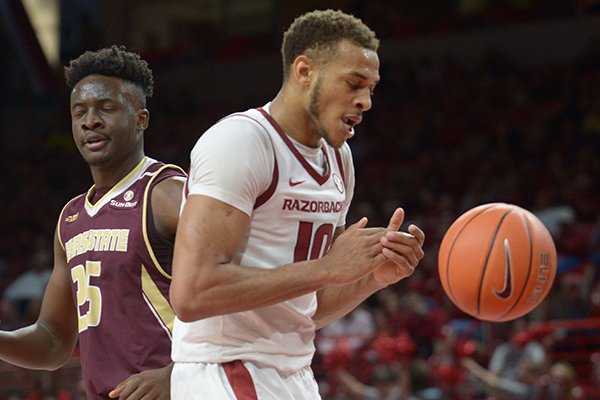 (
Andy Shupe
)
Arkansas Texas State Saturday, Dec. 22, 2018, during the first half in Bud Walton Arena. Visit nwadg.com/photos to see more photographs from the game.
FAYETTEVILLE, Ark. — Mason Jones provided the spark Arkansas desperately needed while down 13 points early in the first half against Texas State on Saturday.
Daniel Gafford and the rest of the Razorbacks followed Jones' lead from there, helping the Southeastern Conference school earn a much-needed 73-70 victory over the Bobcats.
Jones matched his career high with 21 points in the win, a game after Arkansas (8-3) had lost for the second time in three games. Things weren't looking much better as the Razorbacks fell behind 19-6 early to the surging Bobcats (10-2), but the sophomore stepped in with a steal and three-point play — igniting a 17-0 run that put Arkansas ahead for good.
"I just felt like my team needed a spark from somebody," Jones said. "... I felt like I needed to step up to the table, and I was that guy today."
Jones was 5 of 7 from the field, hitting 10 of 13 free throws, and Gafford added 19 points and 10 rebounds. It was the fifth double-double of the season for the 6-foot-11 Gafford, and Jalen Harris and Isaiah Joe each added 10 points for the Razorbacks.
It was Jones, though, who provided the shot of energy Arkansas needed the most — and exactly at the right time. The 6-foot-5 guard matched his previous scoring best in his first year with the Razorbacks, having also scored 21 points in a win over UC Davis on Nov. 12.
"You've got to have somebody step up and make plays, and that's kind of what's been missing," Arkansas coach Mike Anderson said. "... Mason made some big plays."
Tre'Larenz Nottingham scored 18 points and hit six 3-pointers to lead the Bobcats, who had their eight-game winning streak snapped. Nijal Pearson added 16 points and Jaylen Shead had 14 in the loss.
Texas State entered the game off to its best start to a season in 66 years, having last lost at Drake on Nov. 17.
The Bobcats looked the part of anything but an easy nonconference win for the struggling Razorbacks early in the first half, using an 8-0 run to jump out to a 19-6 lead. Nottingham had two of his 3-pointers during the run, which Alex Peacock capped by making a desperation 3-pointer as the shot clock expired.
Jones stepped in with his steal shortly thereafter, and Arkansas followed his lead in rallying for the win.
"I felt like they counterpunched us and knocked us down," Texas State coach Danny Kaspar said. "We were a little slow to get up."
BIG PICTURE
Arkansas' home loss to Georgia Tech on Wednesday night came on the heels of a home loss to Western Kentucky earlier this month, the first time the Razorbacks had lost back-to-back nonconference games in Bud Walton Arena since the 2009-10 season. With Jones and Gafford leading the way, Arkansas managed to recover from the early deficit and never trailed in the second half while improving to 4-0 all-time against the Bobcats.
GAFFORD'S SHOOTING
Gafford entered the game tied for 11th in the country in field-goal percentage, shooting 66.7 percent for the season. The Arkansas forward shot below his usual percentage on Saturday, hitting 5 of 9 shots, but he was also 9 of 14 on free throws and added a pair of blocks. "We didn't really have an answer for Gafford," Kaspar said. "I'm not sure a lot of people are going to have an answer for him."
UP NEXT
Texas State: Off until hosting Howard Payne on Dec. 29.
Arkansas: Return to action when they host Austin Peay on Dec. 28.
EARLIER
Arkansas 73, Texas State 70 - Final
Mason Jones scored 21 points and Daniel Gafford added a 19-point, 10-rebound double-double to lead Arkansas to a much-needed win heading into the Christmas break.
Tre Nottingham led the Bobcats with 18 points on 6/15 from the floor and 6/13 from 3-point range. Nijal Pearson added 16 points on 17 shots. Texas State falls to 10-2 with the loss while Arkansas snaps a two-game losing streak in Bud Walton Arena.
The Razorbacks return to action on Dec. 28 against Austin Peay. We'll have more from this game shortly.
Arkansas 70, Texas State 65 - 24.1 seconds left
Nijal Pearson buries his fourth 3 of the game to pull the Bobcats within five after Jones again split a pair at the line for Arkansas. Jones has a game-high 21 points.
Arkansas 69, Texas State 61 - 45.1 seconds left
Isaiah Joe connected on two free throws following the Texas State timeout, and Mason Jones split a pair on Arkansas' next possession. Nottingham missed a wide open 3 from the top of the key that would have made it a four-point game prior to Jones' free throw.
Arkansas 66, Texas State 61 - 1:00 left
Tre Nottingham hustled for a loose ball, corralled it and buried a 3-pointer in front of the Texas State bench, pulling the Bobcats within five. Kaspar again called for time.
Gafford and Jones each have 19 points to lead Arkansas. Gafford also has 10 boards and is 9/14 at the line. They both have eight points since the break.
Arkansas 63, Texas State 56 - 3:19 left
Isaiah Joe hit his first 3-pointer of the game to put the Razorbacks up 10 on Arkansas' first possession out of the media timeout. It's his first bucket of the game.
Texas State, though, answered back with a 3-ball from Nijal Pearson, who now has 13 points – 11 since halftime. Danny Kaspar called for time immediately following Pearson's 3.
Arkansas 60, Texas State 53 - 3:59 left
Mason Jones has scored Arkansas' last seven points since the Bobcats pulled within two points with 5:55 to go. He has a game-high 19 points and is 8/9 at the line today. Daniel Gafford has his fifth double-double – 16 points, 10 boards. He is 6/10 at the free throw line today as well.
Arkansas 50, Texas State 43 - 7:59 left
Reggie Chaney's putback dunk following a Daniel Gafford miss brought the Bud Walton Arena crowd to its feet prior to the timeout. Chaney essentially slammed it over Gafford, who was following his own miss, and a Texas State defender. Chaney has a team-high seven points and four rebounds since the break, but picked up his fourth foul just moments ago.
Razorbacks have held the Bobcats to 6/16 shooting in the second half Nikal Pearson is really having to work for his buckets today. He's got six points on a pair of 3s since halftime, but you can tell he's a bit frustrated. He's 3/13 for the afternoon.
Arkansas 42, Texas State 38 - 11:41 left
Mason Jones will be at the free throw line when play resumes after he was fouled under the rim following a nice backdoor cut. He's kind of done a little bit of everything today - 11 points, three rebounds, four assists and three steals.
Daniel Gafford is a rebound away from his fifth double-double of the season. He is sitting at 13 points, nine rebounds and a pair of blocks.
Arkansas 36, Texas State 32 - 15:51 left
Less than stellar start to the half for both teams. The Razorbacks are 1/7 from the floor and have missed all four attempts from 3-point range since the break. Texas State is 2/6 shooting and has a 3-ball from Nijal Pearson, who has just five points on 2/10 from the floor.
Arkansas' only bucket since the break came on a Jalen Harris layup. He's missed a 3 this half, too, pushing him to 2/25 from deep this season. Not great.
Arkansas 34, Texas State 27 - Half
The Razorbacks closed the half impressively after falling behind by as many as 13 early on. Mason Jones and Daniel Gafford each scored 11 points on a combined 8/10 from the floor. Jones added three first-half steals as well.
Gabe Osabuohien played very well in the opening 20 minutes, too. He was a plus-4 in 11 minutes, his most time since playing 19 minutes in the 121-89 win over Florida International to begin the month.
Another oddity from today's game so far is Jalen Harris. He turned the ball over twice in eight first-half minutes and did not play over the final 9:13 of the half. Reggie Chaney, who earned his first career start today, turned the ball over four times in only seven minutes.
Arkansas 27, Texas State 22 - 3:57 left first half
Can't explain what Mason Jones' play has meant to Arkansas today. He has a team-high 11 points on 4/5 from the floor and two steals to lead the way. He is now a team-best plus-14 on the afternoon and been the spark plug the Razorbacks desperately needed after falling behind by 13 early.
Texas State is 1 of its last 7 from the floor and shooting 33.3 percent for the game. Razorbacks are holding the Bobcats to .759 points per possession this half.
Arkansas 23, Texas State 19 - 6:32 left first half
Daniel Gafford threw down a one-hand slam and a free throw to knot the score at 19-19, Osabuohien added a free throw then Mason Jones buried a 3 to extend Arkansas' run to 17-0. Huge response from the Razorbacks, and credit Jones and Osabuohien for their roles in the run.
Texas State 19, Arkansas 16 - 7:56 left first half
The Razorbacks have climbed back into this one on the backs of a 10-0 run over the last three minutes. Gabe Osabuohien, who had made only one 3-pointer in his career coming into today, buried one from the right wing to pull Arkansas within three at the under-8 timeout.
Osabuohien and Mason Jones have provided the Razorbacks with a bit of energy. Jones has a team-high six points in 10 minutes. He's a team-best plus-5 to this point.
Texas State 16, Arkansas 6 - 12:16 left first half
Texas State is on an 8-0 run and has taken a double-digit lead less than eight minutes in. That 8-0 run came over a 49-second span with Desi Sills, Keyshawn Embery-Simpson, Jordan Phillips, Gabe Osabuohien and Adrio Bailey on the floor.
Arkansas just looks lifeless again, playing with little-to-no sense of urgency whatsoever. Texas State is playing well, too, hitting 4 of its first 5 3-point attempts. The Razorbacks have five turnovers to just a single assist to this point.
Texas State 8, Arkansas 6 - 15:27 left first half
Reggie Chaney turned the ball over on Arkansas' first possession and Texas State jumped out to a 5-0 lead before Jalen Harris hit a floater and a midrange jumper from the left elbow. Chaney committed the ball over again prior to the media timeout.
Harris has four points and an assist to lead Arkansas, and Daniel Gafford has a bucket on Harris' find. Gabe Osabuohien and Desi Sills are set to check in when play resumes.
The Bobcats have opened the afternoon 3/6 from the floor and 2/2 from deep. Nottingham and Peacock each have three points early.
Pregame
Arkansas' starting lineup: Jalen Harris, Isaiah Joe, Mason Jones, Reggie Chaney and Daniel Gafford.
Mike Anderson hinted at a potential shakeup in the lineup on Thursday and he followed through, inserting the Chaney in place of Adrio Bailey, who has scored all of two points and is 1/13 from the floor over Arkansas' last three games. This will be Chaney's first career start.
This lineup is scoring at a 1.18 PPP clip over 66 possessions together this season and holding teams to .80 PPP over 64. The group is holding opponents to 31 percent on 2-point attempts, too.
Texas State's starters: Tre Nottingham, Nijal Pearson (averaging nearly 20 points per game), Alex Peacock, Jaylen Shead and Eric Terry.
Live updates by Scottie Bordelon
Discussion
Have a comment on this story? Join the discussion or start a new one on the Forums.