Arkansas 2020 hoops target Williams headlines Coca Cola Classic
Published: Thursday, December 27, 2018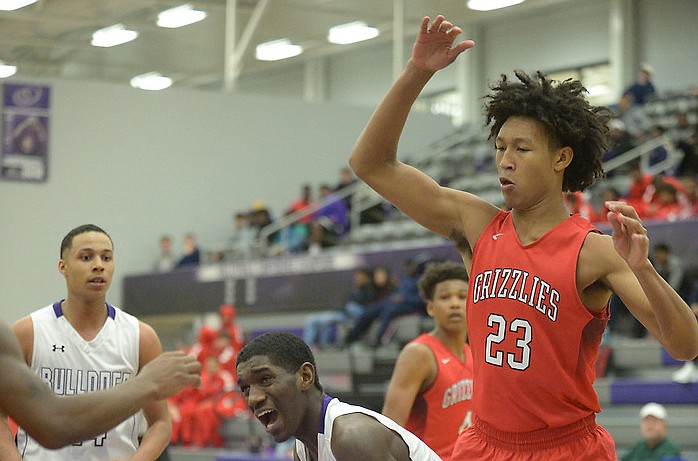 FAYETTEVILLE — Current Arkansas and former Fort Smith Northside shooting guard Isaiah Joe put on quite the show in last season's 39th Coca Cola Classic by pouring in a tournament record 92 points, including 45 in one game.
Since Joe is now doing his thing for the Razorbacks, eyes will be on Northside junior forward Jaylin Williams (6-10, 215) as the headliner in this year's event.
Williams, who has offers from Arkansas, Oklahoma State and others, will lead the Grizzlies (7-4) against Texarkana (Texas) Pleasant Grove (5-6) Thursday night at 7:30 p.m. at the Stubblefield Center in Fort Smith.
"He is getting better every time he steps out there on the floor," Fort Smith Northside coach Eric Burnett said. "It is kind of a process of learning that every time you step on the floor that people want to go after you because you have all these offers.
"He is doing pretty good with it. There are still some areas that he has to do better at, but he has done some really good things."
The rest of the first round includes Van Buren (4-6) vs. Joe T. Robinson (5-3) at 2:30 p.m., Charleston (8-2) against Bryant (7-3) at 4:10 p.m. and Fort Smith Southside (4-6) taking on Little Rock Fair (3-5) at 5:50 p.m.
Williams, who averaged 9 points and 6 rebounds as a sophomore last season, is up to around 15 points per game this season.
"The strength of his game right now is that he is a great passer when he has got the ball at the post and even when he has the ball out on the floor," Burnett said. "I think he needs to continue working on his ball handling and his strength. When he gets in their with stronger guys, they get physical with him, but I think that is going to get better at down the road."
Williams, who was on hand for Arkansas' 73-72 win over Indiana on Nov. 18, is one of the players trying to step up as a leader in the absence of Joe.
"Isaiah was just a great leader," Burnett said. "He didn't say much, but just worked hard on and off the court. These guys gave him so much respect that every time they stepped on the floor they didn't want to let him down.
"Now that Isaiah is gone, we are trying to find that leader to kind of get behind and Jaylin is making some steps toward being that guy for us."
Northside, which has won three of its last four games, is coming in off a 64-38 win over Van Buren back on Dec. 15th in which guard Javion Releford poured in 21 points.
"The team has been playing OK, but I feel like we should be playing better," Burnett said. "We are 7-4 now. Hopefully we can come into the Coke Classic and play well so we can go into conference play with some momentum."


• • •
Although Joe was a great player for Northside, Burnett is a bit surprised with all his success as a Razorback early this season.
Joe is averaging 15.9 points per game while averaging 29.1 minutes per contest, hitting 44.7 percent of his 3-pointers, 44 percent overall and 79.2 percent of his free throws.
"It has surprised me a little bit," Burnett said. "I knew he was a hard worker, but I also understand that there is a process that you have to go through in terms of the speed of the game and stronger players from junior high to high school and then from high school to college.
"I thought it would take a little bit more time for him to play the way he is. But he went in there this summer and worked his tail off. He was going to hit his jumper, but he has worked himself into shape and is showing an all-around game.
"I thought he might be playing around 20 minutes a game, but he has been out there more than that and I just couldn't be prouder of him."
Discussion
Have a comment on this story? Join the discussion or start a new one on the Forums.