Arkansas adds pledge from QB John Stephen Jones
Published: Sunday, February 4, 2018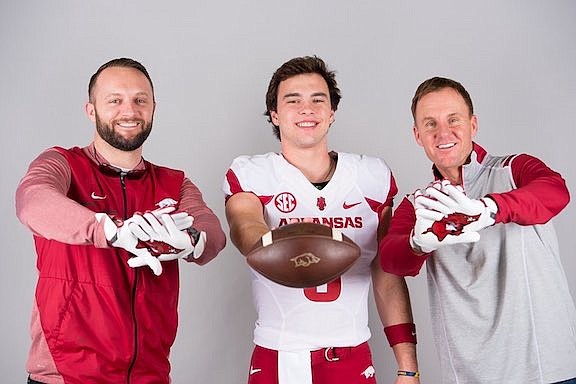 Joe Craddock, John Stephen Jones, Chad Morris
FAYETTEVILLE — Arkansas has added a commitment from Texas prep quarterback with a famous family that has come up big in his last two seasons and is extremely familiar with the Razorback program.
Dallas Highland Park signal caller John Stephen Jones (5-11, 190), who threw for 4,911 yards with 61 touchdowns and just four interceptions his senior season, committed to Arkansas head coach Chad Morris and offensive coordinator Joe Craddock on Sunday afternoon after an official visit to Fayetteville this weekend.
"The biggest factor was that the (Arkansas) coaches were awesome," Jones said. "I've always been a big Razorback fan, but was able to get up there and spend some time with them and that was really the deciding factor for me.
"They are both incredible coaches and I got some time to spend with them this weekend and really get to know them and their families."
The three-star prospect per 24/7 recruiting service chose the Razorbacks over Texas Tech, SMU, Kansas and others after leading the Scots to two straight UIL Class 5 Division I state titles.
All of the offers came late in his senior season for Jones, whose back-up quarterback was Morris' sophomore son, Chandler.
"I wasn't very highly recruited until later in my senior year, but I just went out every game and did what I do," Jones said. "Coach Morris and (Texas Tech head Coach (Kliff) Kingsbury saw that and a bunch of other coaches got to see that once they got to see me play live and started throwing offers my way."
He announced his commitment initially via Twitter.
"Done deal. I am super pumped to announce that I am committed to The University of Arkansas," Jones said on his Twitter account. "Thank you go my family for supporting me through this process, my teammates and coaches at Highland Park for helping me to get where I am and to all the coaches who gave me an opportunity when a lot of people said I wasn't capable playing at the next level #woopig."
Jones is following in the footsteps of his grandfather, former Razorback and Dallas Cowboys owner Jerry Jones, and his father, former Razorback and Dallas chief executive Stephen Jones, who was born in Fayetteville.
"My dad wanted what was best for me, but he is obviously a big Hog fan and is very happy I picked Arkansas," Jones said.
But he made it clear that he was trying to get scholarship offers on his own merit and not because of his famous family.
"That was kind of what I had been trying to do my whole high school career and something I am going to try and continue to do," Jones said.
The youngest Jones, who is Arkansas' 15th signee or pledge in the 2018 recruiting class, passed for nearly 8,000 yards and 90 touchdowns the past two seasons while leading Highland Park to back-to-back championships.
He capped off his high school career completing 37-of-58 passes and throwing for 564 yards and four touchdowns and rushing for another in the state title game at the Cowboys' AT&T Stadium.
Jones led the Scots from 10 points down with three minutes left and threw a 16-yard touchdown pass with 34 seconds left to down Manvel 54-49 while becoming the first quarterback to pass for over 500 yards in an UIL championship contest.
"It was an incredible feeling," Jones said. "I have been playing with a lot of those guys since I was a little kid and just to be able to go out there and do it on that big of a stage was incredible."
Jones was named the Offensive MVP of the state championship game, the Dallas Morning News SportsDay Area Offensive Player of the Year and the Built Ford Tough Class 5A Player of the Year in Texas.
Discussion
Have a comment on this story? Join the discussion or start a new one on the Forums.