Camden lineman Wilkins piling up offers
Published: Saturday, February 10, 2018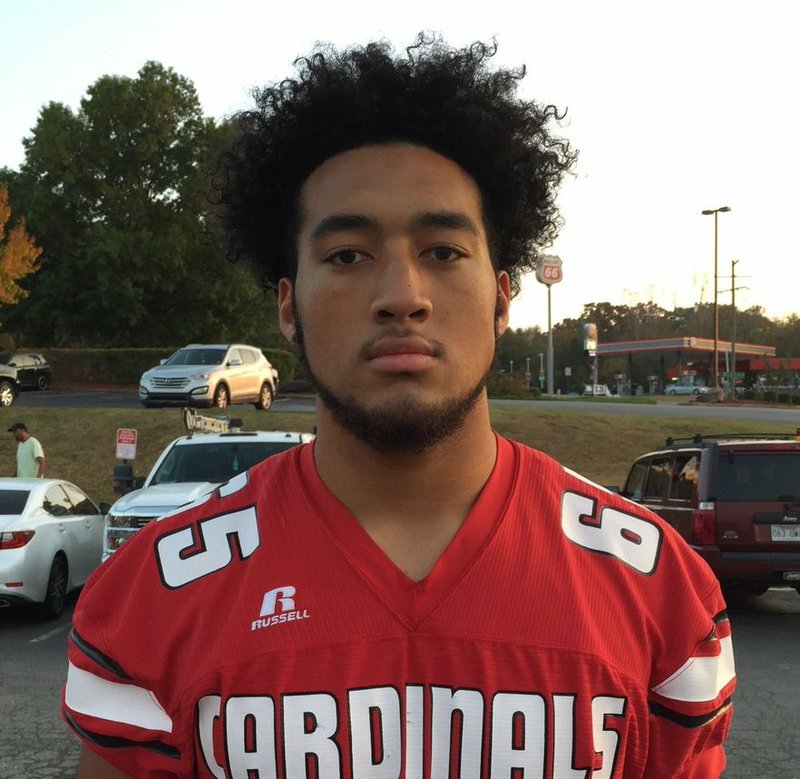 2019 offensive lineman Stacey Willkins.
FAYETTEVILLE — A few weeks ago Camden Fairvew offensive lineman Stacey Wilkins (6-7, 280 pounds) only had four offers.
As the 2018 national signing date rolled around, the 2019 prospect had raced to 17 offers with more coming in almost daily.
"My recruiting was going really slow at first, but then Arkansas offered and my name really got out there and kind of blew up," Wilkins said. "I feel really blessed."
Wilkins is one of five in-state prospects in the 2019 class who the Razorbacks have offered. Others are Warren wide receiver Treylon Burks (6-3, 205), Pulaski Academy tight end Hudson Henry (6-5, 225), Jonesboro offensive lineman Darius Thomas (6-5, 300) and Bentonville West wide receiver Jadon Jackson (6-1, 180).
In addition to Arkansas, Wilkins' offer list includes Oklahoma, Oklahoma State, Tennessee, Ole Miss, Missouri TCU and SMU.
"I have been to see Oklahoma and TCU, and I am going to see Texas on Feb. 17 and Arkansas on Jan. 24," Wilkins said.
Wilkins is the cousin of former Arkansas All-American and NFL offensive lineman Shawn Andrews, and former Ole Miss and NFL offensive lineman Stacy Andrews.
"Arkansas was and still is my dream offer," Wilkins said. "But right now I am still singling out the schools to see where I fit best, where I have a good relationship with the coaches and where I can be a better person, be a better teammate and make it to the league.
"Right now, Arkansas and Oklahoma would probably be my top two."
Arkansas coach Chad Morris recently took his entire offensive staff to visit Wilkins at his school.
"It was really impressive," Wilkins said. "They talked about what they have in mind for me if I come up there and what their goals for me are. They want to make sure I put my academics first and my football comes second and that I will graduate."
Arkansas has targeted Wilkins at left tackle.
"Right now, it is still left tackle because they think I will be getting bigger and fill out like the other tackles that play college ball," Wilkins said.
Wilkins has established a strong relationship with Arkansas offensive line coach Dustin Fry.
"I really like him and me and him have a really close relationship, similar in a lot of ways and like the same stuff," Wilkins said. "He is a pretty cool guy."
Morris has been impressive.
"I like the plan he has set for me and how he wants to build around me," Wilkins said. "He has a lot of things that make him special and are going to make the program special."
Wilkins has set a commitment date for May 9, but it might change.
"I might push it a little bit farther back into the summer as I have had a lot more offers roll in every week," Wilkins said. "My goal is to definitely to have it done before the season starts."
Discussion
Have a comment on this story? Join the discussion or start a new one on the Forums.