Arkansas plans a big Red-White weekend in Little Rock
Published: Friday, February 23, 2018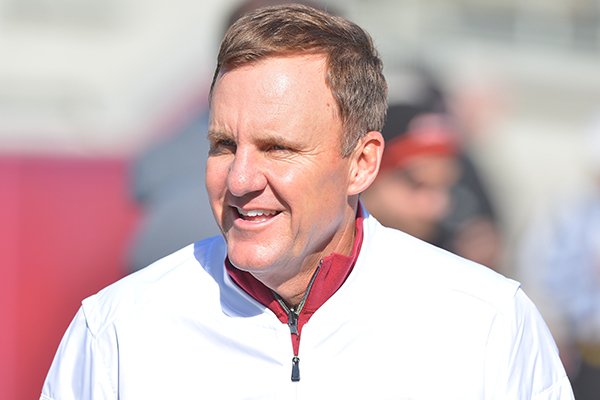 ( Jimmy Jones )
Arkansas coach Chad Morris watches warmups prior to the Class 4A State Championship Game between Warren and Arkadelphia on Saturday, Dec. 9, 2017, at War Memorial Stadium in Little Rock.
FAYETTEVILLE — The Arkansas football program's weekend in Little Rock this spring is set to be quite the two-day extravaganza.
In addition to hosting the Red-White game at 1 p.m at War Memorial Stadium on Saturday, April 7, the Razorbacks will also be on hand and signing autographs the night before at an Arkansas Travelers game against the San Antonio Missions.
They will do so from the time the gates open at 6:10 p.m. until the end of the third inning and the first 5,000 fans will get a 2018 Razorback football schedule poster in addition to hearing the Arkansas marching band and interacting with the spirit squads.
Before Saturday's Red-White game that is free and open to the public, Arkansas will also be hosting a Fan Fest from 9 a.m. through 12:30 p.m. in parking lot 5 that will feature inflatables, a visit from Tusk the mascot and music.
"We are looking forward to an exciting weekend in Central Arkansas as we introduce fans to (new head) Coach Chad Morris and our new staff while also providing fans their first look at the 2018 Razorback Football team," Hunter Yurachek, Arkansas Vice Chancellor and Director of Athletics, said. "We appreciate the cooperation of our friends at War Memorial Stadium and the Arkansas Travelers for partnering with us to make this weekend possible.
"I hope fans throughout the state will join us and take advantage of this opportunity to meet our team and cheer them on during the spring game."
The Travelers, who will have a fireworks show at the end of Friday night's game, were happy to partner with the Razorbacks and note tickets for the baseball game will go on sale Monday, March 5 at 10 a.m.
"The Arkansas Travelers are excited and honored to partner with the University to host Coach Chad Morris and his 2018 Razorbacks Football team," Paul Allen, General Manager of the Arkansas Travelers, said. "It will be an exciting night here at Dickey-Stephens Park filled with baseball, autographs and a superb post game fireworks display."
While the SEC does not allow Red-White games to be held off campus, the league did grant Arkansas this opportunity due to current renovations going on at Reynolds Razorback Stadium in Fayetteville.
Morris noted before a signing day ceremony in Little Rock on Feb. 8th that he gets the idea that the Razorbacks are a statewide program and he knows the fan base is ready to win.
"People are so hungry," Morris said. "They're ready. They're excited. You've got to feel their passion and feel their love [for] the university and the Razorbacks. They want something to be so proud of.
"... You love it and we want them to feel the ownership that they have because every person in this state that loves these Razorbacks is a part of why we get up and do what we do every day. And we're not going to let them down."
The Arkansas Department of Tourism is doing what it can to make sure the Razorbacks continue to play at War Memorial Stadium - as they have yearly since 1949 - after the current contract ends in 2018.
Emails and documents exchanged between University of Arkansas leaders and the Arkansas Department of Parks and Tourism in November, noted that War Memorial needed between $4.85 million and $10 million in improvements to address fan demands, TV requirements and potential changes to SEC rules.
It was announced on Nov. 22 that Arkansas would play Ole Miss on Oct. 13 at War Memorial Stadium so the Razorbacks will make at least two appearances in Central Arkansas in 2018.
"What a fun weekend this is shaping up to be," Kane Webb, executive director of the Arkansas Department of Parks and Tourism, which manages War Memorial Stadium, said. "We're thrilled to be able to play a part with the spring game at the stadium and look forward to the game, all the fun festivities surrounding it, and just having the Razorbacks here in Central Arkansas."
Discussion
Have a comment on this story? Join the discussion or start a new one on the Forums.