Floyd believes Arkansas has landed special player in Mason
Published: Monday, January 22, 2018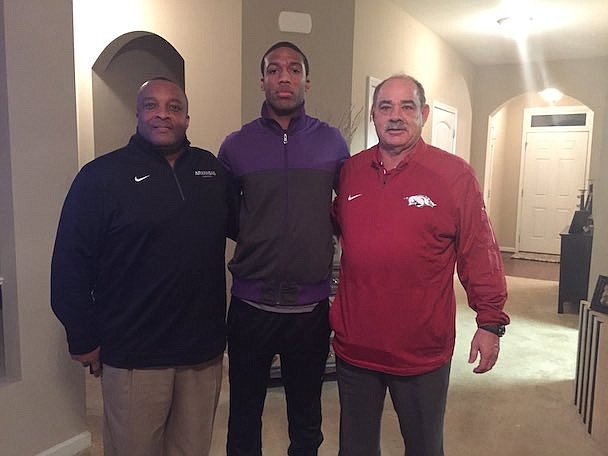 Ron Cooper, Myles Mason, John Chavis
The Razorbacks have landed one of the nation's best safeties, according to a coach who won plenty of high school games inside the state of Arkansas.
Former Shiloh Christian head coach and current Trussville, Ala., Hewitt-Trussville head coach Josh Floyd is high on safety Myles Mason (6-2, 205), an ESPN four-star prospect who committed to the Razorbacks on Monday.
Mason, who decomitted from Mississippi State earlier in the day after visiting Arkansas unofficially over the weekend, also had offers from Alabama, Auburn, LSU, Clemson, Florida State, Notre Dame, Tennessee and others.
"He is what an SEC safety is supposed to look like," Floyd said. "He is 6-2, 200-plus pounds and can run. He loved his time up there the first visit (Dec. 15-17), but I think he wanted to go back with his family and get a little bit more comfortable with the area and things that I was acquainted with being from Fayetteville."
Arkansas hired defensive coordinator John Chavis and secondary coach Ron Cooper after Mason, whose dad played in the NFL, took his official visit to Fayetteville.
"This last time they went up there with his family and it really felt like home for them," Floyd said. "I know they really liked Coach Chavis a lot and love the fact that he has so many of his guys in the NFL Draft (81).
"That stuff that Coach Chavis does and how many kids he has sent to the NFL is very attractive for kids. It really gets their attention and it certainly got Myles'."
Mason had 41 tackles, three for lost yardage, two pass breakups and a forced fumble this season while missing four games in the middle of the season after having a knee scoped for torn cartilage and a chipped bone.
"We liked him on defense because, even though he was a safety for us, we could bring him down in the box," Floyd said. "We play a lot of man-to-man coverage and he was great at going out there and covering somebody 1-on-1.
"He is just very versatile. Some people recruited him as a linebacker, some as a safety. We actually liked him as a running back. I told most of the colleges that were recruiting him that he could play running back if nothing else.
"But everybody is looking for the safety that can come down and be a physical presence that also can cover and I think that is what sets him apart. He can do both."
While Mason had an offer list that looked like that of a five-star prospect, he was just a 3-star prospect in the 24/7 composite rankings of the four major services.
"I think maybe he was undervalued a bit by those recruiting guys, but I don't know exactly how all that stuff works," Floyd said. "I just think he was a big hit early on and got a lot of offers and they just kept rolling in.
"I know one thing and that's coaches love his ball skills and is just perfect for that position. He can catch the football, which obviously helps you on defense."
Floyd was the quarterback at Shiloh Christian for current Auburn head coach Gus Malzahn and then had his own 10-year run as head coach of the Saints while winning four state titles in a span of five years.
He was happy to see Arkansas hire Chad Morris as its new head coach.
"I got to know him a little bit when he was coaching high school and I was excited about Arkansas hiring him," Floyd said. "I was fired up about it because his offense is so similar to what we are doing."
Discussion
Have a comment on this story? Join the discussion or start a new one on the Forums.