Hog Futures: Nick Fulwider:
DE shifts gears to ride with UA
Published: Sunday, July 8, 2018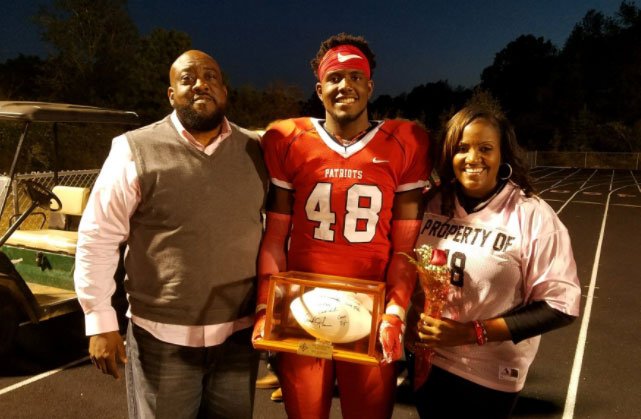 Alfred Harris' black-and-gold Jeep is nearly constructed. But his grandson, Nick Fulwider, won't wear matching colors.
In the summer of 2009, Diahann Fulwider dropped her children off to vacation at her parents' house in Montgomery, Ala.
Nick Fulwider at a glance
CLASS Freshman
POSITION Defensive end
HEIGHT/WEIGHT 6-7, 249 pounds
HOMETOWN Tyrone, Ga.
HIGH SCHOOL Sandy Creek
AGE 18
NOTEWORTHY One of the eight players who signed early as part of Chad Morris' first signing class. … Offers included Tennessee, Ole Miss, Vanderbilt, Michigan State, West Virginia, Wisconsin and others. … Consensus Top 40 defensive end as rated by Rivals and 247Sports. … Son of Henry and Diahann Fulwider. … Had 33 tackles, including a sack and four quarterback hurries, as a senior in 2017. He had 46 tackles and 9 sacks as a junior.
Hog Futures
The second in a series highlighting newcomers to the Arkansas Razorbacks football team.
Harris, an electrician at Alabama Power, enlisted her 9-year-old son, Nick, as his assistant in the garage.
They stripped wires and fixed electrical sockets.
Then Harris thought of a project that would bond them every summer thereafter. They'd build a Jeep and paint it black and gold -- the colors of Harris' beloved Alabama State Hornets.
Those summers molded Fulwider's interest in mechanical engineering, which later helped him shorten a list of more than two dozen football scholarships that included the University of Arkansas, Fayetteville.
But in the summer of 2009, Harris sent his grandson back home to Tyrone, Ga., hoping he would one day attend his alma mater, Alabama State.
Fulwider excelled at nearly ever sport he tried. Soccer. Basketball. Baseball.
His baseball coach also coached the youth football team, the Locust Grove Tigers, and approached Fulwider's parents.
"He's gonna play football with us," Fulwider said the coach told them.
Each fall, Fulwider grew larger and stronger. Each summer, so did his grandfather's Jeep.
By his senior year at Sandy Creek High School, Fulwider was 6-7, 249 pounds, and played defensive end for the Patriots football team.
The offer letters poured in. Michigan State and Ole Miss. West Virginia and Wisconsin.
The Fulwiders took so many trips to Power 5 conference campuses, it resembled the front end of an Alabama State men's basketball schedule. That's as close as Fulwider would come to connecting with the Hornets, which did disappoint his grandfather for a short time.
Fulwider first visited Georgia Tech -- the nation's No. 3 mechanical engineering school, according to U.S. News & World Report -- 27 miles away from his home.
"I'm right down the street from there," he said. "I was able to check it out. Got my feel for it. It's a very good school."
Then he visited North Carolina, which also had coursework that aligned with his interest.
"I was really looking into North Carolina," said Fulwider, who orally committed to the Tar Heels in November. "And when I got up here [Arkansas], it just really felt like home. It really did. They had my major, and it always just felt like home here."
Fulwider officially visited Fayetteville on Dec. 15, more than a week after the Razorbacks hired new head Coach Chad Morris.
Fulwider had been in previous contact with defensive line coach John Scott, who was retained from former coach Bret Bielema's staff.
"It was kind of a crazy time," said Fulwider, who said he had second thoughts about the transition. "I mean, yeah, but you know, what if it isn't a bad thing? What if that's what Arkansas needs?"
The NCAA's first early signing period opened Dec. 20, and Fulwider de-committed from North Carolina.
He called his grandfather to tell him the news: He was going to play for the Razorbacks.
"He didn't like it," Fulwider said with a laugh. "No, he came to the signing. Him and my grandma came up the day before and spent the night, then went to the signing day."
Fulwider announced his commitment to Arkansas on Dec. 22, the last day of the early signing period, behind a blue-tarped table at Sandy Creek High.
At the start of the summer, the Fulwiders loaded up the family car and made the 10-hour haul from Georgia to Arkansas to drop Nick off for summer workouts.
Everything was energizing, even receiving equipment.
"It's a lot better than high school," he said. "First off, you don't have to buy anything. And they take so much time getting the player's needs, check the measurements are OK. Some games [in high school], I had to squeeze into cleats. I made it work."
Fulwider said Scott thinks he will play as a true defensive end, depending on "how I pick up weight." Fulwider isn't certain whether he will redshirt or play right away, but "I wouldn't be mad to redshirt, go ahead and get my academics together. Win-win either way."
But before the season begins, he's thinking of going back to his grandfather's and helping him complete that Jeep.
"Maybe if I get some free time, I'll stop by Alabama and go ahead and finish up," Fulwider said.
Sports on 07/08/2018
Discussion
Have a comment on this story? Join the discussion or start a new one on the Forums.