Transfer Harrell excited about fresh start at Arkansas
Published: Friday, July 20, 2018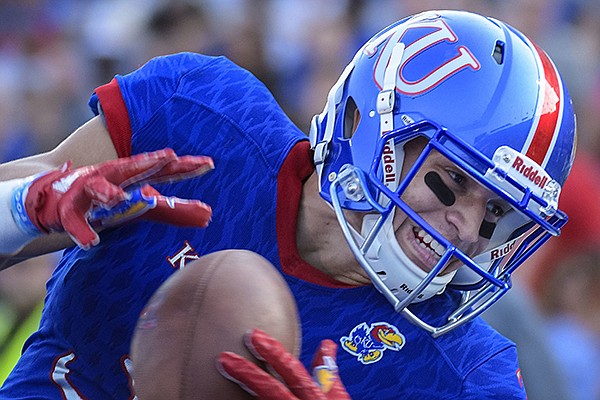 Kansas Jayhawks wide receiver Chase Harrell (3) pulls in a touchdown pass one-handed during the first half of an NCAA college football game in Lawrence, Kan., Saturday, Sept. 2, 2017. (AP Photo/Reed Hoffmann)
FAYETTEVILLE — New Arkansas wide receiver Chase Harrell is just more than a week from arriving in Fayetteville.
The Kansas graduate transfer is looking for big things from his final two years of eligibility.
Harrell, who had 25 catches for 221 yards and three touchdowns last season for the Jayhawks, is coming in at a needed position - what Arkansas calls the "9" - with the Razorbacks losing Brandon Martin because of academics and freshman Mike Woods' status uncertain after a recent alcohol-related arrest.
"I feel like I can really make a big impact immediately because it is not like I am coming in as a freshman and I am new to the game," Harrell said. "I got some skill to come with it and some attributes. I feel like they are in need of a guy like me so I really can't wait to get up there and get in the playbook and become one of the guys."
Harrell (6-4, 230 pounds, 4.47 seconds in the 40-yard dash) says he will arrive in Fayetteville July 30. He decided to seek a fresh start after his older brother, Cole, was murdered in December at a party in Houston.
Chase Harrell also was at the party and earlier this year he was arrested for a DUI.
"At KU I kind of made a name for myself - be it good or bad," Harrell said. "I was just at the point in my career where I wanted a fresh start, wanted to meet some new coaches and get a different feel for the game. That was really it. I just felt like it was time to put the old stuff behind me and start on a new path."
Harrell, who will be a redshirt junior, feels like he will bring a complete package to Arkansas.
"I feel like I have really good size and speed although it might not look like I am moving that fast because I am so big," Harrell said. "I should be able to open up things for the offense, make big catches to keep the offense moving and also be a deep threat. I feel like I am a pretty good receiver all around."
Harrell made one of the best catches of the 2017 college football season when he used one hand to haul in a pass in a 38-16 win over Southeast Missouri State.
"Really the release wasn't as good, but once the ball was in the air I was like I have to catch this," Harrell said. "I just dove and went for it. But I also practice catches like that with my teammates and they always see me catching one-handed balls. It just happened."
Chase Harrell pulls in a one-handed catch against Southeast Missouri State. (Photo courtesy Kansas Athletics)
Arkansas head coach Chad Morris, offensive coordinator Joe Craddock and wide receivers coach Justin Stepp were happy to oblige at a spot that also includes junior LaMichael Pettway.
"When I first started thinking about transferring, I wanted to go closer to home," said Harrell, who is from the Houston area. "But then Arkansas' coaches reached out to me on Twitter and I decided to take a visit.
"When I visited, I just fell in love with the place. I just really liked the atmosphere and the coaches are awesome. "The other thing was that it was the SEC and the best competition, will be a lot of exposure and it is just all good. There is nothing bad about the SEC."
The fact that Morris' offenses have been explosive at Clemson and SMU also was a factor, Harrell said. He had 103 catches for 1,741 yards and 19 touchdowns his senior season for Hargrave High School in Huffman, Texas.
"That is another reason why I wanted to take the visit," Harrell said. "If they had run a different type of offense, I probably wouldn't have even looked at it."
Harrell was impressed with Stepp and the fact that he had named his newborn son after his former SMU receiver Courtland Sutton, who was a second-round choice by the Denver Broncos in the 2018 NFL Draft.
"I feel like Coach Stepp is a real personable dude and a family guy," Harrell said. "When I met him, he was like, 'What's up, bro? It's really good to meet you.'
"He told me about how he had just had a kid and named him after Courtland and I thought that was pretty cool. I just feel like he is a good dude. In fact, I know he is a good dude."
He got a good vibe from the new Arkansas coaches.
"It was good meeting those guys," Harrell said. "Coach Craddock is a good dude as is Coach Morris. They are like family men, which I love. They were just like the school I came from, KU. You can tell they are all just personable dudes.
"It's still a business, don't get me wrong, but they put the family aspect into it which is great."
Discussion
Have a comment on this story? Join the discussion or start a new one on the Forums.