Shiloh's Kallesen pushing forward in quest to land Razorback offer
Published: Thursday, June 14, 2018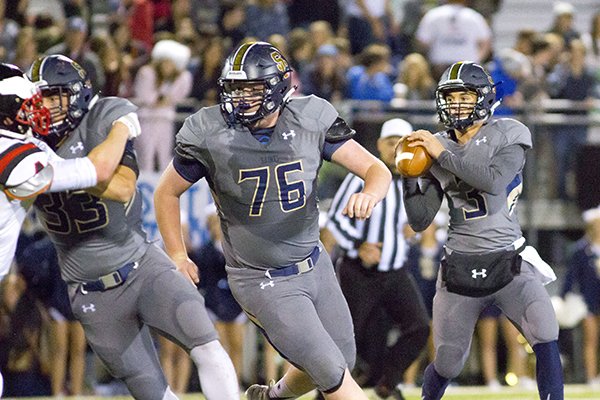 ( David Beach )
Shiloh Christian offensive lineman Logan Kallesen (76) pulls to block while quarterback Connor Reece prepares to throw during a game against Pea Ridge on Friday, Nov. 5, 2015, in Springdale.
FAYETTEVILLE — Shiloh Christian's Logan Kallesen (6-3, 295) had already earned a preferred walk-on offer with his last camp trip to Arkansas and was back on Thursday morning to continue his quest to turn that into a scholarship.
"I feel like I did really good and enjoyed working with the coaches," Kallesen said of the padded camp. "One on ones in run blocking was a blast. It was so nice to be able to hit someone during camp and not have to worry about not having pads on."
Kallesen, who has offers from Harding, Western Missouri and Southwest Oklahoma State, is also getting interest from Arkansas, Utah and TCU.
"After getting the preferred walk-on offer at the last Arkansas camp, my mindset for this camp was to work even harder and put myself in position to get the real thing," Kallesen said. "I am just going to continue to work hard and show them what I can do."
He believes that his strength is tied to the run game.
"I think run blocking is one of my strengths," Kallesen said. "I had 45 pancakes and 35 knockdowns last season. Pass blocking I can work on, especially on inside moves."
Kallesen enjoys working with Arkansas offensive line coach Dustin Fry.
"Coach Fry definitely knows what he is talking about," Kallesen said. "He just doesn't tell you what to do, he also shows you. He knows a lot and has played in the league and sent guys to the league. It's just cool to see that and learn from him."
Kallsesen has been to camps in Arkansas, Memphis and St. Louis so far and has plans to attend camps at Nebraska, Iowa and Tulsa.
"I have gone to a lot of camps this spring and summer just trying to catch the eyes of coaches," Kallesen said. "I'm also just hitting the weight room and trying to be the best I can be."
The Kallesen family has three favorite college teams.
"My mom's side of the family is Arkansas fans and grew up around here while my dad's are Nebraska and Iowa fans," Kallesen said.
Shiloh lost two starting offensive linemen from last season's 7-4 team that lost in the second round of the playoffs.
"I look at definitely being a big leader this year," Kallesen said. "We lost a couple guys on the offensive line so I am working with the younger guys to try and get their confidence up. We do have a couple of stud skill players and our quarterback is looking good. Our defense is always good so we should have another good season."
Discussion
Have a comment on this story? Join the discussion or start a new one on the Forums.