Union's Rauschenberg kicks his way into Arkansas interest
Published: Sunday, June 17, 2018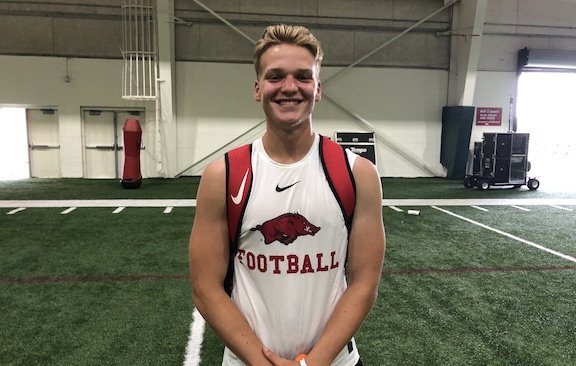 Noah Rauschenberg is no stranger to pressure, which is a really good thing if you are a high school field goal kicker.
Rauschenberg (6-2, 190) showed that this season with an Oklahoma-best 14 made field goals, including a game-winning 26-yarder as Union downed Owasso 44-41 in double overtime on Sept. 29.
It was his second career game-winning field goal with the other one coming in the 2016 postseason as Union marched to the state title.
"I love being in that position," Rauschenberg said. "I want those opportunities on my shoulders. I've got great people around me and they all do their part."
Rauschenberg, ranked as the third-best 2019 kicking prospect in the country by Kohl's Kicking, was one of the best kickers on hand Saturday at Arkansas Specialists Camp.
He made a field goal of more than 50 yards, won the kickoff competition and was co-champ in the punting contest.
"The atmosphere was awesome, the coaching was awesome and I learned some things that I can use," Rauschenberg said. "I loved the kickoff portion, which I won. I felt really smooth kicking the ball.
"I have not been a punter, but I have worked on it a lot and it has kind of paid off the last couple of camps as I have finished second in both, and today I was co-champ."
Rauschenberg was 14-of-22 on field goals last season and was perfect on 62 PATs, including 10-of-10 in a 70-0 win over Moore.
"I tied the (school) record for most field goals in a game with four and that was broadcast on ESPN," Rauschenberg said. "I also broke most PATs with 10 in a game and most career field goals with 26 since I hit 12 my sophomore season."
Rauschenberg does not have any offers yet, but is gaining strong interest from Texas Tech, Rice and Arkansas.
"They have told me at both schools that I am one of their top prospects," Rauschenberg said. "I would love to go to Arkansas. It would be awesome to go here. They have great fans. It would be awesome."
He sees how passionate fans are about Razorback sports.
"I love it, all the fans," Rauschenberg said. "It's good to have 90,000 fans. It's a great college town. They love it and there is not really much out here so they put all their passion into the football team. Everyone loves Arkansas, everyone is for Arkansas."
Rauschenberg is well aware how tough it is for kickers to land scholarships and knows being in front of college coaches is the best thing he can do.
"It is hard because coaches want to see you in person and even if you are one of the top-rated kickers in the nation you still might have to go the preferred walk-on route," Rauschenberg said. "Not many coaches care about giving a kicker a scholarship or if they have one already. They don't want to offer another one because they want to offer another a quarterback or running back that can help them in the future.
"It is simply harder to get a scholarship as a kicker and you just have to understand that it is different for us."
Rauschenberg is a big fan of Arkansas assistant Tanner Burns, who was the director of Saturday's camp.
"I love the energy Coach Burns gives and I feed off of that," Rauschenberg said. "He seems like a really good guy. He gives me more energy."
Discussion
Have a comment on this story? Join the discussion or start a new one on the Forums.