NEO's Lierle will add big bat to 2019 Razorbacks
Published: Saturday, June 23, 2018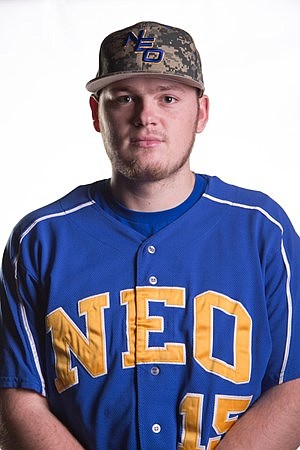 ( Northeastern Oklahoma A&M College )
Bryson Lierle
FAYETTEVILLE — Arkansas corner infielder signee Bryson Lierle (6-3, 215) of Northeastern Oklahoma A&M has not been able to get to Omaha to see the Razorbacks play in the College World Series in person, but he has been glued to his television screen.
"It's been a blast," Lierle said. "They can really hit the ball and have a lot of talented players - young players and upperclassman - that are really playing well."
Arkansas (47-19) will face either SEC foe Mississippi State (39-28) or Oregon State (52-11-1) in the best-of-three championship series that starts on Monday.
"It is truly a blessing to be able to say that I am going to be part of the program that is going to be one of the top in the nation regardless of what happens," Lierle said. "But I think they have a great chance to win it all. It's just been a great season.
"I've thought about how next year that could be me, but I know it takes a lot of hard work and some good fortune to get there."
Lierle, a former Altus, Okla., Lookeba-Sickles standout who led his team to a state title and was named the MVP of the state tournament as a senior, will have two years of eligibility with the Razorbacks.
He chose the Razorbacks over Oklahoma, Oklahoma State, Wichita State, Texas-Arlington and others this spring.
"Arkansas just had the best program and top-notch facilities," Lierle said. "It is not every day that you get the chance to play one of the nation's top baseball programs and for one of the best coaching staffs, who know how to get, develop and project players. So I didn't have to think about it much."
The fact that Arkansas coach Dave Van Horn has been so successful added to the allure of the Razorbacks.
"He is a good guy and is going to get the best out of his players so he is going to make you work hard," Lierle said. "He is going to get the best out of everybody."
He is excited about the opportunity to join a Razorbacks lineup that will include junior Dominic Fletcher and sophomores Casey Martin and Heston Kjerstad.
"I think it is a great opportunity for me because those guys are some great players," Lierle said. "Wherever I land in the lineup is fine with me. I just want to be a part of it and rake with them."
Lierle hit .450 with seven homers and 45 RBIs in a fantastic freshman season for NEO and followed that by hitting .293 with four homers and 34 RBIs as a sophomore as the team limped to a 25-27 campaign.
"We had a lot of good bats in the lineup that got on base so people couldn't necessarily pitch around me," Lierle said. "We had guys on base so they couldn't just walk me and put more guys on base. I just tried to hit line drives and do my part, just as I plan to at Arkansas."
Discussion
Have a comment on this story? Join the discussion or start a new one on the Forums.