Oklahoma prep star Ford feeling genuine love from Arkansas
Published: Tuesday, May 1, 2018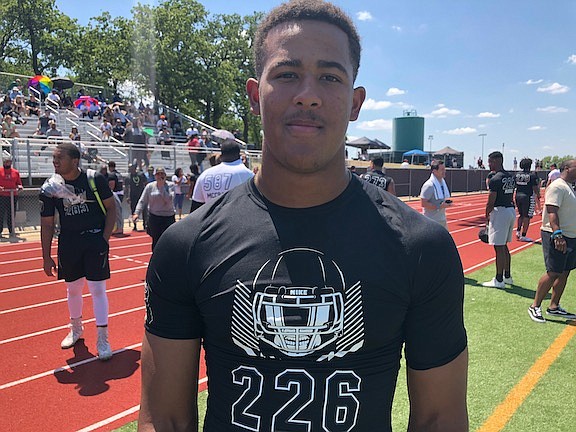 ARLINGTON, Texas — Edmond (Okla.) Santa Fe defensive end Trace Ford (6-4, 225) is a big fan of new Arkansas head coach Chad Morris and that has opened the door for the Razorbacks to recruit one of the Sooner State's top talents.
Ford came to Fayetteville for an unofficial visit on Feb. 11.
"The head coach Chad Morris talks to you and he is not hiding away like a lot of other head coaches do," Ford said. "He is talking to you, texting you all the time, trying to get to know you. He tweets me out, I call him and he just wants to get to know me and I really love that. It's just like family and really cool."
Arkansas put an offer down Feb. 22 to Ford - who shined at Sunday's Nike The Opening Dallas Regional - and became one of the first schools to do so.
"They are really cool, keep contact with you and treat you like family," Ford said of the Razorback coaches. "They like me a lot and have contact with me every day, keep up with me more than other colleges."
Ford would have liked to have taken some spring visits, but is also an outstanding baseball player with a mixture of speed and power for Edmond Santa Fe.
"We are talking about a fall official visit (to Arkansas) because I have the baseball season going on this spring," Ford said. "I am really interested in them and that is definitely going to be one of my officials. I can't wait to get up there."
Ford has 20 total offers from Arkansas, Oregon, Florida State, Oklahoma State, Arizona State, Washington State, California, Missouri, Vanderbilt, Iowa State, Memphis, Arkansas State, SMU, Tulsa, Eastern Michigan and others as well as the opportunity to play at Ivy League schools Princeton and Cornell.
"Besides Arkansas, Oregon is up there, Oklahoma State, Cal-Berkley and Florida State are all good schools that I am looking at," he said.
Ford, who had 42 tackles and caused five fumbles last season, is a very confident young man.
"I would like to think I was the best one here for sure, no doubt," Ford said with a smile. "They couldn't stop me.
"My biggest strength is my speed. If I get in the open field, no one is going to stop me from getting to the quarterback. But I can use my hands better. I don't use my hands as good as I could. But that's what these (events) are for."
Discussion
Have a comment on this story? Join the discussion or start a new one on the Forums.