Gafford's free throw shooting big concern for Razorbacks
Published: Saturday, November 3, 2018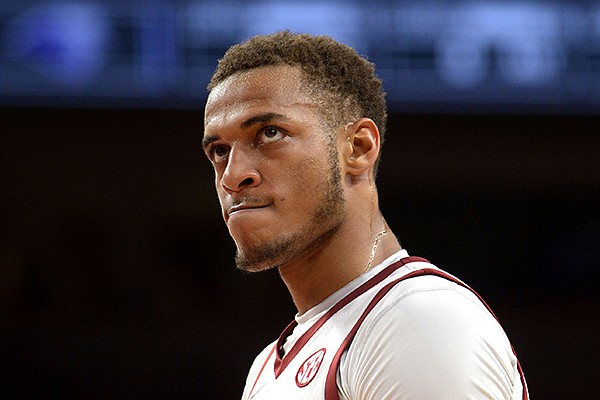 (
Andy Shupe
)
Arkansas forward Daniel Gafford pauses during a break in the Hogs' win over Southwest Baptist Friday, Nov. 2, 2018, during the second half of their exhibition game in Bud Walton Arena. Visit nwadg.com/photos to see more photographs from the game.
FAYETTEVILLE — One things is certain to happen in the next seven days. Arkansas center Daniel Gafford will shoot lots of free throws before the season opens Friday night.
The Razorbacks meet Texas at 6 p.m. on ESPN in the Armed Service Classic at Fort Bliss in El Paso, Texas.
Gafford (6-11, 233) plans to spend a lot of time practicing his free throws.
Gafford is a projected lottery pick in the 2019 NBA draft who was just a 52.8 percent free throw shooter (85-of-161) as a freshman. He is coming off a preseason where he hit 6-of-18 charity tosses in three games.
That included a 3-of-9 effort from the line in Friday night's 100-63 win over Division II Southwest Baptist before an estimated crowd of 6,194 at Bud Walton Arena. He was 1 of 7 before intermission.
"I'm pretty sure they're going to go back to the Hack-a-Dan phase like they did last year," Gafford said. "My main thing is I just need to stay in the gym more and shoot more free throws. … I need to get 100 in per day. My main goal right now is to get better at free throws. I can't have games where I'm missing like six free throws because those are free points and we need those."
Gafford's free throw shooting marred an otherwise solid night as he had 17 points, 12 rebounds, three blocks and two steals.
"We talked about this last year," Arkansas head coach Mike Anderson said. "I mean, it's got to be personal. Daniel is going to get fouled a lot and he's got to have the confidence to get up there. He's got a nice touch. He just has to get consistent. I think it's more in his head than anything else.
"He's got to get in the gym and continue to work. He works hard but he's got to continue to work where it becomes second nature to him because he's going to get fouled. He's going to get fouled a lot. A lot of what we do is going to go through him. And so he's got to be able to get up there and knock free throws down."
Arkansas was 30-of-45 overall from the free throw line Friday night and was 21-of-39 in its first exhibition win over Tusculum.
"We shot 40-something, 45 free throws, and we had opportunities that we missed," Anderson said. "We are an attacking team, so we should be getting to the free throw line. But we have to capitalize on it and not have wasted opportunities."
Texas was 19-14 last season and like Arkansas fell in the first round of the NCAA Tournament. The Longhorns open its 2018-2019 season Tuesday night by hosting Eastern Illinois.

"I think we still have some work to do," Anderson said. "Texas is going to be a team that obviously is going to be an athletic team, probably more size than we have. They have some tremendous, outstanding guard play. They have a big guy inside, so it's a team that likes to play uptempo. They'll pressure and get after us, too.
"The thing we have to continue to do, we have to rebound, we have to defend, and rebounding is the ending part of defense, and we have to take care of the basketball. We must continue to get continuity on the offensive end, knowing where we have the advantages at and taking advantage of what teams are allowing us."
The game will be played in a neutral setting with military personnel on hand and each team receiving just 400 tickets.
The Longhorns lost NBA lottery pick Mo Bamba, but return four starters or significant contributors from last season in seniors Kerwin Roach II and Dylan Osetkowski, and sophomores Matt Coleman and Jericho Sims. Roach is suspended Tuesday night.
Texas has also added Mount St. Mary's transfer Elijah Mitrou-Long and the nation's 8th-ranked recruiting class per ESPN led by point guard Courtney Ramey (6-4, 175), a St. Louis native and top-60 player nationally that Arkansas tried to land and who de-committed from Louisville when Rick Pitino was fired.
"Texas is an outstanding basketball team," Anderson said. "We're going to be playing in a neutral site, which is in Texas, but at the same time, we just have to continue to get better. Where we are right now is… We'll find out more about ourselves.
"The exhibition season is over with, so now it's the real deal."
Discussion
Have a comment on this story? Join the discussion or start a new one on the Forums.