Arkansas OL target Chibueze Nwanna gets shot at perfection
Published: Friday, November 30, 2018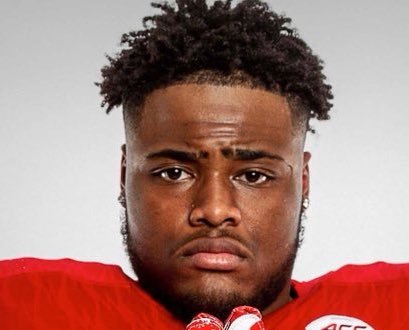 FAYETTEVILLE — An Arkansas offensive line recruit will try to cap off an unbeaten season with a bowl win this weekend.
Arkansas target Chibueze Nwanna (6-8, 314 pounds) will lead No. 6 Lackwanna (10-0) against No. 19 Arizona Western (6-4) Saturday at 5 p.m. CST in the El Toro Bowl in Yuma, Ariz.
Arizona Western made it to last year's national championship game in Perkinston, Miss., before losing 31-28 to No. 1 East Mississippi Community College, which defeated Garden City, Kan., CC 10-9 on Thursday to win a second consecutive national title.
"I think Arizona Western is a good football team," Duda said. "They have had great talent and they have great talent right now. We have to go out to their place to play and I think it will be a super competitive game. I hope we can come out on top. I think a season without any losses would be a hell of a way to send these kids out."
Nwanna, being recruited by Razorback offensive line coach Dustin Fry, is scheduled to take an official visit to Arkansas next weekend along with Iowa Central offensive lineman Myron Cunningham (6-5, 300).
Nwanna, a December graduate, has taken official visits to Louisville (May 31-June 2) and Cincinnati (June 16-18) and also has offers from Arkansas, Maryland, East Carolina, San Diego State and others.
"He is really high on Arkansas and I think that is where he wants to go," Duda said. "We have had everybody from Louisville to Pitt, just a lot of different schools, but he is just really interested in going to Arkansas.
"He has a great rapport with Coach Fry. I can't put words in his mouth, but it seems highly likely that is where he will end up."
Duda has been impressed with the amount of time the Razorbacks have put in on Nwanna, who is originally from Hyattsville, Md.
"They have been here a lot and call a lot," Duda said. "They have done a great job recruiting him. They are trying to build their thing up again and they have a great tradition there that goes back a long way. Hopefully they can get it rekindled because it has been a proud program and hopefully will again."
Duda, who is the winningest active junior college head coach with a 159-74 record in 25 years, put Nwanna at left tackle two seasons ago and he has manned the position well.
"He's done a great job this year," Duda said. "He's a big old kid, about 6-8 and a little bit and about 314. He has played left tackle for us and gotten better all year as he has the whole time he has been here.
"He has tremendous reach and arm span and I think that makes him hard to beat in pass protection. I think if he comes to Arkansas he will do a hell of a job for them. He has just been good solid dude for us all the way through."
Duda doesn't think the height is an obstacle for Nwanna.
"I think the only minus is that I could ever think of when it comes to being tall is sometimes kids could get underneath you when you are run blocking because it would be hard to get enough bend," Duda said. "But in the world we play in right now with RPO and passing, I have never heard an offensive line coach say, 'His arms are too long.' I have heard he is too short.
"The kid has super length and that gives him more room for error. If he misses on a punch with a kid, he can readjust and they can't get to his body. So it is a super advantage."
Nwanna is on a stellar offensive line for Lackawanna, which is located in Scranton, Pa.
"He is on a really good offensive line here with a lot of talented kids," Duda said. "I think Coach (Josh) Pardini, our offensive line guy and offensive coordinator, has done a fantastic job with our kids. Our right tackle is committed to Penn State, our right guard has about 15 offers. All of those are big-time guys and our offensive line and our defensive backs are the strength of our team."
Discussion
Have a comment on this story? Join the discussion or start a new one on the Forums.