Crimson Tide not perfect in 65-point effort
Published: Saturday, October 6, 2018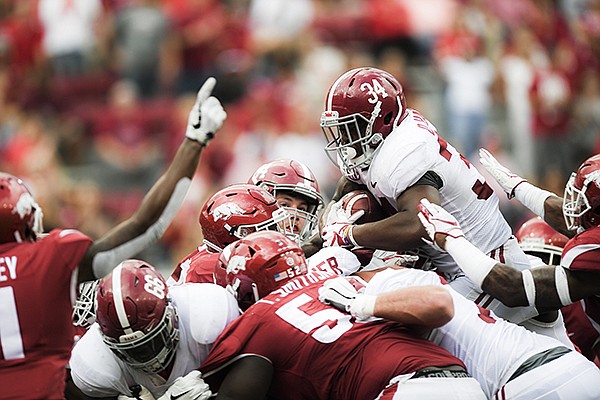 (
Charlie Kaijo
)
Alabama running back Damien Harris (34) runs for a touchdown during a game against Arkansas on Saturday, Oct. 6, 2018, in Fayetteville.
FAYETTEVILLE — When you have as good a program as No. 1 Alabama, sometimes you are playing more against perfection than the other team.
That was the case Saturday and why Crimson Tide coach Nick Saban was not really pleased after whipping Arkansas 65-31 before 49,723 fans at Reynolds Razorback Stadium.
"You are not really competing against the other team, you are competing against yourself," said Saban, who has won five national championships since 2009. "Are you really playing as well as you are capable of playing and doing it on a consistent basis relative to what your job is and with the discipline needed to execute?
"We are currently doing that better on offense than we are defense, but we also want the offensive players to be very aware that they can be better on offense and we are going to work to improve on that."
Saban was happy with his offense that amassed 639 yards, but not with his defense that gave up a season-high 31 points, 405 yards and 22 first downs. The Razorbacks converted six of 12 third downs.
"I thought we did an outstanding job on offense," Saban said. "We had a lot of explosive plays, a lot of big plays. We controlled the line of scrimmage pretty well.
"But there are a lot of areas where I think our team can improve. We made a lot of mistakes on defense. We didn't play very well together as a unit. We had lots of opportunities to get off the field on third down and we just didn't do it, which allowed them to extend drives."
Arkansas' 31 points was the most scored against Alabama in 20 games going back to a 35-31 loss to Clemson in the 2016 College Football Playoff Title game and the most given up since the Crimson Tide's 45-43 loss to Ole Miss in the same season.
It was Alabama's 78th consecutive win over an unranked foe.
"We need to coach them better," Saban said. "We need to prepare them better. They need to be able to make adjustments in the game better.
"I just felt like we didn't do a good job of that. That's my fault. That's my responsibility. That's us as coaches. We've got to do a better job of coaching those guys, so that they do a better job when the game comes and make those adjustments they need to make."
Saban thinks Alabama (6-0, 3-0 SEC) will have to play better the rest of the season when it faces more powerful offenses than Arkansas (1-5, 0-3).
"I don't think you beat the other team when you give up 31 points like we did today, from a defense perspective," Saban said. "We're going to play a lot better offensive teams. We're going to play a lot better offensive team next week, one of the best offensive teams in the country Missouri.
"We have to have a lot of guys have a little more discipline, a little more focus. Give Arkansas a lot of credit for the way they kept fighting. They are a lot better team on offense than they were earlier this year."
Alabama running back Damien Harris had 15 carries for 111 yards and two touchdowns.
"I think we had a really good day on offense," Harris said. "We threw the ball, we ran the ball well. It starts with the (offensive) line, who did a tremendous job in pass protection and in the run game. We've got skill players that made plays and we were really efficient on offense.
"We won the game so that felt even better."
Alabama had 393 yards passing and 246 rushing. Tua Tagovailoa had touchdown passes of 76, 12, 42 and 60 yards in the first half.
Three of their last four offensive touchdowns came via the run. Shyheim Carter's 44-yard interception return added another score.
"We want to have balance on offense," Saban said. "They played a lot of press and run defense, which is probably what helped us have some explosive plays at the beginning of the game, especially on RPOs, especially to the tight ends.
"But as the game wore on, I thought our offense kind of got control of the line of scrimmage and I thought our backs did a really good job of running the ball."
Tagovailoa was 10-of-13 passing for 334 yards and four touchdowns. Backup quarterback Jalen Hurts was 4-of-5 passing for 59 yards and also rushed four times for 35 yards.
Jerry Jeudy had four catches for 135 yards with touchdowns of 60 and 42 yards, the latter of which he outraced the Arkansas defenders after catching a pass from Tagovailoa over the middle.
"When I caught the ball, I saw that I had a lot of room and once I saw that room, I just burst and ran away from the defender," Jeudy said. "The placement was right there and I could just catch and run instead of having to stop and then catch and run. It helps a lot."
Arkansas quarterback Ty Storey was 25-of-39 passing with two touchdowns and rushed nine times for 36 yards. He impressed Saban while taking several big hits.
"I thought Arkansas did a really good job," Saban said. "They had 400 yards of total offense today. They kept battling in the game and their quarterback played with a lot of grit out there. He scrambled around and made some plays."
Discussion
Have a comment on this story? Join the discussion or start a new one on the Forums.