Same number, similar results: Boyd first Hog since McFadden to hurt Tide on the ground
Published: Saturday, October 6, 2018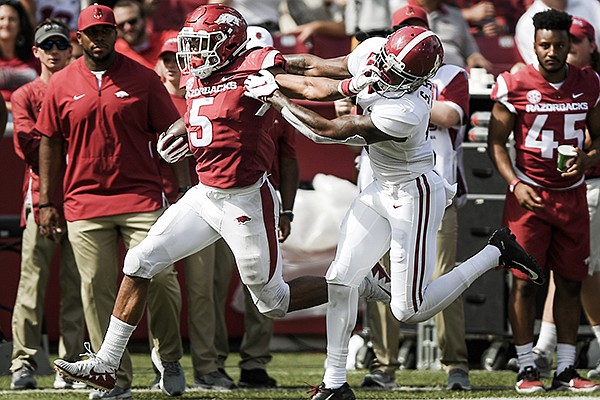 (
Charlie Kaijo
)
Arkansas running back Rakeem Boyd stiff arms Alabama defensive back Saivion Smith during a game Saturday, Oct. 6, 2018, in Fayetteville.
FAYETTEVILLE — For the first time since Darren McFadden did it in back-to-back seasons in 2006 and 2007, Arkansas had a 100-yard rusher against Alabama on Saturday.
Wearing the same No. 5 that McFadden wore, Rakeem Boyd rushed for 102 yards on 15 carries in Arkansas' 65-31 loss to the Crimson Tide. He also caught a 24-yard pass.
Boyd is popularly known for his role on Last Chance U where he was featured as a member of the Independence Community College team in Kansas. Arkansas coach Chad Morris praised Boyd for the impact he's had for the Razorbacks in a short time.
"He's a guy who just got here in August, started getting into playing shape and we're really starting to see him," Morris said.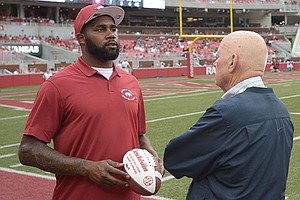 Photo by Andy Shupe
Former Arkansas running back Darren McFadden speaks to former trainer Dean Weber prior to Saturday's game.
"He rushed for over 100 yards today, and he does a really good job in pass protection."
Before the game, McFadden was honored after being named a member of the SEC Legends Class of 2018 earlier in the week. He spoke to Arkansas players prior to the game.
"I got to talk to Darren McFadden a little bit and that pumped me up before the game," Boyd said. "He just said, 'Keep doing you.' So that's what I went out there and did."
It was the third consecutive game in which Boyd was Arkansas' leading rusher, but the first time he has eclipsed 100 yards. He had 66 yards on eight carries at Auburn two weeks ago, and 47 yards on 10 attempts last week against Texas A&M.
"This is three weeks in a row that this young man just continues to get better," Morris said.
Boyd's 102 rushing yards exceeded Arkansas' team total from the last two matchups with the Tide - 27 yards on 29 carries in 2017 and 73 yards on 36 carries in 2016.
Led by Boyd, the team totaled 172 rushing yards Saturday. Ty Storey rushed for 36 yards on nine attempts and Chase Hayden had a 17-yard run.
"Rakeem comes to work every day. He's been a great addition to our offense with his explosiveness out of the backfield," Storey said. "He's been good and we just have to keep building on that."
In three games against the Crimson Tide, McFadden rushed for 402 yards. His best single-game performance against Alabama came in Nick Saban's first season with the Crimson Tide, when McFadden ran for 195 yards and two touchdowns.
Arkansas Rushing vs. Nick Saban's Alabama Teams
2018: Rakeem Boyd 15 carries for 102 yards | Team: 31 for 172
2017: Devwah Whaley 5 carries for 18 yards | Team: 29 for 27
2016: Rawleigh Williams: 12 for 46 | Team: 36 for 73
2015: Alex Collins: 12 for 26 | Team: 25 for 44
2014: Jonathan Williams: 20 for 83 | Team: 39 for 89
2013: Alex Collins: 18 for 77 | Team: 39 for 165
2012: Knile Davis: 20 for 59 | Team: 37 for 58
2011: Ronnie Wingo Jr.: 11 for 35 | Team: 19 for 17
2010: Knile Davis: 6 for 42 | Team: 20 for 64
2009: Michael Smith: 12 for 61 | Team: 26 for 63
2008: Michael Smith 19 for 91 | Team: 31 for 92
2007: Darren McFadden: 33 for 195 | Team: 53 for 301
Discussion
Have a comment on this story? Join the discussion or start a new one on the Forums.