Arkansas sells Moody on being a homegrown Razorback
Published: Sunday, October 21, 2018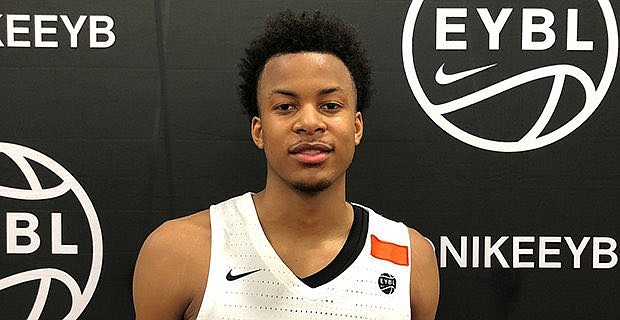 FAYETTEVILLE — Before five-star junior prospect Moses Moody got on the plane to head back to Montverde Academy in Florida, Razorbacks basketball coaches and players reminded him first and foremost he is an Arkansas native.
Moody (6-5, 185), one of the nation's top 2020 prospects per ESPN, led North Little Rock to the Class 7A state championship last season before making the move to one of the nation's top prep programs.
Moody and his parents, Kareem and Rona Moody, spent the weekend at Arkansas on his first of five official visits allowed by the NCAA.
"It was a great overall visit," Moody said. "I got to bond with the team and continue to form my relationship with the coaches. It was just an overall great experience.
"It is a great relationship. They mostly were just talking about staying home and playing for the home state and how big a piece for them that I would be. They are all good guys and I like them as both coaches and people and really like the way they run their program."
Moody, who also has offers from Auburn, Florida, Florida State, Baylor, Missouri, Oklahoma, Oklahoma State, Texas, Texas A&M and others, enjoyed getting to see some friends that were either old high school or AAU teammates.
He got to see the Red team down the White 105-82 in the annual intrasquad game on Friday night.
"I have come up playing with a lot of these guys or they played with my (older) brother Miles on the (Arkansas) Hawks," Moody said. "So I already had a good relationship with a lot of the guys like Ethan (Henderson), Desi (Sills) and Isaiah Joe.
"I also got to hang out with my guy Khalil (Garland). I also got to meet some new guys that I didn't know and they were all really cool. I loved the atmosphere."
Moody was one of three top 100 nationally ranked juniors who took official visits to Arkansas this weekend along with Tulsa (Okla.) Booker T. Washington guard Bryce Thompson (6-5, 170) and Memphis Whitehaven guard Matthew Murrell (6-3, 180).
Moody, who does not have any other visits scheduled as of now, has a few factors that will help him make his decision down the line.
"The key factors are going to be definitely who needs me most in their program, what feels like home and especially the academics," Moody said. "I'll also see who has the best support system and who has good guys in the program."
Moody has been limited in his basketball activity since suffering a stress fracture playing AAU ball this summer.
He hopes to be cleared soon and begin practicing with Montverde, who is coming off a 34-0 season in which it won the GEICO High School national championship.
"Monday is the day when I find out," Moody said. "It's a big day."
Montverde is certainly a different situation than going to Little Rock Parkview - where Moody played his freshman season - or North Little Rock.
"It is most definitely different," Moody said. "I am living on campus, so that's new. It is a lot more structured, a lot more rules, but I like it. You have stuff to do all the time. You never really have any dead time so you are always busy."
Montverde plays a challenging schedule that includes games against squads with numerous Division I prospects on them.
Moody will have at least two ESPNU nationally televised matchups during the regular season on Jan. 20 and 21 as Monteverde takes on Imhotep (Pa.) Charter School and Sierra Canyon (Calif.) at the Hoophall Classic in Springfield, Mass.
"We have some pretty good games coming up," Moody said. "I know we have Sierra Canyon on TV and I am looking forward to the Oak Hill matchup."
Discussion
Have a comment on this story? Join the discussion or start a new one on the Forums.