Razorbacks looking forward, ignoring 'outside noise'
Published: Tuesday, September 11, 2018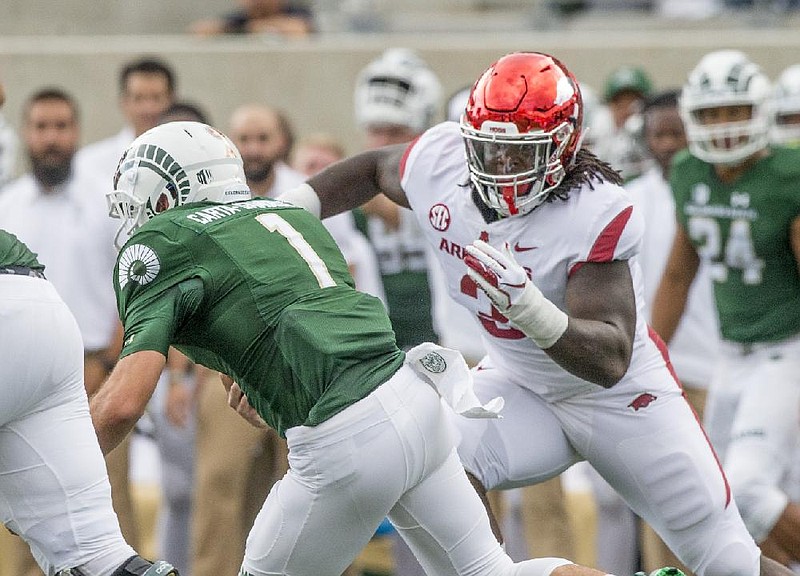 (
NWA Democrat-Gazette/BEN GOFF / Ben Goff
)
NWA Democrat-Gazette/BEN GOFF @NWABENGOFF McTelvin Agim, Arkansas defensive lineman, pressures K.J. Carta-Samuels, Colorado State quarterback, in the 1st quarter Saturday, Sept. 8, 2018, at Canvas Stadium in Fort Collins, Colo.
FAYETTEVILLE — Arkansas' players know they let a win slip through their fingers last Saturday at Colorado State.
The Razorbacks led 27-9, but were outscored 25-0 in the final 17-plus minutes and lost 34-27. Now Arkansas is focused on not letting that one loss turn into two.
North Texas (2-0) brings a high-scoring offense to Arkansas (1-1) on Saturday, and Razorbacks coach Chad Morris has not let his players wallow in misery, said senior safety Santos Ramirez.
"Coach Morris has done a great job making sure we are not worried…about the past anymore," Ramirez said. "After Sunday when we did corrections and everything, we moved on from that.
"We can't sit here and be sad or be like, 'How could that happen?' and worry about the outside noise. We have just got to continue to press forward and focus on winning the game this Saturday."
Ramirez said that point has gotten across as Arkansas prepared to face North Texas. The Mean Green have amassed 66 first downs and 1,136 yards of total offense - 915 of those through the air - in wins over SMU (46-23) and Incarnate Word (58-16).
"Like I said, ain't no woe is me," Ramirez said. "We don't got time for that. Correct what you can correct and move forward. He (Morris) really has harped on that mainly after the last game."
Senior center Hjalte Froholdt was even more pointed in his comments.
"We've lost before, and every other team (has)," Froholdt said. "You need to treat every single game like it's the same game. We need to treat every single game like it's Alabama or it's Eastern Illinois. It's the same approach every single week, and I know it was a very disappointing loss, I'm not going to lie, but we're going to come back out.
"The whole team has a 24-hour rule. We have 24 hours to be pissed about it, to be petty about it, and we can cuss and do whatever we want, but after those 24 hours, after Sunday meetings, it's gone.
"There's nothing we can do to change what happened to Colorado State, or we can't change the calls or whatever Coach should have done, fourth-and-1 or what we did or what we didn't do. There's nothing to do about it now. All we need to focus on is North Texas. Of course, we need to learn from the mistakes we made, but we need to move forward."
Junior defensive tackle McTelvin "Sosa" Agim has been trying to stay positive.
"Just trying to get all that bad energy out," Agimm said. "We had to take it in. We made that bed; we had to lay in it. Now we've got it out the way and we're trying to move on to the next step. We've got to get to the next opponent. You can't sit on that loss too long."
Wide receiver La'Michael Pettway echoed those same sentiments.
"Everybody's (mentality) is the same," Pettway said. "We've just got to bounce back. We've got something to prove. Everybody has got the same mindset."
Don't be confused moving on from the loss with it not hurting the Razorbacks, said junior linebacker De'Jon "Scoota" Harris.
"We were down, like every team is, especially the way we lost," Harris said. "But we're over it now. We put it behind us and we've moved on to North Texas now.
"We've been here before. We put it behind us, the 24-hour rule. Like I said, we've moved on to North Texas now."
Arkansas has lost 14 games since 2012 when leading by double digits, but Harris didn't want to hear that stat.
"Right now, it's still early in the season," Harris said. "It's about to be the third game. We can't let that define our season. We can't let that hold us back because we have a lot of opportunities in front of us."
Discussion
Have a comment on this story? Join the discussion or start a new one on the Forums.