West Memphis' Moore sizing up Arkansas basketball changes
Published: Wednesday, April 10, 2019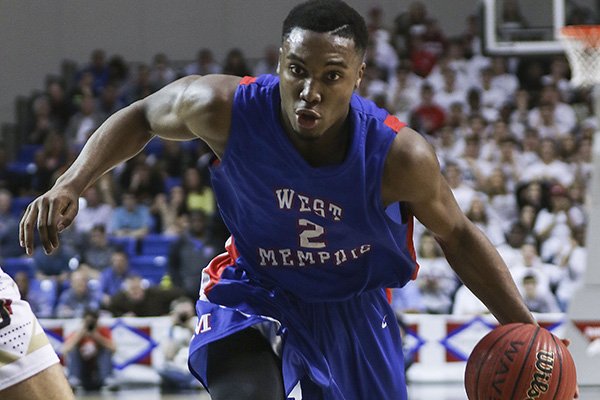 (
Mitchell PE Masilun
)
West Memphis forward Chris Moore (2) drives to the basket during the Boys 6A Basketball Championship Game against Jonesboro at Bank of the Ozarks Arena in Hot Springs on Saturday, March 10, 2018.
FAYETTEVILLE — West Memphis junior forward Chris Moore (6-6, 210) admits that he was surprised about the coaching change made within the Arkansas basketball program.
Razorbacks coach Mike Anderson was let go on March 26 and former NBA and fourth-year Nevada coach Eric Musselman hired Sunday.
"I was very surprised," Moore said. "I didn't think Arkansas would ever have let him go. He is a great man and was more than just a basketball coach to me. When he is recruiting you, he brings you into his family and he touches on all the small things, not just the big ones.
"I know him (Anderson) having to leave hurts him, but I know he will keep in touch with the guys at Arkansas and the recruits because he is just that type of person. I have nothing but respect for him."
Moore, whose Woodz Elite AAU team will be playing this weekend in the The Warmup event in Fayetteville and Springdale, is intrigued about the arrival of Musselman in Fayetteville.
Musselman got word to Moore on Thursday that he wanted him to be a Razorback.
"The fact that he coached with Golden State and in the NBA is certainly something that has been interesting," Moore said. "I'm looking forward to meeting him and talking to him. It's an exciting hire for Arkansas."
Musselman's NBA background is a plus to Moore, who has traveled to check out Arkansas, Memphis and Ole Miss numerous times and also visited Auburn and other schools.
"That is definitely something I will be considering as I look at all the schools," Moore said. "The fact he knows what it takes to get to the next level is an important thing."
Moore, the first freshman to ever start for West Memphis and a top-150 player nationally, per Rivals and 247, recently tweeted out a whopping list of 20 schools he is still considering.
That list will be whittled down as the spring and summer moves along. Moore's official visit to Arkansas last fall is the only one he has taken so far.
"I am trying to come up with another list by the end of this month that will help keep these schools updated," Moore said. "I will get it down to 15 by the end of this month and then a top 10 and then a top five.
"It is going to be hard for me going through this recruiting process, taking it down, but I want to do it and not waste the schools' time if I am not as interested in them as I am some others."
Moore is part of a loaded Woodz Elite 17-and-under roster that also includes Jacksonville guard Davonte Davis (6-4, 170) - ESPN's 53rd-best player in the 2020 class - and Fort Smith Northside center Jaylin Williams (6-10, 220) as well as Waldron's Payton Brown (6-3) and Izard County guard Justus Cooper (6-4).
Former North Little Rock star and current Monteverde (Fla.) Academy standout Moses Moody (6-5, 180) will also be playing in The Warmup this weekend.
Moore, Davis, Moody and Williams were all offered scholarships to Arkansas by the Razorbacks' former staff. Williams is joining Moore and Davis on this year's Woodz Elite roster.
"I'm a little undersized inside there and it is great to add Jaylin and his height after he had a great year and won a (Class 6A) state title," Moore said. "He'll be in there and affect a lot of people's shots and do the things a true big needs to do."
Moody's Bradley Beal Elite squad will take on Woodz Elite Friday night at 7:45 p.m. in a 17-and-under showcase game at Fayetteville High School.
That will follow a 6:15 p.m. tilt between Woodz Elite's 16-and-under team and Team Griffin.
After having Davis out last week due to injury, Moore is excited about having his whole team on board this weekend.
"We play together, we play as a team," Moore said. "If somebody was having an off night, somebody else would pick them up. That was the best part about our team - we were unselfish."
Discussion
Have a comment on this story? Join the discussion or start a new one on the Forums.