Pregame antics inspire big outing
Published: Saturday, December 14, 2019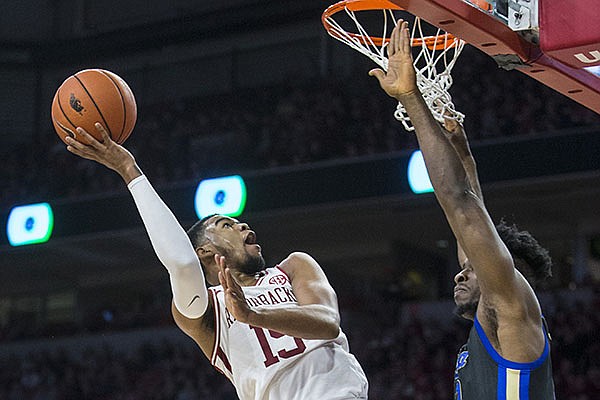 (
Ben Goff
)
Arkansas guard Mason Jones shoots over a Tulsa defender during a game Saturday, Dec. 14, 2019, in Fayetteville.
There's an old adage that says you should let sleeping dogs lie.
Instead of doing that, Tulsa woke up Arkansas' Mason Jones on Saturday before the game, and Jones went off for a career-high 41 points in the Razorbacks' 98-79 win over the Golden Hurricane before 15,589 fans at Bud Walton Arena.
Jones said he was energized by some hallway trash talk before the game from Tulsa, who had won at Vanderbilt earlier this season. He let them know how easy it was to score against them after he went for 20 first-half points.
"When people start talking trash," Jones said of when he got hyped up for the game. "It was just a different type of vibe today in the game. They called us out. They came to our locker room (hallway) talking trash, running through it, but you know, it was just a different type of energy from the jump."
Arkansas (9-1) raced to a 28-10 lead took a 50-34 advantage when Jones, who was coming off a subpar game, launched a buzzer-beating 3-pointer that bounced off the rim and into the net.
"We wanted to set the tone," Jones said. "They said they came here to be a road killer and I respect that and all, but you have to show us a little respect. We felt like we wasn't getting respected. But we all took it in upon our hands and (was like) just be ready to play and show energy."
Jones said Arkansas coach Eric Musselman was the leader of that, especially because the Razorbacks were coming off their first loss of the season at Western Kentucky in overtime.
The Razorbacks responded by shooting 56.7 percent from the field while holding the visitors to 43.6 percent.
"Having Coach Muss lead the charge and show us, like, 'OK, he's ready,' it only forces us to get ready, so his energy today was amazing," Jones said. "The coaching staff's energy today was amazing and it was just different because we wanted to have a bounce-back game. That was the two words we heard every day: bounce back."
Tulsa coach Frank Haith was impressed with Arkansas.
"Obviously they played great," Haith said. "We didn't play as well. Isaiah Joe was outstanding and so was Mason. Those two guys, we couldn't stop them. They were terrific, but we didn't play well, our defense was not very good.
"I felt like Arkansas came in and played extremely hard, played extremely well. We have them some live ball turnovers where they didn't have to go against our defense. I thought that going them going early in the game. Hat's off to them. They played well."
Jones was coming off a game in which he was 1-of-9 from the field at Western Kentucky. He was 12-of-18 from the field, 5-of-11 from 3-point range and 12-of-13 from the free throw line Saturday.
"What I saw from today is that the ball went through the hoop and that day it didn't," Haith said. "He made some tough shots, but he got it going and once he got his rhythm he was a terrific player and shot it extremely well."
Haith was impressed with the crowd Saturday, which gave new head football coach Sam Pittman a standing ovation when he was introduced.
"It was a good experience," Haith said. "I just didn't feel like we had great toughness or resolve that we needed to have to get back into the game. I was disappointed in that, but there were some things that we can take from this game put in the memory bank."
Arkansas hit 11-of-30 3-pointers, but also drove to the basket a lot with Jimmy Whitt (11 points) leading the charge.
"I have a lot of respect for Jimmy and I have known him a long time," Haith said. "He is a great player and a tough matchup because he can score in the low post, has a great mid-range game. I thought he kind of got them going early on along with Mason. But they are tough match up because they are quick, they drive the ball, they get to the paint and they get to the free throw line."
The Hurricane had 13 turnovers, many coming in the backcourt that led to easy baskets for the Razorbacks.
"I think we had some mental mistakes," Haith said. "We tried for a home run play. We had a couple of balls that were right in our hands and we just didn't hold on to them. You can give it to the crowd, you can give it to the environment, a lot of factors. And give it to Arkansas because I think they were aggressive, attacking and they are very physical on the ball. They looked a little bit like (former coach Mike Anderson's) team."
Arkansas has played strictly man-to-man defense this season.
"They are very physical and they front the post, which makes it hard to throw it in the post because they are small," Haith said. "They have a good scheme defensively. I think a lot those guys, because they are not real deep so they are not playing as full court as when Mike was here, but they have a lot of their mentality with Mike's team. With this team, I see a lot of it."
Discussion
Have a comment on this story? Join the discussion or start a new one on the Forums.