Townes pleased for oppportunity to rep Razorbacks once more
Published: July 20, 2019 at 3:11 p.m. - Updated: July 20, 2019 at 3:14 p.m.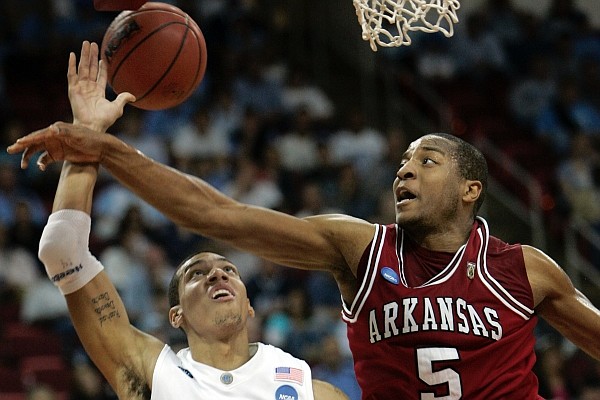 North Carolina's Danny Green (14) and Arkansas' Darian Townes (5) battle in the first half of a second-round NCAA East Regional basketball game in Raleigh, N.C., Sunday, March 23, 2008. (AP Photo/Mel Evans)
FAYETTEVILLE — Never in his wildest dreams did former Arkansas basketball standout Darian Townes think his basketball skills would allow him to travel the world, but that's exactly what has happened.
Townes (6-10, 250), a Alexandria, Va., native who was a Razorback from 2004-2008, has played in the NBA's G-League, Poland, Holland, Hungary, South Korea, China, Japan, Taiwan and Lebanon since finishing up his college career in Fayetteville.
"Basketball has opened a lot of doors for me," Townes said. "I've met some great people, got a chance to see the world, played overseas and helped build myself a brand. One of the things I have tried to do at each spot is help the kids by having camps and giving back."
Townes added Memphis to his list and to his travels Friday as part of Team Arkansas, a group of former Razorbacks plus Duke's Matt Jones and Florida's KeVaughn Allen, playing in the Memphis Regional of the sixth annual event dubbed The Basketball Tournament.
It lasted only one game as Louisiana United downed Team Arkansas 76-60 in the opening round.
Michael Qualls led Arkansas with 18 points while Jabril Durham had 11, Rotnei Clark 6, Alandise Harris and Julyess Nobles 5 each, Charles Thomas, Anthlon Bell and Dontell Jefferson all with 4, Townes 2 and Matt Jones a single point.
Townes, who originally signed with Georgetown out of high school before going to Hargrave Military Academy in Chatham, Va., was pumped when he got the call from Team Arkansas general manager Keith Kelly asking him to join the roster.
"I was very excited when I got the chance to come back and play on the alumni team for the TBT," Townes said. "It's a chance to play with Dontell, Ronnie (Brewer), Charles and Vincent (Hunter) like the good old days playing at Arkansas."
Townes is looking for a new place to play next season after spending the last few years in Lebanon.
"It has been a great experience," Townes said. "The last three years I have played in Lebanon. Hopefully this year I want to get back out and use this TBT platform to help me build my brand again.
"I am considered to be an old player now as I will be 35 at the end of this month. I want to use this to showcase my talent again."
Townes, who made the NCAA Tournament three of his four seasons, scored 1,318 points, grabbed 647 rebounds and blocked 192 shots in his Arkansas career.
His senior year was his best with the Razorbacks as he averaged career-highs of 12.1 points and 5.5 rebounds and 60.2 shooting from the field, while his high in blocks was 56 as a junior.
Townes made the only two 3-pointers he took in college, doing so once each as a freshman and junior, and shot 54.2 percent overall from the field and 62.8 percent from the free throw line.
"I'd like to think that I had a pretty good career as a Razorback and that the fans were happy with the way I played for them," Townes said. "We had some good moments, ones I will always remember."
Arkansas downed Indiana 86-72 in the first round of the NCAA Tournament in 2008 before falling to North Carolina 108-77 in the round of 32 at Raleigh, N.C.
But Townes looks back at home wins his senior season in Bud Walton Arena over Alabama (71-67 in OT) and No. 20 Florida (80-61) as his favorite highlights.
"The highlights, there were so many, but my favorite ones were when we played Alabama and Florida in the Bud in front of sold out crowds," Townes said. "The excitement from the fans, it gave us the juice to go out there and perform very well and get those wins."
Current Los Angeles Clippers guard Patrick Beverley, who just signed a 3-year, $40 million deal, was one of Townes' old teammates his senior season along with Thomas, Sonny Weems, Steven Hill, Michael Sanchez, Stefan Welsh, Gary Ervin, Hunter and Michael Washington.
"There is a website call eurobasket.com and I go on there and check to see how my old teammates are doing and check their scores," Townes said. "I do get to see Patrick Beverley on TV. He is still a dog on the defensive end just like he was in college."
Townes has not been back to Fayetteville since he finished up school.
"I hope to do that when I retire," Townes said. "I am looking forward to going back to the Bud and having that feeling of hearing the fans again and the Woo Pig Sooie.
"I am going to keep up with them this year. It's been hard doing that while being overseas, but I am looking forward to doing that more this season."
Townes could even envision himself showing up in Fayetteville and hoping to work with new Razorbacks coach Eric Musselman.
"I didn't get a chance to meet Coach Musselman yet, but I would like to and hoping to do that, maybe next year," Townes said. "I hope to get the chance to sit down and talk to him because I want to get into coaching and see if I can be a grad assistant or get into the profession some way once my playing days are over.
"I hope to get on a staff and just give my knowledge back to the young guys to help them have a better, successful year and help them grow in college."
Discussion
Have a comment on this story? Join the discussion or start a new one on the Forums.