Matthews, Central Connecticut State eliminate Cal
Published: Saturday, June 1, 2019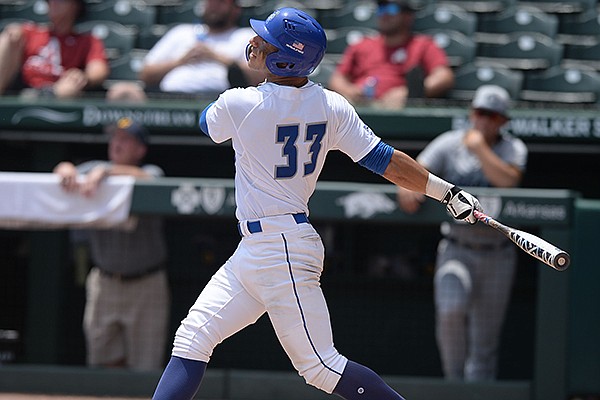 (
Andy Shupe
)
Central Connecticut right fielder Dave Matthews connects Saturday, June 1, 2019, for a 3-run home run to break a 3-3 tie during the fifth inning of the Blue Devils' 7-4 win over California at Baum-Walker Stadium in Fayetteville.
FAYETTEVILLE — What would you say if I told you that Central Connecticut right fielder Dave Matthews had much to say after crushing a three-run homer Saturday afternoon to lead his team to a 7-4 win over California in an elimination game?


For the record, Matthews is not named after the accomplished musician and actor of the same name, but did have the key blow when he said goodbye to a fifth-inning pitch in the Fayetteville Regional's loser's bracket game.
"I am actually a Jr., my dad is Dave Matthews, Sr., so he was not really too popular growing up in his era," Matthews said. "But I think that great teams find a way to get it done. TT (Bowens) supported us yesterday when no one else was hitting and I think today, you just kind of needed that kickstart. I think at the end of the day it comes down to everybody picking each other up."
The blast from Matthews, who was 3-for-4 with 4 RBI, allowed Central Connecticut State (31-22) to stay around until at least Sunday, when it will face the loser of Saturday night's Arkansas-TCU game in a 2 p.m. game.
"It was a fastball up and in and I just elevated it enough to get it out of here," Matthews said of his seventh homer of the season that came off of Cal starter Sam Stoutenbrough (8-5).
It was the school's first NCAA Tournament win in 12 tries - having lost by a average margin of 8.6 runs - and coach Jim Hickey's first win in the event in 20 years since he led Providence to two wins.
That skid had been extended on Friday when Arkansas beat Central Connecticut 11-5 before 9,858 fans in the opening game of the regional.
"The reality of going through this is we are going to have less bullets going up against some of these teams," Hickey said. "You get to a day like yesterday where you are proud and happy to play in a great environment, and then someone you have got to rally them back out and play again without giving them the inference that we are not good enough to play here.
"The reality of it is you start thinking of travel plans home."
California (32-20) scored a run in the ninth and brought the typing run to the plate, but reliever Jared Galleagher got his 10th save and closed the game out for starter Tom Curtin (6-2), who went seven innings to get the win.
"Obviously it is a special day for our program with our first NCAA win," Hickey said. "It was a very well-played, hard-nosed baseball game. It is the first time I have run across California. I had never seen them before.
"This tournament brings different things and different matchups together. We got some outstanding pitching today from Tom Curtin and Dave Matthews came up huge, we got a lead and we were able to dodge enough bullets to get that last out."
Cal came into the tournament having won 21 of 28 games. The Golden Bears finished fourth in the Pac-12 under head coach Mike Neu, but lost 13-2 to TCU on Friday night and couldn't hold a 2-0 lead Saturday.
"Obviously proud of the way our guys have played all year," Neu said, "but it is tough to lose when you go in with some expectations of having a little bit better weekend…We were picked to finish eighth or ninth in the Pac, did better and thus and were hoping to play a lot better this weekend."
Neu really wanted to play Arkansas.
"If you are not hosting, it my mind you want to go to a place where it is going to be a great environment, a great atmosphere and you are going to get a chance to play on the biggest stage," Neu said. "I think that is what you can of play for an that is what you are getting here.
"The only thing is unfortunately we didn't get a chance to play Arkansas and play them in one of those big games so we would get the full effect of the fans and just the high level play. That's exciting."
Matthews is hoping to play a few more games at Baum-Walker.
"This is what you play for," Matthews said. "You come out at the beginning of the fall with a goal of winning the conference championship and we did and got the privilege of playing here in front of the biggest crowd and this great atmosphere."
Discussion
Have a comment on this story? Join the discussion or start a new one on the Forums.