Lovejoy's Loop shines at Arkansas Specialists Camp
Published: Sunday, June 2, 2019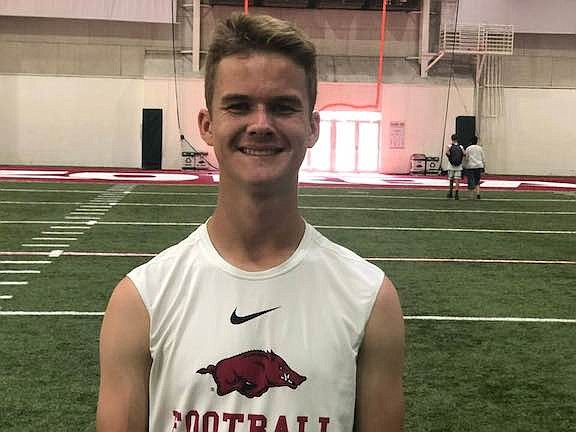 FAYETTEVILLE — Arkansas has a former Lucas (Texas) Lovejoy High standout on its roster in sophomore linebacker Bumper Pool and could be going back there for a kicker.
2020 prospect Tyler Loop (6-0, 160), ranked as the nation's fourth-best field goal kicker by Kohl's Kicking, won both the kickoff and punt competitions on Sunday at the Arkansas Specialist Camp.
He was one of the better performers at Arkansas' camp, which drew kickers, punters and long snappers from 14 states.
"I think overall I had one of my best camp days ever," Loop said. "The field goal competition didn't go the way I wanted it to, but my leg was explosive today and my consistency was there. It was fun being around some of the guys I know.
"I came out and performed really well today. I didn't do as good yesterday at the (Georgia) camp I was at and I decided to just go out here and have fun today. That's what happened and it worked out well for me.
"I had a great day at the U of A and this is a great place."
Loop was 61-of-62 on PATs and 4-of-5 on field goals with a long of 45 as a junior after a sophomore season where he made his only field goal attempt of 44 yards and was 4-of-4 on PATs as a back-up.
"He is one of the most refined field goal kickers in the country," Jamie Kohl of Kohl's Kicking notes. "He has the talent to play at a top Division I college and this upcoming year will be key for him to continue with his success. In December, Loop won the field goal and kickoff portion of the Texas Showcase. His ball striking was outstanding."
Kohl's top three field goal kickers have all committed to schools with North Carolina's Joshua Karty (Stanford) and Indiana's Harrison Mavis (Army) and Arizona's Parker Lewis (USC) having all pledged to a college.
Loop is hoping a scholarship offer comes his way from Arkansas or others so he can pay back his parents for their investment in his kicking ability.
"Really it is going to be the program that fits me best," Loop said. "I am not getting too picky at this point, but I do want to repay my parents for everything they have put into it. They have literally put thousands of dollars into this while trying to put me in the best position. I need to repay them and go to college somewhere and I am really going to to enjoy it.
"It doesn't have to be the super-winningest program, but a program that will build me as a young man best so I can be there for my family."
Some of the other top senior kickers on hand were Cabot's Rhett Thurman and Glen Rose's Colby Steed while the top 2021 prospects were Connor Wood of Lexington, Tenn., Bret Auburn of Flower Mound, Texas, and 2022 Green County Tech kicker Reece Middleton.
Tupelo, Miss., deep snapper Hayes Hammond and Grant Redd were two of the more impressive 2020 prospects in their category.
Lovejoy was 8-3 last season and lost in the second round of the Class 5A Division 2 state playoffs.
The team is guided by Todd Ford, who is a former North Texas offensive coordinator and a coach that Loop compares to Arkansas coach Chad Morris.
"Todd Ford coming in during my eight grade year and going into my freshman year, I got to meet him early and he was all about special teams, all about having a great program with very similar values that Chad Morris upholds," Loop said, "like being a well-rounded athlete and caring more about you as a person than you as a player."
Lovejoy is very proud of Pool (6-2, 223), who played 340 snaps as a true freshman last season and finished with 29 total tackles, 14 solo, 2.5 tackles for loss and four pass breakups.
Pool blocked a kick and also recovered a fumble that he returned 60 yards in his first college game, the season opener against Eastern Illinois.
"His first game where he had the PAT block and the 61-yard fumble return, we were watching that during our pregame and we were going nuts and just losing it in our meeting room," Loop said.
Loop is a man of faith who has a simple philosophy.
"If I do well at a camp, it was obviously because it was the man upstairs' plan for me," Loop said. "That's big for me. I came out here and had a great day. I just need to replicate that in the future as I continue to go to camps.
"I go into it with this idea that if I don't have a good day that is not a place I should be, not the man upstairs' plan for me. That is the big thing for me in my recruiting."
He has been to Missouri and Georgia and will be at Wisconsin, Texas San-Antonio and the University of Texas for camps this month.
"I am heading to Wisconsin on the ninth because they have a scholarship opportunity there, UTSA because they just opened up a scholarship opportunity and I am going to UT just to compete there and see some family I have there again," Loop said. "We'll see what happens from there."
Discussion
Have a comment on this story? Join the discussion or start a new one on the Forums.