Whitt back at Arkansas to finish what he started
Published: Wednesday, June 12, 2019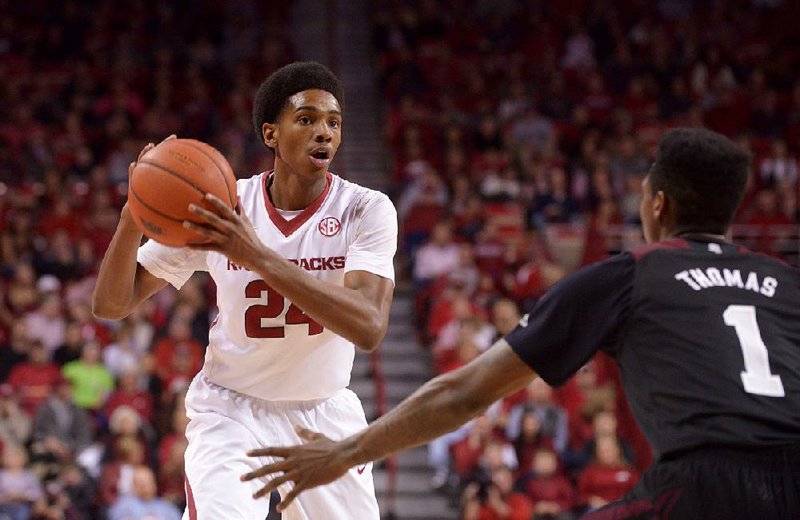 (
NWA Democrat-Gazette/BEN GOFF / Ben Goff
)
Jimmy Whitt (left), shown here in 2016 playing against Missouri, announced Monday he is returning to the University of Arkansas after transferring from SMU.
FAYETTEVILLE — Razorbacks fans will have the chance to bear Whitt-ness once again at Bud Walton Arena.
SMU graduate transfer Jimmy Whitt (6-3, 175), who began his college career in Fayetteville, arrived back on the Arkansas campus on Wednesday where he will be immediately eligible next season.
"I don't know how many times you get a second chance at the school you started at," Whitt said Wednesday. "There was a feeling inside me that I wanted to give the school and fans something I couldn't give them the first time around."
After taking his name out of the NBA Draft and choosing to play one more year in college, Whitt chose Arkansas over Gonzaga, Oregon, Texas A&M and others.
He averaged 12.3 points, 6.4 rebounds and 4.0 assists last season while starting all 32 games at point guard for the Mustangs (15-17).
"I think I am a better player all around," Whitt said. "I think I have translated my game into being a stat sheet stuffer kind of player. I have recorded double-doubles and a triple-double these past three years.
"There is still more improvement to be made in my game for sure. But I think my game and myself have matured greatly."
He became familiar with new Razorbacks coach Eric Musselman when he was coaching at Nevada, where his brother Marcus Whitt was a graduate assistant in 2017-2018.
"I've seen what Coach Muss had done with some (graduate transfers) at Nevada," Whitt said. "The guys he did it with, transfers like myself. I got to see and hear about his philosophy and coaching style.
"I want to play professionally in the NBA and he has so much NBA experience and knows what it takes to get to that level."
Whitt praised Mustangs coach Tim Jankovic for helping him develop his game while at SMU and expressed his excitement about playing for Musselman.
"First off, I would like to thank Coach Jank and the staff for everything they have done for me in my three years at SMU," Whitt said in a statement on Twitter. "I can't thank them enough for the opportunities they have given me, along with helping me get my degree from such a prestigious university. I would also like to thank the fans for showing me so much support throughout my career.
"Coach (Musselman) has given me the opportunity to return to my former school and have the success that I didn't have the first time around. It's not everyday you get to end your career where you started. I am beyond grateful, blessed and excited for the opportunity to have another go at playing basketball there. Thank you again and if I remember correctly, #WooPig."
Whitt played a team-high 35 minutes per game for SMU last season while shooting 48.8 percent (162-of-332) from the field, 14.3 percent (4-of-28) from 3-point range and 56.8 percent (42-of-78) at the free throw line.
He finished his Mustang career with a season-high 24 points in a season-ending loss to Cincinnati.
"Thank you SMU for the ride this season," Whitt said on Twitter. "There were highs and lows and (I know) it didn't turn out or go the way we all wanted but there was growth and in life growth is what matters. As always I appreciate the love and support and the opportunity to play the game I love."
Although his 3-point shooting was subpar, he was known for his ability to score with his midrange game while at SMU.
"I just told him how proud I am of what he's become," Jankovich told the Dallas Morning News. "I told him the truth, sometimes I think the truth is always better, sometimes I think it's better withheld. But I told him you know when you first got here I don't know if I really felt like you were a winner. I saw some talent, but I don't know if I felt like you were a winner. I'm just so proud because I think you're nothing but a winner now.
"I just think Jimmy is doing so many things right now right in front of our face. He has turned into not only a good player but a great player."
After sitting out the 2016-2017 season, Whitt started all 33 SMU games as a redshirt sophomore while averaging 10.5 point, 5.2 rebounds and 3.5 assists.
Whitt played in all 32 games and started 10 as a true freshman at Arkansas (16-16) while averaging 6.1 points, 1.7 rebounds and 1.1 assists.
He did so while shooting 38.7 percent (75-of-194) from the field, 37.6 percent (6-of-16 from 3-point range and 79.2 percent (38-of-48) from the free throw line.
Discussion
Have a comment on this story? Join the discussion or start a new one on the Forums.