Razorbacks softball takes two in Woo Pig Classic
By: STEVE ANDREWS Special to the NWA Democrat-Gazette
Published: Saturday, March 2, 2019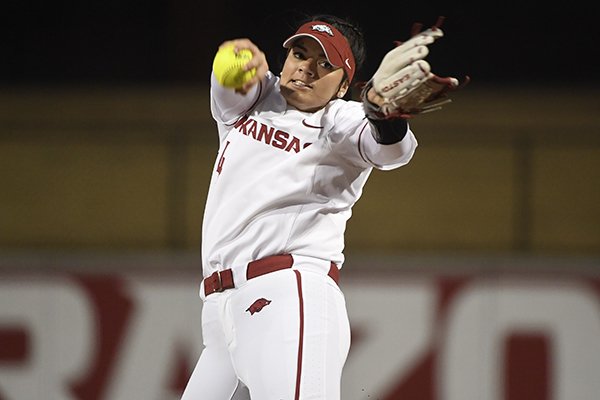 Arkansas pitcher Mary Haff throws a pitch against SEMO during an NCAA softball game on Friday Feb. 22, 2019 in Fayetteville. (AP Photo/Michael Woods)
FAYETTEVILLE -- Arkansas sophomore pitcher Mary Haff came in to record the final six outs Friday night to seal a 9-6 victory over Nevada and earn a save in the nightcap of the Woo Pig Classic at Bogle Park.
The No. 14 Razorbacks (16-3), who have won six straight, jumped out to a 6-0 lead only to see a scrappy Wolf Pack squad battle back to tie the score.
"Nevada is a really tough team, and with the offense they have, they are never out of the game," Arkansas coach Courtney Deifel said. The Wolf Pack (7-6) came in riding a four-game win streak.
"We gave up some runs, and with a team like Nevada, you can't give them any runs," she added. "But, I thought when we gave it away, we answered right back."
Arkansas opened the scoring in the first when sophomore Nicole Duncan was hit by a pitch with bases loaded to force in sophomore Danielle Gibson. After the Razorbacks loaded the bases again in the second inning, Sydney Parr made it 2-0 on a fielder's choice by Katie Warrick.
A four-run third inning extended the lead to 6-0.
Nevada cut into the lead with pair of runs in the top of the fourth, including an RBI-double by Dallas Millwood.
The Wolf Pack then tied it at 6-6 in the fifth.
Arkansas regained the lead with a run in the bottom of the fifth to make it 7-6. Parr led off with a single and again came around to score when Warrick reached on a fielder's choice.
Arkansas 9, Omaha 0 (5)
Haff (9-3) came within three outs of pitching her first no-hitter of the season, allowing only a fifth-inning double in a 9-0 run-rule victory.
Warrick got the Razorbacks on the scoreboard in the first inning with a two-run homer, her third of the season.
Gibson added her sixth dinger of the year in the third inning, before Diaz hit her first, a 272-foot blast over center field, to put the Hogs up 4-0.
Gibson's two-run single in the fourth spurred a five-run rally to finish off the Mavericks (1-12).
SHORT HOPS: Warrick has now reached base in 18 of the Razorbacks' 19 games this season ... Gibson leads the team in batting average (.426), home runs 6), RBIs (24), slugging (.845) and on-base percentage (.469).
ON DECK: Arkansas: Will host Boston University in a doubleheader today. The first game begins at 4 p.m., with Game 2 slated for 6 p.m.
Nevada: Will face Omaha today in the Woo Pig Classic at 9 a.m. Then will play Northwestern State at 1:15 p.m.
ON THE WEB: arkansasrazorbacks.com
Sports on 03/02/2019
Discussion
Have a comment on this story? Join the discussion or start a new one on the Forums.